Appreciations
View(s):

Remembering a man who did so much for Sinhala film 

K. GUNARATNAM

K. Gunaratnam, popularly known as 'KG', with his humble beginnings in Jaffna, launched his  successful business career in Colombo. I came to know him in 1974, when his son G.R. Pathmaraj introduced me to him.  Mr. Gunaratnam wanted me to join his business. I agreed to be a part-time management consultant from August 1974. He allocated a separate room and a secretary for me. I was directly responsible to him and functioned as an Executive Consultant.

Except when he was overseas, I used to meet him daily in the early afternoons before he went for lunch and a nap. He socialized regularly in the evenings moving with various levels of people, developing close friendships and business relationships.

Commencing business in the film industry, he became Sri Lanka's most successful film producer, distributor and owner of a chain of cinemas islandwide. He nurtured several personalities in the Sinhala film industry, including Eddie Jayamanne, Rukmani Devi, Ananda Jayaratne, Sandya Kumari and the legendary Gamini Fonseka. One of his very popular productions was 'Sandeshaya', with the hit song 'Poorthugisi Karaya' by Arisen Ahubudu. Lester James Peiries made a name as the director of this film.

Mr. Gunaratnam produced over 25 films including Sujatha, Warada Kageda, Radala Piliruwa, Duppathage Duka, Wana Mohini, Sooraya, Weera Vijaya, Divarayo, Allapu Gedera, Chandiya, Oba Dutu Da, Ataweni Pudumaya, Lakseta Kodiya, Athma Puja, Hodai Narakai, Sandeshaya etc. Some of these films were lost forever in the Black July riots of 1983.

Mr. Gunaratnam had also diversified into industries, manufacturing ball point pens, corrugated cartons and plastic containers. He developed a state of the art yarn spinning and weaving mills at Ja- Ela with 24,000 Swiss Reiter spindles. This was expanded into weaving with 200 Picanol water jet looms, with 100 looms imported in June 1983 and temporarily stored at the Hendala industrial complex until foreign engineers installed them at the weaving mills in August 1983. The Hendala complex included the Vijaya Studios where films were produced. In addition he had studio facilities at Kirula Road, Colombo 5.

The Hendala complex had just been developed with ultra-modern machinery and technology, with the head office being at Sri Sangarajah Mawatha, Colombo 10 which also had a printing press and with the original Cinemas' head office being at New Chetty Street, Colombo 13, when the 1983 riots broke out.

A very large stock of paper reels and plastic granules had been stored at the Hendala complex. On the night of the riots Mr. Gunaratnam was chased away from his luxurious house at Bullers Road by goons. Luckily it did not catch fire. He managed to  take refuge in the then Holiday Inn Hotel where he was a Director. A few days later on July 30, which was his birthday, I went with a 'curfew pass' and saw him at the hotel. He wept.

The Hendala industrial complex was set ablaze and the fire lasted for over two weeks, with the huge stock of paper reels and plastic granules, also destroying the 100 brand new picanol looms which had no insurance as they were awaiting installation at the Ja-Ela mills. Mr. Gunaratnam lost over Rs. 200 million (the value at that time). He shifted to a small house at Barnes Place.

Mr. Gunaratnam was the main owner of the Tower Hall, formerly known as 'Tower Talkies' which developed Sinhala drama and artistes. When President R. Premadasa requested for these premises, he unhesitatingly gifted it to the Government. Today Tower Hall Theatre has been developed with no mention, whatsoever, of this invaluable philanthropic donation by Mr. Gunaratnam. It ought to have been named after him.

When President R. Premadasa made a historic visit to Jaffna, Mr. Gunaratnam personally went to Jaffna and I accompanied him. He got huge posters of President Premadasa put up on trees lining the roads in Jaffna,using his staff of the Wellington Cinema in Jaffna and organized a warm welcome reception for the President on his arrival at the Palalay Airport, Jaffna.

When I got married, Mr.  and Mrs Gunaratnam entertained us to a big reception in his house in Jaffna, inviting the Jaffna business community. I gained much knowledge and experience from him on how to deal with people with humbleness and humility. When I travelled with him overseas he always travelled economy class and stayed at 3 to 4 star hotels. He never showed off his wealth.

On the other hand, he entertained lavishly, and every Thai Pongal he held a grand dinner at his Bullers' Road home for a large circle of persons who interacted with him. The crab curry would be flown in from Jaffna. He moved with various politicians including Hugh Fernando, Maithripala Senanayake, T.B. Illangaratne and the Ratwattes. Albert Page of Ceylon Theatres, though a competitor, was a very close friend with whom he used to have a regular get together with about four or five others that included me.

On that day- August 30, 1989, he telephoned me at around 1in the afternoon and had a chat, and I informed him that I was going to UK that night for a few days. I left for lunch with a friend and was telephoned by my office to inform me that Mr. Gunaratnam had died. I was shocked to hear of the tragic shooting. I immediately cancelled my trip and contacted his son G.R. Pathmaraj and went to the mortuary to obtain the release of his body.

It was a shocking and very sad day. Whilst coming out of  the premises of his office travelling in the front seat of his car, two gunmen on a motor cycle had shot him at very close range. Although they attempted to shoot the driver they failed and he had rushed Mr. Gunaratnam to hospital, where he was pronounced dead. His secretary later informed me that the CID had inquired as to who I was, as the last telephone call Mr. Gunaratnam had taken from his office before he died, had been to me.

That era of 1989 was one of tremendous fear psychosis. Gamini Fonseka and I organised the funeral with a committee operating from my office. Both Gamini and I walked with Mr. Gunaratnam's two sons in the funeral procession, though several persons cautioned us not to do so.  Several bodies of people killed had also been found in front of the gate of the textile mill at Ja-Ela.

It is indeed an unforgivable tragedy that a man who made such yeoman contribution to develop Sinhala areas, the Sinhala film industry, artistes and the people by giving them employment, was  slain so brutally.

 Nihal Sri Ameresekere
---
She gave her heart and soul to teaching, the love of her life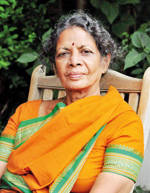 Sounderam Kanapathipillai
Sounderambikai Kanapathipillai was my sister. As I write tears fall for my beloved oldest sister, who passed away after a brief illness on July 27. Till the end she was beautiful, positive and strong.  As I think back on her life, her beloved alma mater C.M.S Ladies' College, stands out. First as a student and then as a teacher, Ladies' College was her heart and soul.
Sounderam as she was fondly referred to by her friends and colleagues, and Baba by her close relatives, was born in 1943.  Her father was the late Professor K. Kanapathipillai and mother was the late Manonmani Tharmalingam. She was born into a traditional Hindu family which placed great importance on tradition, duty and education, and that understanding guided her throughout her life.
Her first steps into Ladies' was as a three-year-old going into what was then called Baby Class. From then on until Standard 6 and A'Levels in 1962, she spent many happy years as a student.  She excelled in sports, art and her keen intellect saw her shine in the sciences and arts subjects.  When she was in the older classes she was nominated as a prefect which was and is still a great honour.
After getting good A'Levels she entered the University of Peradeniya in 1962, where her father was a Professor of Tamil.  Although she excelled in the sciences she chose to take up the Arts and she went on to do a BA in English with Tamil as an honours subject.  Again duty and tradition dictated her focus.
After obtaining her BA honours in 1967 she taught for a brief period at the University of Peradeniya. But her heart and mind was with C.M.S Ladies' College, Colombo.
In 1968, she came through the portals of Ladies' College again, this time as a teacher, where she spent 35 happy years until retirement.   She taught English, Tamil, Art and in the course of which she spent many contented years under the tutelage of the Principal Sirancee Gunawardene.  Mrs Gunawardene had been her Art teacher when Sounderam was a student at Ladies' College, and was now her colleague and guide.  She truly bonded with Mrs. Gunawardene, whom she would often talk about as a caring and kind personality.  Hundreds of students passed through Ladies' College, under Sounderam's capable teaching and went on to excel in their fields. Even I as a student at Ladies' had her as my teacher for about a year.  I was proud to observe how the students loved her.  They appreciated her expert guidance and teaching, and moreover admired her grace and beauty as she walked through the hallowed corridors of the school. She was very proud too that her students never forgot her even after they left school. They would come back to honour her with their good wishes and gifts. She truly appreciated their gratitude.
Even after retirement from Ladies' College her bright and keen mind did not rest. She continued to teach first at Wycherley International School and then at Harrow International School and lastly at Belvoir International school. She was 76 when she passed away and she was still active, keen of mind and teaching. Teaching was the love of her life.
Thank you my beloved sister, we will miss you. Rest in peace.
Valli Kanapathipillai de Vries
---
It was a privilege to have known and loved you
Jean Arasanayagam
Blessed are you who rescues animals and people and that is why they hang around your door. (Perhaps I include myself in these)
They know your strength; they know you, still so human, will be shocked at their plight, ask why and not abandon them. That you will do everything that is possible within the suffocating framework that is our society.
Blessed are you who love your family, all artists, and will go anywhere, do anything to protect them when the mob arrives at your door or they are hungry or need the shelter that is found in your words during a banal but exceptional meal around a table; a space made in the chaos.
Blessed are you, who support your friends, even those you have never met in far flung countries,  struggling for impossible ideals, all odds against them, protagonists caught up in the horrors of their daily life;  you immersed yourself in them.  They are characters who speak the truth, the women, courageous like you. Blessed is your steadfast loyalty and your endless age-old questions, universal, societal, cultural and of routine familiarity.
Blessed is your sublime language printed on the page. Painterly it illustrates and it runs like a river. It never engages in cheap thrills, propaganda or hate. Your words are bold and compassionate, full of chiaroscurist hues, you colour in gems that light up the faces of the poor.
I call you my dear friend and you showed me your affection.  Egotistically, I could never imagine you being tired, frail, weak, or ill while I sat, darkening late afternoons soaking up your presence, amazed at my good fortune, eating your food and listening undeterred, while your sublime wit and language shone through sharp and spirited; you were indefatigable.
Your poetic proliferation like the endless noisy cogs in a printer's press rang out until the end.
Dragons in the Wilderness – The Colour of my Mind – A Nice Burgher Girl – With Flowers in Their Hair
Word Kite – The Almsgiving – Reddened Water Flows Clear.
The Life of the Poet – Yes her unthinkable, unbelievable life, awarded too little too late, too superficially, by her countrymen and women, did they ever accept her?  Give her a place, an identity? Is a poet ever accepted?
The Alms Giving – The Harvest – Tales from Antiquity – Sleepless Nights, Dreamless Days
Monologues, Soliloquies, Ruminations – Enigma of a Left Behinder – All is Burning – Apocalypse '83 – The Legacy and so on….
Oh and The Word Never Dies, no it never will!
 Patricia Melander
---
You are always around us
Prof. T. D. M. A. Samuel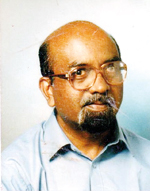 10th year remembrance
We will not come to your grave
For we know you are not there.
Twinkling stars high above the sky
Bring us memories of your knowledge
Whispered into our ears,
On the Zodiac, from Aries to Pisces,
In our routine walks
At Pera, Trieste, Wageningen, Venice,
Which gave birth to joyous moments.
We will not come to your grave
For we know you are not there.
The floating clouds, moistened air,
Rays of the sun, raindrops,
Bring us memories of your acts of wisdom
And hard work in academia across the seas,
Wrestling with elements of our climate, formulating,
Forecasting mathematical equations,
To uplift the flavour of Sri Lankan tea.
We will not come to your grave
For we know you are not there.
When we move with people of all walks of life
We think of how you shared and cared with agape love,
Forgetting yourself to bring forth
Happiness and glory to many.
We will not come to your grave
For we know you are not there.
But when we look up and around
We witness your professionalism and humanity
And you creep into our spiritual and mental realms
To stay close, yet so far.
Therefore, we will not come to your grave,
For we know you are not there,
As you are all around us and in us.
Amma and I miss you, Dada.
Daniela Rupasinghe Samuel
Rose Rupasinghe
---