Sleek Peterites versus battle-hardened Kingswoodians
By Aubrey Kuruppu
View(s):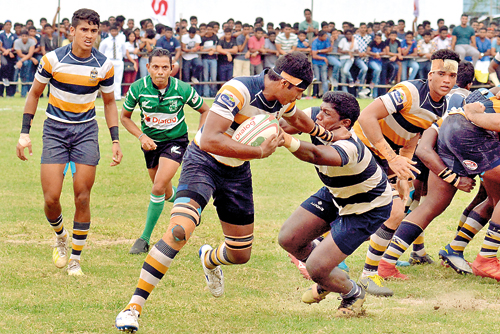 The Royal Complex will host another Milo Presidents Trophy quarter-final game – this time St. Peter's vs. Kingswood – today. Despite the relative merits and demerits of the teams, it can be safely assumed that this one will be a heart-stopper.
The Peterites were in a bit of disarray to begin with. In that light, losing the first game 19-20 to the Thomians was not surprising. However, they proceeded to have some notable conquests. Royal was edged out 12-8, Trinity thrashed 32-7 and the Josephians who were perched atop the table were beaten 23-21. The last match was handed to them on a platter by the last-minute indiscretion of a Josephian attacker turned defender. The downside for St. Peter's is that all these games were staged at their impressive stadium.
The Peterites did beat Kingswood 14-7 in a first round game, but that was another time, and another place. Even though that venue is inevitably tied up with success for Kandy SC, that magical fact did not rub off on Kingswood.
Number 8, Bilal Hilmy, has the good fortune to lead a powerful team that is well equipped both among the forwards and the backs. Apart from the inspirational skipper, other such as Mohamed Nizran, Lankesh Perera, Janidu Fernando and, before he was injured. Julian Charles had given their all for the success of the team.
Centres Raveen Fernando, Sandesh de Mel and Sunera Fernando are incisive and penetrative and have been involved in some delightful moves. The potency of the back division is evident from the fact that the Peterites took out Maliyadeva 82-0.
Kingswood are not a team that is waiting to be pounced on and punched to the ground. They are a team of battlers and scrappers. They claimed the Schools League title in 2004, 2005 and 2008. Thus it is apparent that they have a rugby tradition and a name to defend.
Kingswood defeated Wesley 14-12 in the first game (the Blaze Trophy). But that was long before the Double Blues began their run of success. More recently, they grabbed the Plate Championship and it could be said that at this point in time, their confidence is at a high.
Many former Kingswood players have gone on to represent the Kandy Club and contributed immensely to that unabated wave of success. Farzil Marija, the Weeraratnes — Gayan and Roshan — and Riza Reffaideen are names that spring to mind. It may be the influence of these players, but Kingswood generally plays some eye-catching rugby. The back division makes some sudden breaks. These are interspersed with some long sweeping moves.
Central to Kingswood's performance has been the pairing of Himesha Sampath and Asiri Seneviratne. Sampath is an eager-beaver of a scrum half. For good measure, he also does the conversions. Fly half Seneviratne is quick off the mark and has an eye for the gaps. Winger Thumula Dilshan is another player who needs watching.
Prop Milan Weerasinghe, an extremely powerfully-built player, leads from the front. He is good at fighting for the ball. Flanker Channa Gunasekera, centre Shazan Rahuman, lock Chatura Soyza and full back Dinal Ekanayake are the players who have shown consistent ability in their games.
The Peterites are certainly a more high-profile team. But that may not count for much when up against a set of ferocious players.