Music, her key to sharing beauty of life
By Ruqyyaha Deane
Here to present her latest collaboration 'Cosmos' for the French Spring Festival, Shani Diluka who balances her personal and professional life the way she balances her Sri Lankan and Monaco identities, talks of her momentous journey that began at the tender age of six
View(s):
Though born and raised in the tiny Mediterranean principality of Monaco, the internationally known pianist Shani Diluka proudly claims her Sri Lankan heritage as her parents Gilbert and Shivanthi Abeygooneratne always ensured that she and her sister Rika knew where they came from. She says her identities lie balanced in both Monaco and Sri Lanka, and is grateful for both countries as the former allowed her opportunities to follow her dreams of being an artist and the latter allowed her to have cultural roots.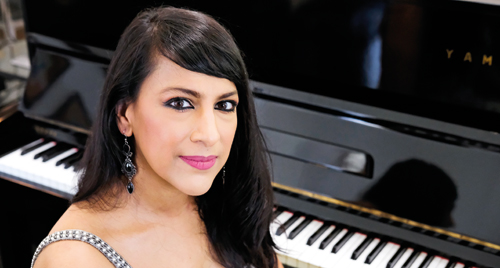 "It was very natural for me to choose the piano. I chose it myself," reminisces Shani Diluka talking to the Sunday Times at the French Ambassador's home in Colombo. She is in Colombo for the French Spring Festival and will delight her local fans with a recital on Tuesday, July 9, at the Bishop's College auditorium in a new collaboration with Indian musicians Sahana Banerjee and Prabhu Edouard.
Growing up in Monaco, Shani at the tender age of six was tested on her memory, rhythm and ear for music and then told to choose an instrument of her liking, under a programme for gifted young musicians set up by Princess Grace. Thus she took her first steps in a momentous journey that would see her become a world-class pianist.
It was a journey marked by many awards and accolades. She was accepted into the Paris Conservatory where she won first prize unanimously chosen by the jury. A stellar career has seen her as a soloist for famed orchestras such as the Orchestre Philharmonique de Monte-Carlo, the Orchestre National Bordeaux Aquitaine, the Royal Court Orchestra of Sweden, to name a few. She has worked with leading  conductors such as Lawrence Foster, Vladimir Fedosseïev, Ludovic Morlot, etc and her solo recordings of Beethoven, Mendelssohn, Schubert and Grieg have won a large number of awards.
Unlike many of her peers who chose a musical career early, Shani did not forgo her education pursuing a degree in political science, and living what she laughingly calls a 'double life'. She admits that there were some parts of her childhood that she had to sacrifice but thought it more important to know how the world works around her, without being guided just by her artistic ideals.
"What is important to me is remembering how Mozart, Schubert and Beethoven were great composers who still bring so much depth and beauty to the world," she says as she talks about her inspiration for this current concert tour 'Cosmos'.
'Cosmos', a project in which the East and West converge is the brainchild of Shani herself. Exploring the universality of music, Shani says that reading up about Beethoven, she discovered that the German composer towards the latter period of his life (when he lost his hearing ability) had been searching for the answers to life as a musician and found them in the Indian text 'the Upanishads'. "No one had really explored the idea before and I thought that it would be very interesting to present the Beethoven sonatas meeting Indian ragas."
For this concert Shani will be collaborating with Indian musician Sahana Banerjee who will be playing the sitar and Franco-Indian percussionist Prabhu Edouard on the tabla. This project which will continue till 2020 is to culminate with a film co-produced by the Philharmonie of Paris for the 250th anniversary of Beethoven's birth.
"Everytime I played, there has been such a strong effect on the  public. People really felt this connection and I was surprised," she says, talking of Cosmos. Thus far she has taken the concert to India (Delhi, Mumbai, Pune), Bangladesh and Germany performing for audiences of different backgrounds and says she is excited to bring it to Sri Lanka as she feels that the music will convey a message of hope and peace.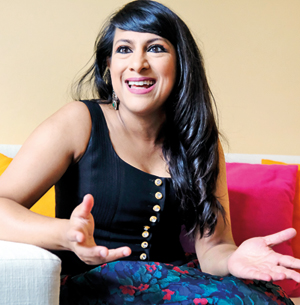 One of her greatest accomplishments was being awarded the Knight of the Order of Cultural Merit of Monaco, given in recognition to those who have made a distinctive contribution to the arts, letters or science through their work or teaching in Monaco.
A punishing concert schedule sees her juggling her professional commitments and family life. Having to travel constantly, she is only home 10 days a month and jokes that her luggage is constantly open as she is never in one place for too long. Both she and her husband – the violinist Gabriel Le Magadure, being world-class musicians they had to make a choice of not having children for their careers to flourish. However for Shani music enables her to share her gifts more  -"through music I have met so many children and I have been able to give what I learned."
Before a concert, she tries to become a part of the music, reading the sheet notes, and immersing herself in the practices and rehearsals. She also reads poetry before concerts as she calls 'poetry a part of her life.' Just last year she released her very own collection of poetry titled 'Canopées' with Editions Art3, which was included in the short list of Académie Française awards. Earlier in 2013, she had an amazingly successful collaboration with Spanish mime artist Carlos Martinez where they brought together the two classical forms –piano and mime.
Argentine classical concert pianist Martha Argerich has inspired Shani as a musician through the successful balance of her career and family, through her strength and independent nature. Her meeting with American conductor and pianist Leon Fleisher also changed her philosophical outlook as he taught her that music was about truth and beauty, she says, citing Nelson Mandela and Malala Yousef as inspirational  peace spirits as they advocated for equality and education respectively.
That Shani has drawn from these role models can be seen in her music and life. She holds annual concerts for prison inmates, underprivileged children and terminally ill patients so that they too can experience the soothing balm of music. She also has free masterclasses for Sri Lankan students and finds the time to teach monthly at the Zubin Mehta Foundation in India.
"As a pianist my only goal is to bring beauty to the people (through her music). So that people can feel better about themselves, it is as if they have meditated," she says, remarking that her most significant memory as a musician is when she is able to see the faces of an emotionally moved audience.
Tickets for the concert , 'Cosmos' on July 9, priced at Rs. 1000 are available at Alliance française de Kotte (11, Keppetipola MW, Colombo 5). For more details contact 011 790 6340 or 011 205 5255.