Life hangs in the balance
View(s):

My dear Hangman,

I thought of writing to you because the entire country is suddenly talking about you, and becoming worried that we will soon start executing people, just because Aiyo Sirisena wants to do so. I am told that you have already been recruited, trained, and it is only a matter of time before you get to work.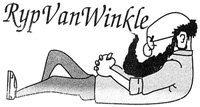 All this is because Aiyo Sirisena believes that by reintroducing the death penalty, he will be able to put an end to drug trafficking in our society. Now, don't get me wrong, that would be great, but there are many countries which implement the death penalty, but still have a major drug problem, aren't there?
Aiyo Sirisena says he has already signed the death warrants of four people. You will have to carry out those executions soon. That worries me, Hangman, because if there was a Nobel Prize for changing one's mind, Aiyo Sirisena would have won it. What if he changes his mind after someone is executed?
Now, you might wonder why I say so. This is a chap who told us that he will abolish the Executive Presidency. He has changed his mind about that. Then he told us, during his election campaign and after being elected, that he wouldn't run for the top job again. He has changed his mind about that too.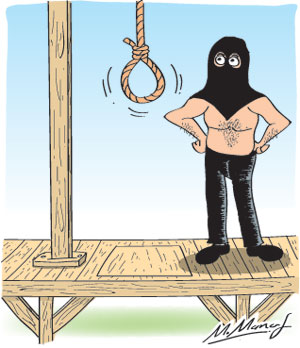 Aiyo Sirisena got to where he is today because of the Green Man. It was agreed that the Green Man would be his second in command. He then changed his mind about that and tried to install Mahinda maama there. When that failed, he changed his mind again and tried to dissolve Parliament.
All this pale in comparison to how Aiyo Sirisena has changed his mind more recently. Remember the 19th Amendment to the Constitution? That wonderful piece of legislation which clipped his wings, reduced his powers and the duration of his term of office which he himself wanted passed?
Remember how Aiyo Sirisena worked night and day, in and out of Parliament to see that piece of legislation through? And, when it was passed by a large majority thanks to his efforts, remember how he went around saying that he was the only leader in the world to reduce his own powers?
We all applauded Aiyo Sirisena then, didn't we? And he too was proud of his achievement, saying that because he was such a great democrat, the Queen shook his hand without gloves! Guess what? The gloves are certainly off now because Aiyo Sirisena has changed his mind, yet again!
Aiyo Sirisena is now telling us, as if he has just woken up from a bad dream, that the 19th Amendment is a curse on the country because it creates two centres of power and that is why he and the Green Man do not see eye to eye. He is suggesting that we should all get together again to have it repealed.
We knew we were electing a grama sevaka to be our leader, but we didn't know we were electing a thoththa baba who has absolutely no understanding of what goes on around him or what he is saying or doing, did we? That is why I am worried about his orders to you to execute people.
Margaret Thatcher, as British PM, went to war with Argentina over the Falklands and won the next election. Some said her slogan was 'win a war and win an election'. Mahinda maama also won a war and won an election. Aiyo Sirisena's slogan appears to be 'execute a few people and win an election'!
That is probably because Aiyo Sirisena believes this is the only way he can make history. Strong leaders like JR and Mahinda maama didn't have the need to execute people. What Aiyo Sirisena doesn't seem to realise though is that he has already made history, in more ways than one.
Why, Aiyo Sirisena is the only chap to get the top job through the votes of another party. He is also the only chap who succeeded in destroying the Blue party, possibly forever. He is also the only leader found guilty by the highest court to have violated the Constitution by dissolving Parliament!
If Aiyo Sirisena stays around for much longer, he may do a few more deeds which will earn him a place in history. If he runs for office again, he will be the only ex-boss who comes a poor third in the contest. However, he doesn't know this. That is why he is trying to make history by hanging people!
He can order you to execute people. You will do so. A few years later, he will turn around and say – just as he does now for the 19th Amendment – that it was a bad idea, and blame it on you. And there's no bringing back the dead. So, Hangman, be careful about taking orders from Aiyo Sirisena!
Yours truly,
Punchi Putha
PS: Aiyo Sirisena ignored the warnings about the Easter Sunday attacks, but he is now trying to blame his Defence Secretary and the Police Chief, getting them arrested. Be careful, Hangman, when you carry out his orders, this might happen to you too – and you may have to seek refuge in a hospital!