Tales of woe ring out from devastated homes in Katuwapitiya
By Kumudini Hettiarachchi
One month after the deadly Easter Sunday bombing at St Sebastian's Church, survivors, many still recovering from severe injuries themselves, not only face a life without their loved ones but feel abandoned by the authorities too
View(s):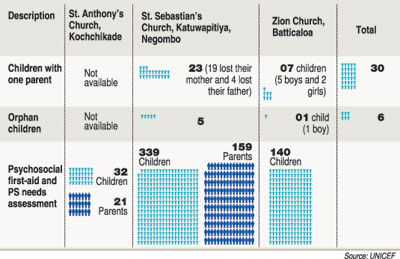 Lives changed forever – the external wounds are slowly healing but the scars will remain.
As people from Katuwapitiya and its environs painfully attempt to limp back to a semblance of normalcy, the support system – except the groups of nuns who are still walking into their homes and giving them a shoulder to cry on and are looking into their wants and needs – seems to be waning.
A little over a month after the horrific Easter Sunday bomb blasts, are the survivors in limbo, while the country moves on with its routine, is the question on the minds of these beleaguered men, women and children.
Many murmur protests against the manner in which the promised compensation is being disbursed, with claims that there are delays and that what was promised is not forthcoming.
The long-term impact of the blasts is that many have lost their livelihoods as well.
A one-room plank shack is where Linton Rexy (42) and his two children, Nishol Chanduka (16) and Nethudini (9) live. Linton's wife, Anne Chandi Rasika died in the blast and it is with a break in his voice that he says he was out at sea on a fishing boat and could not attend her funeral. Little Nethudini has just returned from hospital with many stitches along a long injury on her stomach.
"It was my wife who attended to the children's work, while I was away at sea. How can I feed them now because I cannot be away from home for long? How can we build this home," laments Linton, showing the pile of rocks in the garden.
A relative who has come to be with the family for a little while says that it was Anne who kept the home fires burning by getting up early morning and making kadayappam (food sent to boutiques) and now Linton "atharaman wuna" (has got stranded).
Nishol who is in the Advanced Level at St. Mary's School in Negombo is hoping one day to become a banker, while Nethudini who had munissang (pellets) surgically removed from her abdomen will go back to school at St. Peter's in Negombo.
How Linton will manage his livelihood while looking after his two children, still in an impressionable age having to deal with losing their mother, is the worry.
The struggle for survival this family faces each day is obvious when peeking into their living quarters, in which pride of place takes a framed photograph of their beautiful mother. Three beds are crammed into this tiny space and clothes are all over. There are large gaps in the wooden roof…..no more proof is needed for the dire straits they are in.
All alone a little distance away is Ashen Lakruwan (24) who has become an orphan. His parents, Rose Kumari and Vishak Gamini who earned a living as a carpenter were killed in the blast……."Palliyema nethi wuna," he says of his parents' death. He had not gone for mass as he had done the night shift on Saturday and cycled home late.
Living with his grandmother in her house at Akkara 50, he is doing a small job at a garment factory. His sister has moved away after marriage.
He worries how he will manage his affairs. "I have done a pattern designing course and would like to go in that line," says Ashen.
In another home, we find Samali Fernando (46) with her head covered in a surgical cap through which we see a large plaster. She is seated on a mattress on the floor. Her husband Anthony Shelton (47), a three-wheel driver, who was also injured in the bomb-blast is reluctant to speak to us.
"My skull was shattered and I'm paralysed on the left side," says Samali, explaining how the Neurosurgeons at the National Hospital in Colombo had painstakingly cleared shrapnel from inside her skull in major brain surgery. She has to wear the cap because part of the skull is missing.
That fateful Sunday, just as the Pasku Mangalya service was ending, what she saw was two balls coming towards her and one hitting her on the side of the head. While being rushed to the National Hospital, the ambulance had to make a stop at Ragama as two other persons with her were dead.
"Now my husband can't work because my mother who is looking after me cannot lift me up," says Samali, protesting that for such major injuries the government has given them only Rs. 25,000 each.
She alleges that for some people who only had small seereem (scratches), politicians have given as much as Rs. 200,000 each.
A mother grieves for her two girls in another shack close-by, while the eyes of a little girl, the youngest left behind, are full of pain.
Poor they may have been but they were happy and managed with the meagre income brought by 33-year-old Shiyami Mala's husband. He was into wadu-weda (carpentry) at a weda-pola (workshop) nearby but that owner too has died in the blast and now he is without a job, looking for any odd-job to earn a little money.
The family of five has shrunk to three with bubbly and pretty Subashini (15) and Dewmini (13) getting caught in the blast. Shiyami got her middle daughter's body in a sealed coffin, while her eldest daughter had suffered head injuries.
Shiyami too was injured, with burns on her legs and she is still short of hearing, for which she takes medication.
The family has got Rs. 200,000 so far and filled in lots of forms for the balance compensation, she says, explaining that now her husband is sans regular work.
Their shack, for which they are paying a rent of Rs. 3,000 a month is bare and seated on worn plastic chairs, Shiyami points to a posh house to her left and says that it was the home of the suicide-bomber. "He must have walked past our house many times," she says.
It was Mary Theresa's son who owned the wadu-weda workshop. For her family, there has been a major blow, with seven members dying in the blast – her son, Dulip Shantha Kumara, and his two children and her daughter and her three children.
Now there is another major worry. All those who worked for her son are looking at her with sorrow as well as a plea, for they have lost their sole income, with the machines at the weda-pola deadly silent, she says, sighs and sobs wracking her body.
"Help us please. Ask someone to see our plight and do something about it," she urges, as the tears flow.
The tales of woe continue as we walk into the home of Roman Neville Pieris whose breadwinner-wife Ruklanthi Fernando succumbed in the blast.
Now Roman does not know what to do. Suffering from severe depression and finding it "difficult" to get up in the morning, he has not been holding down a regular job for 10 years. Who will look after my 16-year-old daughter and 11-year-old son, is his lament.
The family is also separated due to the tragic circumstances. Roman and his mother are looking after the son, while the daughter is with his wife's sister. "Jeevath wenna widihak ne," he says, adding that they have no way of living.
The compensation the family received he has scrupulously deposited in their books – Rs. 250,000 each for the two children and Rs. 500,000 for him. He does not want to touch that money, but how can they survive, is what bothers Roman.
As we visit the final home on our list close to the Rukaththana Handiya, in the verandah near the main door on a rack stacked neatly are pairs of white school shoes. But the two daughters of Chandima Niranjali (44) will never wear them again.
Nethmi (16), Vishmi (14) and Chandima's husband, Sampath Wickramaratne, are no more and she had not even attended their burials, for she was critically injured, suffering severe trauma to the head. Her ear-drums have ruptured and she is without part of her skull.
Chandima smiles through her tears and is grateful that her family has been there for her in these trying times, even though even a small sound makes her shiver, unable to breathe.
During Vesak, the people in Uluambalama Watte, where she lives had held a Bodhi and Pahan Pooja in the memory of her husband and children in which she participated.
Only memories are left, of Loku Duwa who could sing beautifully and Chuti Duwa who danced well. She gains strength from the conviction that Jesus has taken the three of them close to Him, while "eh waraprasade mata ahimi vuna" (she lost that blessing).
Chandima is sad that they left without a goodbye and holds close their three rosaries for solace and comfort.
The authorities need to stand by its people and support them through this difficult time, is the view of many.
Most of them who have faced the agony of losing their loved ones and also been severely injured feel that they are being treated like children of a lesser god.