400th year remembrance of last King of Jaffna – Sankili II
By N.Parameswaran
View(s):
The 400th year remembrance, of Sankili II, the last king of Jaffna will be marked today (Sunday) and tomorrow in Jaffna.
Sankili was defeated in battle by the Portugese in 1619 and taken to Goa where he was hanged. The date of the commemoration ceremony has been fixed according to the Tamil calendar.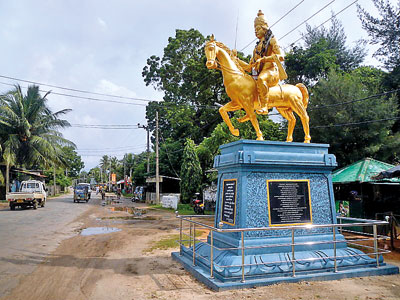 Programmes to mark the occasion will also be held at Keerimalai, Kilinochchi, Vavuniya, Mullaitivu Nanthikadal, Thirukethiswaram, Trincomalee Kanniya hot water wells, Puttalam Mariamman temple, Amparai Sithravelayuthathaswami Temple sea shore, Badulla Chitravelayuthaswami temple, Sripada, Hatton Durgai Amman Temple, and Deva Nambiya Tissa Vavi Anuradhapura.
Annathanam (lunch) will also arranged at all venues. Maruvampulava Sachithananthan, a Sri Lankan Shiv Sena activist will in charge of organising the Hindu rites for ceremonies to be held in the north and east, as well as other areas in the country.
A number of Brahmins from Tamil Nadu are expected to bring with them water from the holy rivers of Jamuna and Kumbakolam which will be mixed with the waters of the abandoned pond at 'Jammu Eri' an abandoned pond behind Sankili's palace gate in Nallur, which was used as the swimming pool of Sankili's queen and women of royal descent.
The Indian Consulate General K.Balachandran will be the Chief Guest at the ceremony to be held at Nallur, while the Governor of the Northern Province Dr. Suren Ragavan will officiate as Chief Guest at Keerimalai tommorrow.