3,000 security personnel in cordon and search operations
View(s):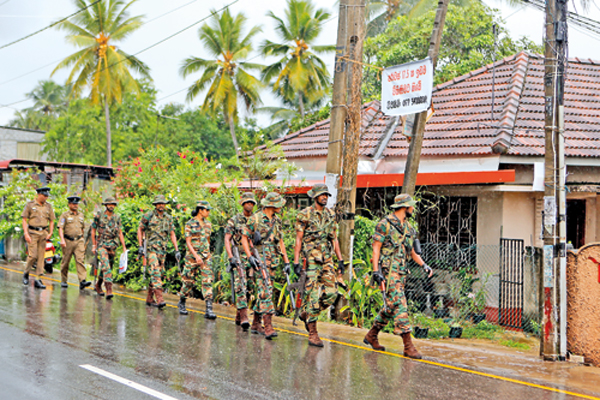 The army and police yesterday conducted special Cordon and Search Operations (CSO) in the Colombo, Gampaha, Kalutara, Kurunegala and Puttalam Districts, which saw close to 3,000 troops work with police personnel.
"The CSO was coordinated by the Overall Operational Command – Colombo, while in other parts of the island search operations were conducted at Security Forces Command level," said acting Military Spokesman Maj Gen Roshan Seneviratne.
Hapuarachchige Pavithra Maduranga (32), a resident of Hadigalla, was arrested by the police in relation to seven hand grenades found near a school in Dickhena, Badureliya, last week. The find prompted parents to keep their children at home, and the matter drew heated arguments in Parliament. Police are continuing investigations, while the grenades were disposed of through a controlled detonation by the Special Task Force (STF) bomb disposal team.
Investigations into the Easter Sunday bombings netted five individuals, including three teachers and a development officer attached to the Horowpathana Divisional Secretariat, taken into custody for maintaining links and receiving funds from Zahran Hashim and the NTJ. Police sources claimed that two of the five are alleged to have delivered extremist lectures.
Police have frozen Rs134 million found in the accounts of the suspects held by the Criminal Investigation Division (CID) and Terrorism Investigation Division (TID), in connection with the Easter Sunday bombings. Police earlier confiscated assets worth Rs140 million. According to Police Spokesman, SP Ruwan Gunasekara, over 89 individuals are being held by the CID and the TID.
Last week, police confirmed the identities of Hashim and the other suicide bombers, after the Government Analyst submitted DNA reports, where the deceased bombers' DNA matched with their parents and/or children. The CID is awaiting further forensic reports on explosives used in
the attacks.