Embattled President fighting on all fronts
By Our Political Editor
View(s):
Rajapaksa's Joint Opposition ready to support him in security measures to tackle IS terror, but no political support
Evidence emerges that IS chose Sri Lanka because of its close military ties with US;latest agreement runs into 80 pages
UNP leadership crisis grows; Wickremesinghe faces party revolt to oust him ahead of presidential election
Opposition leader Mahinda Rajapaksa was in a multi-color handloom shirt and sarong, not his white national dress with the maroon satakaya (shawl) around his neck, when he greeted President Maithripala Sirisena at the latter's residence on Thursday night.
He said he did not have time to change clothes for Sirisena's meeting with leaders of Opposition political parties. He had been at the wedding of onetime Minister, Mahinda Yapa Abeywardene's son. Looking dapper, the President replied that he too was at a wedding of the son of former Minister Vijith Vijithamuni de Soysa MP. It was to be held at the Shangri La Hotel. Due to its closure after damage caused by the Easter Sunday carnage by pro-IS terror groups, the reception had been shifted to Temple Trees, now the official residence of Prime Minister Ranil Wickremesinghe.
As a result of the IS-inspired attacks by local terror groups, there were hundreds of cancellations of wedding receptions at hotels. This was so for hotels that were damaged and those not affected. Many families shifted the venue to their homes and chose to invite only an immediate circle of relatives and friends. Others postponed the weddings. This is what prompted Sri Lanka Podujana Peramuna (SLPP) architect Basil Rajapaksa to ask President Sirisena how Temple Trees became the venue after there was a public declaration by the United National Front government that Temple Trees would not be available for weddings any more. This was after Health Minister Rajitha Senaratne gave his son Chatura, an MP, in marriage at a Temple Trees ceremony with the catering being done by a five star hotel.
Politicians make the laws, give pledges and break them. In this case, it is with disregard to the reality that a nation is mourning the brutal massacre of more than 250 men, women and children. There are over 480 injured, some of them seriously. Schools are closed and children cannot attend for fear of attacks. Education Minister Akila Viraj Kariyawasam, wants to assign at least one police constable for each school to protect children. For the same reason, Sunday mass cannot be held in churches, Friday Jumma prayers in mosques and even poojas at Buddhist or Hindu temples. But a hallowed public institution, heavily secured by armed Police Special Task Force (STF) commandos becomes a wedding hall for the privileged. Replying to Basil Rajapaksa, President Sirisena explained that giving Temple Trees was inevitable. Former minister Vijith Vijithamuni Soysa would be unable to find an "auspicious hour" for the next one year or more. For the vast majority in Sri Lanka it was inauspicious not due to their own fault. Their political leaders, a Defence Secretary, a Police Chief and intelligence officials, who lacked common sense, had failed in their duty. Yet, not for ministers and MPs are those inconveniences. Not when state resources are so easily available. Some even sought enhanced security.
Significant enough, Sirisena sat down alone for the 50-minute meeting with the Opposition delegation. There was no one from his Sri Lanka Freedom Party (SLFP). The delegation comprised Mahinda Rajapaksa, Basil Rajapaksa, G.L. Peiris, Mahindananda Aluthgamage and Dullas Alahapperuma from the SLPP. Others were: Dinesh Gunawardena (Mahajana Eksath Peramuna), Wimal Weerawansa (National Freedom Front), Vasudeva Nanayakkara (Democratic Left Front), Udaya Gammanpila (Pivithuru Hela Urumaya) and Tissa Vitharana (Lanka Sama Samaja Party)
Ahead of the meeting with President Sirisena, the Opposition party leaders met at the Wijerama Mawatha residence of Mahinda Rajapaksa. Munching sandwiches, they discussed strategy over what should be discussed with the President. It was Weerawansa who remarked jocularly, "Puluwang tharam kanna. Ehey (meaning the President's residence) mokuth denney nehe" or eat as much as you can – you will not get anything to eat there. What he said came true. Weerawansa was heard telling a colleague that they were not even given a cup of tea or a glass of water as he forecast.
Presidential committee report
President Sirisena was to reveal at the meeting that he had already received an interim report from a three-member Committee that is probing the Easter Sunday carnage. It is headed by serving Supreme Court Judge Justice Vijith Malalgoda and comprised N.K. Illangakoon, a former Inspector General of Police (IGP), and Pathmasiri Jayamanne, a onetime Secretary to the Ministry of Law and Order. The committee's broad mandate is to" investigate causes and background for the national catastrophe that occurred on April 21 in Sri Lanka," according to the Presidential Secretariat. Sirisena, however, did not tell the meeting the findings contained in the interim report. Other sources revealed that the interim report has made damning strictures against former Defence Secretary Hemasiri Fernando and former Inspector General of Police (IGP) Pujith Jayasundera.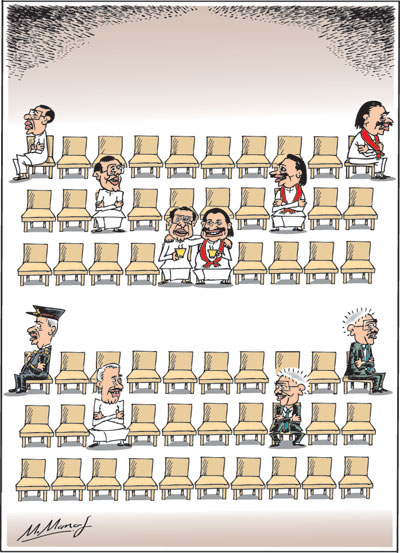 The two of them together with retired DIG Sisira Mendis (a retired crime investigator), now Chief of National Intelligence (CNI) — the top most official in the intelligence hierarcy — were subject to intense questioning by members of the Committee. Their interim report has now been forwarded to Acting Attorney General Dappula de Livera. President Sirisena is now awaiting his recommendations including opinion on laws they may have violated as a prelude to court action. Ahead of that, Criminal Investigation Department (CID) detectives will record their statements.
In high security circles, serious concerns have been raised over a turf war that is going on particularly within the State Intelligence Service (SIS). It is the premier national intelligence agency. As reported earlier, a plethora of so-called "intelligence reports" warning against actions by Sri Lankan pro-ISIS terror groups were released to the social media. Then came reports saying that the SIS Director DIG Nilantha Jayawardena had a meeting with President Sirisena to personally brief him on the threats – a claim strongly denied by Sirisena. Now, tape-recorded mobile phone conversations have been selectively leaked, raising the all-important question whether elements within were endangering national security interests, whilst engaged in a game of pointing the finger at the highest levels of the government. In the process, they are also baring the fact that mobile phones are also being snooped on with new equipment. One need hardly say this is an extremely dangerous situation. The question is whether this would also be ignored much the same way intelligence warnings were.
The matter transpired at the discussion President Sirisena had with leaders of the Opposition parties. He named the person behind one English website operating from London and declared they had reported that he received a personal warning from SIS Chief DIG Nilantha Jayawardena. This so-called exclusive account, the President claimed, was a fabrication. A loquacious UNF minister also made reference to the claim at a news conference on Tuesday saying it was true, but added the remarks were off-the-record.  Yet, what he said has been tape recorded by many who attended the event.  President Sirisena then referred to another Sinhala website, also operating from London and named the person behind it. He said he was being maligned in obscene language by the website. This website is banned in Sri Lanka. No action was possible since they were operating with impunity from Britain often violating Britain's own laws.
That such leaks are occurring in the country's premier intelligence agency is not at all conducive to public safety. It is in President Sirisena's own interest to clean up the institution and ensure there is professionalism. Of course, the criteria of having people who offer personal loyalty in return for remaining in the post would have to be re-examined.  At present there is no one to mind the minder and nowhere else could it be disastrous than in the national intelligence service.
Sirisena said the website about the SIS boss DIG Jayawardena personally warning him has been translated into Sinhala. With added vituperative and malicious remarks against him, more than 1000 copies were detected at the Central Mail Exchange. It has been brought there for posting by two staffers (with identity cards) who had worked for a leading UNF minister. The letters were addressed to Buddhist temples countrywide. He charged that the move was intended to cause communal strife.
This prompted SLFP General Secretary Dayasiri Jayasekera to allege at a news conference on Friday that Minister and Leader of the House, Lakshman Kiriella was behind the move. "The objective," he said, "was to destroy the President's image which had improved in recent months. He claimed that it was three officials from the minister's media division who have been arrested. Police said they were Sampath Kumara, Danusha Priyadarshana and Thaksala Weerasena.
Minister Kiriella's spokesperson Sameela Wanigasekera said the Minister would not comment to the media. However, the Kiriella issued a statement saying he had made inquiries about the website account. "There is no intention to sling mud, incite racial tension or spread anti-government feelings. It only raises the question whether intelligence officials had alerted those responsible," the statement added.
G. L. Peiris, the nominal SLPP leader, told the meeting with President Sirisena that the Turkish Ambassador to Sri Lanka had told him that he had warned the government about possible attacks. Turkey has been the victim of a number of attacks and was the first country to proscribe IS. The envoy had said that a group of 50 had come to Sri Lanka and were operating under cover. President Sirisena undertook to go into the matter. Throughout the session, he was seen writing notes over matters raised by Opposition leaders.
Wimal Weerawansa said that one of the biggest shortcomings had been the appointment of unqualified and inexperienced persons to the Intelligence community. For the past four years, they have remained complacent. He said a large number of persons from different countries were in Sri Lanka without valid visas. They should be deported immediately, he noted.
Basil Rajapaksa declared that the Opposition delegation had come to extend their unqualified support to President Sirisena to combat IS terrorism. This was what the Opposition was willing to do without in any way joining President Sirisena's or his party. The first step he should take, he pointed out, was to withdraw the proposed Counter Terrorism Bill. On May 7 it will go before the Parliament Oversight Committee headed by Mayantha Dissanayake, UNF MP.
President Sirisena replied that the Cabinet had approved the draft bill on the strict understanding that changes would be incorporated during different stages. He said Prime Minister Ranil Wickremesinghe was pushing hard for the passage of the Bill on the grounds that the UN Human Rights Council was pressing for it, President Sirisena revealed. Mahinda Rajapaksa urged that a Parliamentary Select Committee be appointed to go into the matter and review the controversial provisions in the draft. Sirisena agreed that it would not be passed in Parliament in the present format. "We are in the Opposition. We will not change that position but this is a national crisis. We will support on account of this. That does not mean we support you per se," said Basil Rajapaksa. G.L. Peiris added that the draft Counter Terrorism Bill badly affected individual freedom, media freedom and even violated the rights of trade unions. He said purely to appease UN body, "we should not compromise on our national interest." He said that was not a good move for Sri Lanka and urged President Sirisena to be vigilant over this.
President Sirisena told Opposition party leaders that he blamed Defence Secretary Hemasiri Fernando and IGP Pujith Jayasundera for failing to bring the intelligence warnings to his attention. Mahinda Rajapaksa referred to the comedy of errors after the Easter Sunday carnage. Casualty figures were being changed at will. An unrelated Muslim lady living in the United States had been made an accused. "We offer our unconditional support. Yet, it is our supporters who are being harassed and victimised," he declared. He was alluding to the arrest of an Opposition MP over public remarks he had made. Wimal Weerawansa echoed the same sentiments.
US agreement with Sri Lanka
Rajapaksa said that he had commissioned a group of retired military officers to formulate a report identifying the causes that led to the carnage. He asked Sirisena whether he could come with them or by himself and hand over that report. The President replied that he would give him a time.
Weerawansa also raised the issue of a purported request by the United States Embassy in Colombo to provide diplomatic status to US officials and personnel who have come here following the Easter Sunday massacre. At this point, Sirisena reached out to his telephone and spoke to Foreign Secretary Ravinatha Aryasinha. He asked him whether such a thing had happened. Obviously, there was a miscommunication. Sirisena had to re-iterate, "I am asking you; did you agree to this?" Aryasinha said he would have to check and report to him. Besides US intelligence personnel, a Federal Bureau of Investigation (FBI) team is among those in Sri Lanka.
Vasudeva Nanayakkara raised issue over the presence of Britain's Mi-5 (intelligence) personnel on Sri Lankan soil and asked how many had come. President Sirisena replied there were ten or twelve. Weerawansa noted that there were more than 40 such foreign personnel in Sri Lanka. "We did not invite them. They came on their own. My people are complaining that they cannot go ahead with their work since each group is asking them for briefings. We cannot listen to all of them. We will only listen to India at this moment," the president added. That appears to be an acknowledgement of the intelligence warnings India gave including one this week. Those remarks would also mean that President Sirisena is not too happy with the foreign intelligence presence and their advice to local counterparts. This was manifest in some of the concerns expressed by senior personnel.
Not surprisingly. The elusive Islamic State leader Abu Bakr al-Baghdadi was featured in a video released on Monday April 24 – only his second ever -
to show he is alive, by speaking about the recent fall of his group's stronghold in Baghouz, Syria, while praising terrorist bombings in Sri Lanka.
In an 18-minute video featuring both audio and video, Baghdadi, seated on a floor with masked IS lieutenants, said the April 21 Sri Lanka attacks, which killed at least 253 people, were revenge for the siege and fall of their last redoubt in Baghouz, according to a translation by the SITE Intelligence Group, which monitors jihadi propaganda. It added:
"As for your brothers in Sri Lanka, they have put joy in the hearts of the monotheists with their immersing operations that struck the homes of the Crusaders in their Easter, in vengeance for their brothers in Baghouz," Baghdadi said, chuckling over the high number of casualties. This is part of the vengeance that awaits the Crusaders and their henchmen, Allah permitting. Praise be to Allah, among the dead were Americans and Europeans," he said. The statement about Sri Lanka appeared in an audio portion of the video that did not show Baghdadi. This may have been tacked on after he was filmed following the fall of Baghouz, according to SITE's director Rita Katz. Baghdadi appeared healthy in a black headscarf, khaki fishing vest and with a bushy grey beard. By his side was a Russian AK-74U assault rifle…."
President Sirisena confirmed links between the Islamic State and terror groups in Sri Lanka. He told CNN's Senior International Correspondent Sam Kiley on Tuesday in his first interview since the massacre that there "is a connection between the Sri Lankan suicide bombers and the ISIS." It is clear they obtained training from the ISIS, according to international and domestic intelligence agencies, he said.  He insisted that "I was not informed of information pertaining to the attacks."
At the conclusion of the CNN interview at the Presidential Secretariat, I spoke with President Sirisena. I asked him why he had made accusations against me at a cabinet meeting. I said last week, "After the Easter Sunday massacre, the first special cabinet meeting saw some heated exchanges between President Sirisena and Premier Wickremesinghe. The President named some newspapers of supporting Wickremesinghe. In the process, he named the Political Editor of the Sunday Times and said he (the Political Editor) was "angry" with him for the President did not "leak secret information." Very strange indeed. One would have to be insane to ask the President of any country, leave alone Sri Lanka, to "leak" secret information……"  President Sirisena replied "Mama ehema deyak kivvey nehe. Meka UNP karayenge pracharayak. Prevesam wenna" or I did not say such a thing. It is UNP propaganda and I should be careful  he exhorted. However, I did ask three different ministers and they confirmed that the remarks were indeed made. It was during a heated argument Sirisena had with Wickremesinghe.
IS leader al-Baghdadi's remarks confirms what was revealed in these columns last week – that the increasing military role of the United States in Sri Lanka, the result of successive bureaucrats in the Defence Ministry unhesitatingly heeding one concession after another to the United States. This was the cause for IS building a military machine with Muslim extremists and carrying out bombing attacks in Sri Lanka. One example is the seemingly innocuous Acquisition and Cross Servicing Agreement (ACSA) renewed with the present government by then Defence Secretary Karunasena Hettiaratchchi. He is now Sri Lanka's Ambassador to Germany. Signing for the US was then Ambassador Atul Keshap. If the previous agreement was only a handful of pages, the new one by this government runs into over 80 pages.
The Sunday Times has seen the agreement between by the US Defence Department and the Ministry of Defence. The applicability of the agreement begins with a preamble which says "This Agreement is designed to facilitate reciprocal logistic support between the parties (US and Sri Lanka) to be used during combined exercises, training, deployments, port calls, operations, or other co-operative efforts, or for unforeseen circumstances or exigencies in which one of the parties may have a need for Logistic Support, Supplies and Services.
"This Agreement applies to the provision of Logistic Support, Supplies, and Services from the military forces of one party to the military forces of the other Party in return either for cash payment or reciprocal provision of Logistic Support, Supplies, and Services to the military forces of the Supplying Party. For the purpose of this Agreement, the Sri Lanka Coast Guard is considered part of the military forces of the Ministry of Defence of the Democratic Socialist Republic of Sri Lanka……." 
Significantly, it allows every single security or military apparatus in the United States access to Sri Lanka. All those security commands are listed one by one and the Point of Contact (POC) defined. If as made out, this is routine and the US has such arrangements with many other countries, this agreement has never been tabled in Parliament. At least one UNF minister, known for his heavy American leanings, has helped in this and a number of such other arrangements. So much so, in security circles the name referred to this aspect is "M…..a doctrine." At least to re-assure the people of Sri Lanka, it is not still too late to table it in Parliament so a debate could follow. Sri Lankans would then know whether the country has been compromised or not. Some of the contents would very clearly highlight the dangers that portend and ensure a healthy debate whether all the military deals with US have been in the best interests of Sri Lanka or heavily weighted in favour of the US.
Like most other countries, that the US has etched a strong security footprint in Sri Lanka was all too well known. And that expedited IS terror preparations although recruitment and training have been going on for years. Like in the intelligence community, lack of professionalism together with high levels of bureaucracy having a lack of knowledge (even on the basics of foreign policy) had led to this catastrophe. How long one of the key sectors of the economy the tourism ministry would take to recover also remains a critical issue. Many hoteliers complained to President Sirisena during a conference last week that they were heavily indebted to banks and would find it impossible to pay their dues. Sirisena said he would appoint a Cabinet Sub Committee to decide on relief measures.
The move came as Opposition Leader Mahinda Rajapaksa wrote to Speaker Karu Jayasuruya seeking a full day debate on the Easter Sunday carnage. The matter is expected to be taken up when the Speaker chairs a party leaders' meeting tomorrow,  just a day before Parliament sittings commence. Speaker Jayasuriya has put in place new security measures where MPs and their vehicles will be subject to checks outside the Parliament complex.
Sirisena's political future
This week's developments once again bring to the fore the question whether Sirisena has become a loner both in his fight against terror and has much publicised campaign against drug abuse. The latter move was his ambitious effort to make a comeback at the presidential election. He has remarked at discussions overheard by senior security officials that he would contest the presidential election this year. Some opine it was only a message to demonstrate to those concerned that he would remain in power lest they pay less attention if he spoke of retirement.
On the one hand, Sirisena's relationship with Prime Minister Ranil Wickremesinghe has grown into a point of no return. Both are trading accusations at each other and firing one salvo after another over the Easter Sunday carnage. The finger pointing has reached deplorable levels. UNF Ministers are holding news conferences and launching their own campaigns against Sirisena. That is to place the blame for the attacks entirely on his shoulders. This is whilst the silence of Muslim ministers has been deafening. They formed parties and parroted for years that they were the sole guardians of Muslim interests. If the community did not benefit, these ministers have immensely reaped the harvest from their official positions. Some have travelled often to West Asian countries for aid for the community and returned with sacks so to say.  On Friday, Rishad Bathiuddin, Minister of Industry and Commerce left for Oman thought the reasons are yet unknown.
On the other hand, the Joint Opposition parties which met Sirisena on Thursday night have made clear they will support him "unequivocally" in his drive against terror. Other than that, they have made clear there was no political support for him. Nor would they join a government which Sirisena may wish to form or extend other support. Significantly, it was all by himself that he met the leaders of the Opposition parties.
This clearly means that President Sirisena has to clear the gigantic mess he has created by appointing mediocre, inefficient and unqualified persons to top positions. Recent events have shown that his writ as President did not extend even to the Police Chief. It took him days to send him on "compulsory leave." His priority will have to be to replace those "yes" men if he is to make a start and make up his mind that those men being good to him is not enough. If he does not, he will continue to face mounting issues. If he does, that will still not draw him wider support to become even the lonely Sri Lanka Freedom Party's candidate at the presidential election. The party is dissolving slowly but surely with most MPs distancing themselves from current issues.
The lone warrior Sirisena's fights may end up with the President becoming a political orphan or be overtaken by fast developing events. That does not mean manna from heaven for the UNP. It is in an equally poor state, if not worse, with signs of a leadership crisis erupting once more against Ranil Wickremesinghe. There were clear signs this week with ouster moves gaining momentum. He has survived them in the past. It has to be seen whether he could now. This is why Sri Lanka is at the crossroads.