Power generator sales cranking up
View(s):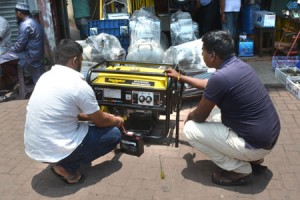 The price of power generators has risen sharply as a result of demand driven by the electricity crisis and a shortage of such equipment.

Some vendors say they have sold 30 times the usual number of power generators just in the past month.
"Stocks are low everywhere. If you give me 100 generators today I will sell all of them in just three days,'' said the owner of an electrical appliances store in Panchikawatta, Mohamed Hassan.

"Earlier, a 02 kilowatt generator that you would see in a home would have sold for Rs. 30,000. This now sells for close to Rs. 45,000,'' he said.
He said the price of 6KW+ power generators has increased exponentially from RS. 190,000 to Rs. 240,000.
"People pawn jewellery, sell personal items and take bank loans to invest in generators only for them to find that stocks have finished," he said.

They then have to wait at least three weeks to obtain a generator.
"The government could have given the people a grace period, and for us sellers to increase our stocks."
He advised potential buyers to be mindful of their needs.

A 2KW generator would be enough to power a household for the 3-4 hours of the power cuts, vendors say.
"The generator I use at home to power three fans and a couple of bulbs is 950 watts, and that is enough for us,'' a trader said.

It is possible to operate up to five lights and fans, as well as a refrigerator with a 2KW unit.
Vendor, Mr. Uma Kanthan, said generators he received on February 15 had been sold out at the beginning of this week.
He usually sells one or two generators a month, but in March, he sold close to 40 units. "The next shipment is coming after Avurudu, so after the 15th.''

One desperate customer had even bought a malfunctioning power generator, he said.