Are you groping in the dark? CEB attempts to shed light
By Kasun Warakapitiya and Sandun Jayawardana
"Whether the PUCSL or anybody else says we can't have power cuts, the system will trigger a natural death. We are preventing it by shedding some excess power," says CEB GM
View(s):
The Ceylon Electricity Board (CEB) this week rejected allegations of favoritism in the implementation of power cuts and said it was only sparing hospitals and the National Water Supply and Drainage Board (NSWDB) from interruptions.
But it also said that the Deputy General Manager of Colombo city alone was given the option of adjusting power curtailments depending on the amount of electricity being added to the grid by users of private generators.
"In Colombo city, a lot of consumers have generators," said S. D. W. Gunawardena, CEB General Manager. "So the DGM was told that if he could reduce his load from our system by 50mw and he has achieved a certain level, he need not impose further power cuts. But we are forced to curtail power to the extent that this requirement has not been met."
This week, for instance, the DGM reported that private generator owners had added 30mw to the grid. "So we curtailed only up to 20mw in Colombo city," Mr Gunawardena said.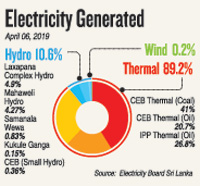 Such complicated formulae are beyond normal public comprehension, the Sunday Times found. A majority of electricity consumers were confounded by the manner and timings of the power cuts. As they were unpredictable, it left them unable to plan their daily routines or work. Some consumers spoke of how they had no power cuts at all while others said they experienced more than other areas, even as long as four hours. And the most common allegation was that areas with VIP residences were not having their electricity curtailed.
But Mr Gunawardena rejected this charge. "Just because we have scheduled certain areas not to have power during certain periods, if the demand is within manageable limits, we will not shed more than is required." In effect, the CEB was using its professional judgment to adjust the duration and location of power cuts based on demand at any given time.
The power cuts are organised by "feeder". The function of the feeder pillar is to take in a supply of electrical energy from a transformer and distribute it, via fuseways, to a number of outgoing circuits, providing each with a means of protection and control. "Just because we have 10 to 20 feeders for a particular time slot, there is no need to shed all the feeders at the same time," the GM said.
This is why some power cuts have been of varying lengths; and why some areas don't have interruptions even when they are scheduled and others have cuts without forewarning. Demand also varies according to the day of the week. Consumption on Wednesdays, for instance, is the highest. It is low on Sundays, when there are no scheduled power cuts. "We shed loads up to supply level," Mr Gunawardena said. "We don't want to shed more than supply level."
The GM promised to look into allegations that areas with VIP residents are favored. But there was no policy, he insisted, to do so. When asked whether encouragement of generator use did not cause environmental damage, he said even vehicle emissions are harmful but that did not spur a call to stop using automobiles.
At present, the CEB was trying to get the power system restored within its guidelines and procurement methods with transparency. "To be frank, this crisis could have been avoided if we started private generation in January," Mr Gunawardena said. "But everyone started shouting that there was enough water in the reservoirs and that CEB was trying to get private power from friends and colleagues so even the Minister stepped back."
But the CEB repeatedly notified Power and Energy Minister Ravi Karunanayake that the situation was gradually deteriorating. "Once the reservoirs are drained, we can't refill them unlike fuel tanks," the GM pointed out. "We forecast this from October. And we gradually came to a situation where supply capacity was not enough to meet demand."
The Public Utilities Commission of Sri Lanka, the regulator, has now taken the CEB to court for implementing power cuts without prior notice or approval. "The fact is, if the system cannot meet the demand, it will go for an automatic shutdown in six steps," Mr Gunawardena said. "Whether the PUCSL or anybody else says we can't have power cuts, the system will trigger a natural death. We are preventing it by shedding some excess power."
Energy sector sources said there was another development that worsened the crisis. "The reservoirs did, indeed, have water," said one expert. "But in December, the CEB carried out a planned shutdown of the Lakvijaya coal power plant's third unit for an overhaul and they couldn't get it running till February. What was meant to last one month went on for two-and-half months. They drew down on the reservoirs to plug the gap."
The CEB Engineers' Union (CEBEU), meanwhile, said it had predicted the power crisis from 2016 and had "tried its best" to prevent it. The ongoing electricity interruptions were causing public hardship in addition to the utility suffered a combined loss of Rs 80bn last year, said Saumya Kumarawadu, union President.
The danger is that such power crises will happen for the next five to six years, he warned, blaming the PUCSL for not approving the CEB's Least Cost Long-Term Generation Expansion Plan. At least 150mw of power should be added to the national grid every year. There has been no major plant since 2014.
The Government, during its first 100 days, decided to retire most independent power producer (IPP) power plants, resulting in the loss of medium-term power plants. It then also decided to stop Sampur coal power plant. "As such, both short-term and medium-term power plants were lost to us," Mr Kumarawadu said. "We have been pushed into a situation where only the purchase of costly emergency power can end the crisis."
Engineers had warned power cuts were inevitable by March or April, he confirmed. And they had recommended the extension of agreements with retired IPPs like ACE Power Embilipitiya and Asia Power in Sapugaskanda. The CEBEU opposed emergency power "on principle" but there was now no other way to stave off electricity interruptions.
The Ministry and CEB authorities did not heed warnings. Instead, they insisted power cuts will not be imposed regardless of what happened and that emergency generation was also out of consideration. "We have now come to a situation where power cuts are being imposed while negotiations are ongoing to purchase emergency power," Mr Kumarawadu said.
Engineers in charge of managing power supply wrote to the CEB's Board of Directors on March 6 saying power cuts will have to be introduced to balance the grid. The General Manager notified the Ministry on March 18 that the utility planned to curtail electricity. He attached the proposed power cut schedule with the letter. But the Ministry did not grant permission, the CEBEU alleged.
"The CEB was then compelled to introduce power cuts without notice to prevent the grid from crashing," Mr Kumarawadu said. "The CEB is now being accused of illegally imposing power cuts without prior notice but the Ministry must take the blame for refusing to give permission despite warnings being conveyed well in advance."
Minister Karunanayake now claims he will provide a "permanent solution" to the crisis before Vesak. "Any solution he provides will be temporary and solely on emergency power," another union member warned. "You can't build a long or even medium-term power plant in several weeks. He may solve this crisis temporarily but at great cost. And it will not prevent the problem from coming back."
Public hit from all sides
With less than five days left for the Sinhala and Tamil New year, power cuts have affected all sectors including the business community. They have made day-to-day lives of people difficult as even simple errands are routinely put off. Shopping plans are delayed, service providers are failing to meet deadlines and normal life is disrupted.
In some areas, the public cannot take phone calls are fibre optic lines are inoperable during power outages. Communication centres and shops that sell printouts, image scanning, telephone and wi-fi services are suffering.
People with various ailments are affected as some pharmacies are closed during power interruptions with air-conditioners not functioning. Many medicines need to be stored in cool conditions with less humidity
Vehicle repair shops and service stations can't function as electric hydraulic lifts, pressurized water guns and pumps don't function. These garages, therefore, have to halt certain services for hours. Rice mill owners, grinding mills and those who store fresh milk and frozen products including fish have been badly hit.
Eateries, restaurants and bakeries were suffering not only because customers had to bear the dark and the heat. Their electric ovens, refrigerators, cool rooms as well as food heaters were off several hours a day.
The water sumps at construction sites as well as high rise buildings were affected. Apartments on the highest floors were the worst hit. Phone and computer repair shops were also complaining.
Though Colombo city did not experience power cuts until last week, the situation changed this week with the CEB curtailing power in selected areas. It attributed this to "the worsening power situation".
Business blues
N Koddituwakku, 58, cashier
A cashier at a restaurant near the Nugegoda flyover, N Kodituwakku said they were seeing fewer customers eating in because of the power cuts. "Most customers take away food during power cuts because they cannot eat leisurely in our restaurant as the air conditioners are not working," she said. The staff also found it difficult to work in the heat. The restaurant had to throw away cooked meals in the evenings as they were prone to spoil. "The cool drinks are no longer cool and ice creams have turned to liquid," she said. "Most of the milk packets have gone bad."
Saman Dissanayake, 47, small time printing press owner
His Nawala Road printing press was off for over three hours a day now. "Why can't the government at least provide power during the week prior to Sinhala and Tamil New Year?" he asked. "This is the time we get work to print banners, notices, cards and calendars for New Year." He travelled to Colombo to get work done for clients as he had to meet deadlines. Loss of business has made it difficult for him to pay New Year salary advances to the five employees at the press.
K A I R Perera, 39, owner of a small grocery
Mr Perera said the ice creams and other refreshments were going bad. "Even when customers want ice cream during power cuts, I am hesitant to open the fridge as the cool air escapes," the Nawala road entrepreneur said. He closed his shop early because of the 6.30-7.30pm power cut. When he gets home to Battaramulla, he faces the 7.30-8.30pm interruption. He cannot afford a generator.
Rechargeable fans flying off the shelves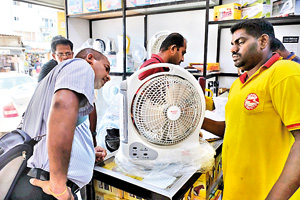 Rechargeable fans are selling like wildfire, a shop owner on Malwatta Road in Pettah told the Sunday Times. They were being used to combat the prevailing heat. Since the power cuts started, his outlet has received an unprecedented number of customers. And a majority came for rechargeable electric fans.
Four types of rechargeable fans had been available in his shop even before. Now, because of increased demand, two of the models were out of stock while the others were flying off the shelves. Even employees of the Ceylon Electricity Board had come in search of the fans and bought them.
"If I continue selling the fans at this rate, my stocks will be over in less than a week," he said. He did not wish to be named. He has stopped selling fans on a wholesale basis and is retailing them to benefit from the demand.