Experts to hand over report on how best to tackle drug rehabilitation
View(s):
By Asiri Fernando

President Maithripala Sirisena will, next week, receive an expert report on improved rehabilitation programmes for the rising number of drug addicts.
The report complied by a nine- member Consultative Committee,  set up under the Presidential Task Force on Drug Prevention,  has evaluated the domestic mechanism, and on the President's recommendation, has studied the drug rehabilitation systems of Singapore and the Philippines, said Dr Saman Kithalawaarachchi, Director Presidential Task Force on Drug Prevention.
The report comes against the backdrop of police statistics which revealed that in the first three months of this year, more than 20,000 suspects were arrested over the use and possession of Cannabis and Heroin.
Earlier this year, experts expressed concern that up to 75% of those who attended rehabilitation programmes relapsed into the habbit after they left the programmes.
Experts from the Alcohol and Drug Information Centre (ADIC) expressed concern that the current "centre type model' was not cost-effective and needed rethinking. According to Mr Kithalawaarachchi, the upcoming report will recommend that a pilot project on community supported rehabilitation centres be established.
Under the pilot project, five such centres will be set up from May this year in five districts. The committee has also recommended that existing centres and institutions be regularised and modernised.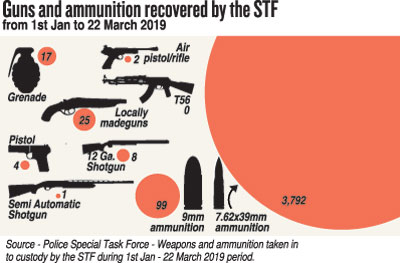 Community support for drug prevention and rehabilitation is paramount claimed Dr Kithalawaarachchi.
He requested the public to support drug prevention efforts of law enforcement agencies and to move away from stigmatising victims of drug use. "Public perception and stigmatising sometimes alienate those who seek treatment," he stressed.
According to him, 750kg of heroin and over 5000kgs of Kerala ganja have been cleared and are ready to be destroyed early next month. A further 500kgs of heroin is awaiting the legal process to be cleared for destruction. A public outcry on the lack of transparency regarding what happens to the narcotic drugs once seized was recently raised in parliament.
Meanwhile, illegal firearms and drug trafficking are closely linked. The Police Special Task Force has taken into custody 38 firearms, 17 hand grenades and over 3800 rounds of ammunition from January 1 to March 22 this year.
An interesting trend noted is the increase in locally made single shot pistols and revolvers which indicate a significant local production capacity. Compared with last year's recoveries no Type-56 assault rifles have yet been taken into custody this year. Last year according to police statistics 191 T-56 rifles were taken in to custody. A special three-month long programme to apprehend illegal firearms launched by the Police department in January will end this month.