'Asandhimitta' wins kudos at Osaka Film Festival
By Susitha Fernando
Nilmini Sigera awarded Most Brilliant Performer
View(s):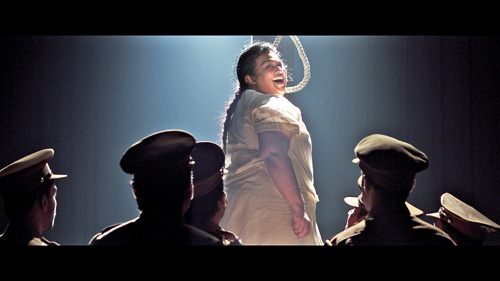 The debutant, Nilmini Sigera won the 'Most Brilliant Performer', Yakushi Pearl Award at the recently concluded Osaka Asian Film Festival held in Osaka City, Japan. She was awarded for her role in Asoka Handagama's 'Asandhimitta', film which started its local screening on March 22.
Placed in the main competition of OAFF, 'Asandhimitta' competed with films from Japan, Vietnam, Hong-Kong, Korea, China, India, Philippines and Taiwan.
The jury members of the competition were Taiwan Director Yvette Chou, Poland artistic director and co-founder of Five Flavours Film Festival, Jakub Krolikowski and  Samantha Lee, a filmmaker from Philippines
Started in 2005, the Osaka Asian Film Festival aims to facilitate human resources development and exchange, to invigorate the Osaka economy, and to increase the city's appeal, through providing opportunities to watch excellent Asian films, supporting filmmaking in Osaka and attracting filmmakers from Asian countries and regions to Osaka. Promoting Osaka worldwide as a gateway city for Asian films, and engaging with many people from the fields of culture, art, education, tourism and business, from Osaka and all of Asia, OAFF works as an open platform to contribute to the development of Osaka and cinema.
Marking its 14th edition this year, OAFF, under programming director TERUOKA Sozo, had selected high-quality Asian films. The Competition section, which received increased recognition every year, had selected films previously unreleased in Japan. The regular sections, Special Screenings and Indie Forum, and other special programs also featured a wide variety of excellent Asian films.
The 10th film by Asoka Handagama, 'Asandhimitta' is made based on a Novella by SamanWickramarchchi.
Produced by H D Premasiri, the film stars Nilmini Sigera, Dharmapriya Dias, W Jayasiri, Shyam Fernando, Yashoda Wimaladharma, Rukmal Nirosh, Anula Bulathsinhala, GayaniGisanthika, SandaliHandagama and Pradeep Ramavikrama in the main cast.
A renowned filmmaker receives a mysterious call from an old college mate in the middle of the night. Asandhimitta, whom he recalls as a large and voluptuous woman, asks him to make a film based on her life.
She then confesses that she was recently involved in a triple homicide of three women and is taken into custody shortly afterwards. Intrigued, the filmmaker attempts to piece together her fragmented story for a film while Asandhimitta herself awaits her fate in a local prison.
'Asandhimitta' had its world premiere at the 2018 Busan International Film Festival  and had its European Premiere at the Black Nights Film Festival (In Competition ) in November 2018.
ACEL release the film is now being screened at Regal Colombo, Lido Borella and other theatres as a limited engagement as in around the country.