Defenders FC–Sri Lanka's No.1 football team
By Susil Premalal
View(s):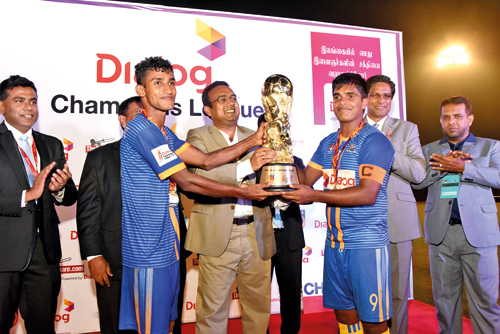 Defenders Football Club have won three major tournaments during the last six months. They are the Defence Service Trophy, the FA Cup and off late the Dialog Champions League.
"We are the number one football team in Sri Lanka. Our target is to win all future tournaments," said a jubilant Defenders FC captain, I.C. Sajith Kumara.
Sajith Kumara has represented Sri Lanka for the past eight years. He has represented Sri Lanka at the SAFF Tournament and several international tournaments as well.
"We entered the field against Blue Star FC with the sole purpose of winning the game. We faced the game magnificently. From the opening minute, we were in front. We scored within the first three minutes. The entire team played well. We practiced with the sole aim of winning the Dialog Champions League," highly excited by their win, the skipper added.
"There are six national players in the team and one Under-23 player. In the Blue Star game we had four players in the injury list. The Blue Star team gave a good fight in the second half. Both teams had the equal opportunity of scoring goals. We took advantage of it. If Blue Star had scored one more goal, or if they drew the match, we would have lost the chance to be champions.
We will begin the 2019 term with the FA Cup next month. I think we have a good chance of winning that too," stated a highly motivated Kumara.
This is the second occasion that the Dialog Champions League was won by Defenders FC.
A special significance of the tournament was Colombo FC, despite losing the third place playoff game, emerging as runners-up. They won the tournament in 2015/16, 2016/17 and 2017/18 in a row. Blue Star took third place.
Champions Defenders played 16 matches, won 10, drew four and lost two games, collecting 34 points. They won against Java Lane 4-0, Solid 3-2, Ratnam 1-0, Renown 1-0, Matara City 3-1, Saunders 3-0, New Youngs 2-0, Air Force 4-2, Colombo FC 2-1 and finally Blue Star 3-1. They drew against Crystal Palace 3-all, Pelicans 1-all, Navy 1-all and Negombo Youth 2-all. They lost to Red Star 0-5 and Up Country Lions 2-5.
The win will qualify Defenders FC for the AFC Cup Tournament 2021. Asikoor Rahuman was selected as the Most Valuable Player of the Tournament while Mohamed Luthifi bagged the Golden Glove.