Coworking spaces in and around Colombo
By Ruqyyaha Deane
View(s):
Coworking spaces are essentially shared workspaces that offer a sanctuary for work-at home professionals, freelancers, start-ups and many others.
Offering an affordable work space for those looking to escape the isolation of a home office or a coffee shop. Many companies and start-ups have also switched to co-working spaces as a cost-effective, practical means.
With all the buzz around co- working spaces, we decided to put together a few spaces that provide great facilities and a comfortable atmosphere in and around Colombo
Colombo Cooperative
Located on the 7th floor at 365, Galle Rd, Colombo 3, is a sleek working space fitted with a curtain wall offering a panoramic ocean view. Colombo Cooperative, which was opened to the public in late May last year is a clean cut space designed to maximize communication and creativity, that helps members reach their full potential.
Amenities they offer: High speed wifi, printers, copiers, scanners and air conditioning. Kitchen facilities, skype rooms, and personal lockers are accessible for members.
Rate list
They offer a range of different spaces that best suit your requirements. For first-timers, Colombo Cooperative invites you to drop in for a free half-day and pick the space that suits your needs!
Day Pass – Rs 3,000
10-Day Pass – Rs 14,000
Members of the community get special privileges such as a 10% on the in-house Soul coffee, a discounted rate on the spaces and other concessions.
Flexible Desk – Rs 18,000 per month
Flexible Desk: Side Hustler – Rs 14,000 per month
Dedicated Desk – Rs 28,000 per month
Private Office – Rs 58,000 per month
Community Member – Rs 7,000 per month
They also provide conference rooms that can be booked with prior notice. For more information you can visit them at www.colombocoop.com or call their Community Manager at 0112372446.
Connect
Connect is a coworking space offered by Shangri-La, Colombo. Promoted as 'a versatile environment to meet, work and create.' It is a hub ideal for businessman and those who are always on the go in the fast-paced world of the digital grind. For creative intellects to goal-
oriented entrepreneurs, Connect is a brainstorming, flexible space to nurture ideas. They are open from 8 a.m. to 8 p.m., daily
Amenities they offer: High speed wireless internet access, premium audio and video conferencing, interactive boards and smart boards, laptop rental, wireless printing and photocopying services.
Rate list
Meeting rooms – Rs. 2500 per hour
Work pods – Semi-private and open work pods – Rs.1000 per hour
Individual work stations – Rs. 500 per day
Connect also has private offices available for renting on a weekly or monthly charge. Leasing details can be communicated through 011 788 7202, e-mail
connect.slcb@shangri-la.com, or visit www.co-nnect.info
---
Hatch
Hatch is an accelerator, incubator and co-working space for the entrepreneur community. Placing emphasis that they are more than just a co-working space but an ecosystem for startups and entrepreneurs that want to start a business.
They are located at 14 Sir Baron Jayathilake Mawatha, Colombo 01.
Amenities they offer: High speed wifi, printers, copiers, scanners and air conditioning.Front desk services and mail & package handling.
Rate list per month
n Members Lounge – Rs. 10,000
n Hot desk – Rs. 14, 5000
n Dedicated Desk – Rs. 18,000
n Office – Rs. 20,000 per month
For more information follow their Instagram account @hatch.works or call 077 738 5000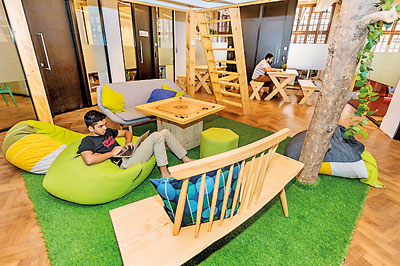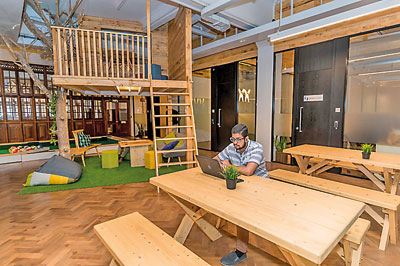 ---
Honeycomb
Located at 651 Kotte Rd, Sri Jayawardenepura Kotte, Honeycomb Creative Spaces. Fully equipped with a photo-studio, meeting room facilities, shared and private office space, pool and a mini gym, it is indeed a place for busy worker bees.
Amenities they offer: High speed wifi, printers, copiers, scanners and air conditioning. Kitchen facilities with unlimited tea and coffee.
Rate list
Hot desk – Rs. 1000 per day, Rs. 3500 per week and Rs. 9000 per month
Private office – Rs. 13,000 per seat (They offer a range of seating plans)
Meeting rooms and event spaces range from Rs. 3000 to Rs. 18,000
For more information you can call them at 077 267 9170 or at www.honeycomb.lk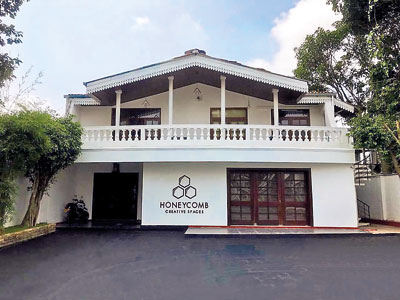 ---
Likuid spaces
A supportive environment that improves one's efficiency is something that Likuid spaces strives to offer instilled by their core values, the three 'C's: Community, Collaboration and Creativity. Situated at No. 5 Charles Place, Colombo this working space is pet friendly.
Amenities they offer: High speed wifi, printers, sound & video recording equipment, copiers, scanners and air conditioning. Kitchen facilities with stocked coffee and tea.
Rate list
Hot desk – Rs. 1500 per day
Dedicated desk – Rs. 27,500 per month
They have office spaces available as well on rental basis.
For more information call 077 608 3621 or follow them on Instagram @likuidspaces .
---
HUB9
HUB9 located at No. 09, Park Gardens is one of the main coworking spaces offered by HUB9 apart from Catalyst by HUB9 located at No. 148, Fife Road. Amenities they offer include High speed wifi, printers, copiers, scanners and air conditioning. Kitchen facilities, terrace, parking spaces and an outdoor lounge.
Rate list
Opening hours: 24 hours, 365 days (Member access.)
Hot Desk/Open Plan Seating
One day (reception hours) – Rs. 1000
One Week (24 hrs) – Rs. 4000
One Month (24 hrs) – Rs. 10,000
Private office space
One month- Rs. 13,000
Meeting Room (free for members)
Rs. 2,000 for 2 hours
Rs. 1,000 per additional hour
Mailbox Lockers
Rs. 3,000 per month