School Section felicitates four shooting legends
View(s):

Sri Lanka Schools Shooting Sports Association (SLSSSA) felicitated four of their former shooters, who reached the national level while still schooling, at their Colours Awarding Ceremony for the years of 2017 and 2018, held at the BMICH.

The four shooters — Rohana Nanayakkara, a present Vice President of National Shooting Sports Federation of Sri Lanka (NSSF), Zal Chitti, the Late Ravi Jayawardena and Late Col. Daya Rajasinghe — had been the pioneer school shooters to earn national level recognition, according to Capt. Harsha Weerasuriya, the Technical Adviser of SLSSSA.

"These four shooters were too good for their age, they managed to reach the national level while still at school. Hence they were also among the first set of shooters to earn colours for Schools Shooting. Sadly two of them are no longer with us, but we have Mr. Rohana Nanayakkara still involved with shooting sports at the highest level," Capt. Weerasuriya stated.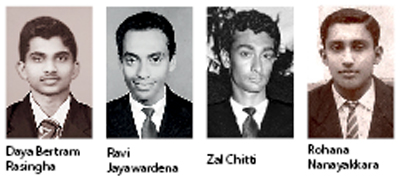 At the same occasion, which was held on December 29 at the BMICH, NSSF President Shirantha Peries donated an Air Pistol, which was handed over by him for the use of shooter of the Southern Province while another Air Pistol was donated by Rifle Point Ltd., which was handed over to the use of shooter of the Eastern Province.
Over 300 shooters from 70 schools in all provinces were presented with colours at the SLSSSA Colours Awarding Ceremony, where Shirantha Peries, President of NSSF was the chief guest. NSSF Vice Presidents Rohana Nanayakakara, Maj. Gen. Kenneth Edama and Gamini Walgama graced the occasion as guests of honour.