Poor boy Harin; he has a problem at hand
View(s):

In the Indian subcontinent, there may not be anyone who does not know the Kisa Gotami story. When her child died she thought that the little one was only sick and wanted someone to treat him. She approached the Buddha and said, "My name is Kisa. I have been looking everywhere for medicine for my son."

The Buddha looked at the little bundle in Kisa's arms. How could Kisa be helped to realise the truth that her little boy was already dead?

"Kisa, if you want to make some medicine, you must have some mustard seeds," said the Buddha. "Go into town and ask at each house, but you must only accept seeds from a house in which no one has died."

There is another episode that runs in the same vein now in 2018 – what we describe as modern times. Here in little Sri Lanka we are searching for someone to head the executive committee of Sri Lanka cricket. We may not find a candidate once we sift through the handful of mustard. It appears that everyone in that list of aspirants has sinned!

Some charge that former SLC chairman Mohan de Silva, who is heading the Thilanga faction, has some skeletons in his cupboard while others say that there is something wrong with K. Mathivanan also. The third is Jayantha Dharmadasa. He is supposed to be ineligible on a technical point. Some are even burning effigies against Nishantha Ranatunga who is eyeing to become the secretary.

The irony is that this lot is the same flock that has ruled cricket in Sri Lanka since 1996. Sometimes they were plums in the same pie. Sometimes they were in different camps but, all of them are responsible for cricket's ills we are experiencing now.

Nevertheless, if we ask the public whether Sri Lanka Cricket needs a change of face, the 'yes' answer would be overwhelming. Some said that the woe was that the game got too politicised. Sadly, the status quo is even deeper than that.

May be, when former Sports Minister Faiszer Musthapha had the key in his hand, he started to drive on the reverse while denting every lamp post in sight. He made things complicated while agreeing with the ICC to go in for an election by February 2019. At that time, he appeared progressive and thought of healing this festering wound. He had more tricks than one. Yet, he opted to go moonwalking with a competent authority and various odd committees that wielded no real powers. Only if Musthapha had come up with a presentation to the change the cricket constitution of Sri Lanka, the ICC would have adopted a different stance.

With time running out fast; new sports minister Harin Fernendo's dilemma is real. Being a person who knows what the sports machine needs, he initially pressed the right buttons. He began to talk with persons in the calibre of Roshan Mahanama, Sidath Wettimuny, Bandula Warnapura , Kumar Sangakkara and Mahela Jayawardena, to mention a few. Yet, the window that opened was only as a pinhole. No one wanted to head an interim committee to bell the ailing cat. Yet, the Sports Minister did discuss the possibilities with the world cricket authority, but, the ICC was polite, but, firm. The ICC said the elections should be held on due date or Sri Lanka Cricket has to face the repercussions.

But, remember the ICC fully understands what's going around. The ICC is fully aware who the black cats and who the pumas are, but, it is embroiled in certain procedures that it must adhere to.

An outsider who is also an insider who knows the inside out is former SLC Interim Committee Chairman Sidath Wettimuny. We are aware that he already has had a one-one-one with Minister Fernando. He said, "I gather the ICC wants the SLC to have its election. Anyway, if that is the case, there is no way out. The minister should appoint a committee to look into the possibilities of amending or replacing the constitution with expertise from an independent body and have it passed in parliament. Then he can go ahead with the sitting executive committee until such time the changes are made".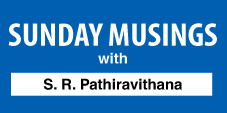 Then there was another outsider, who was also a former insider with a rather cheeky idea. He said, "I arrived at this conclusion when I read the recent newspaper articles on the subject. We read that Mohan de Silva is not eligible and he has been reported. Mathivanan also has been found fault with another issue, which I think is not fair, by general standards, but, nevertheless someone has complained about his presence there. Then Jayantha Dharmadasa has been trapped by a ruse that was designed by a former sports minister — may be exclusively for this purpose. Against that background, how if someone decides to get a court injunction claiming that there are charges against all aspirants and none is suitable to hold office?" There are chances of this very thing happening within the next few days.
By and large, the situation is complex. The ICC is not happy with the present context, but, protocol must be followed. The general public in this country is more than cheesed-off about the situation – 2014 World T-20 champions having to play a round of qualifiers to take part in the real thing. Yet, politics apart, even the sports minister cannot do anything positive because of the complexity of the problem which was designed by, I suppose, the previous sports minister Faiszer Musthapha.