Nadal ready to let rip remodelled serve at Australian Open
View(s):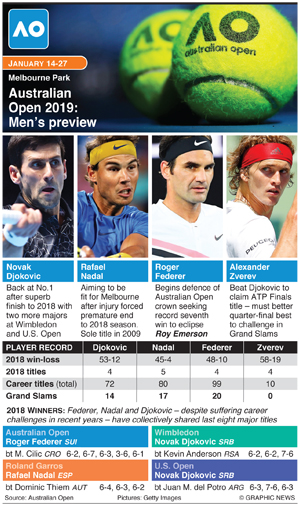 Rafael Nadal revealed Saturday he was back to full fitness and has a brand new serve to unleash at the Australian Open.
The world number two limped away from Melbourne Park a year ago, forced to retire in pain from his quarter-final with Marin Cilic.
The 17-time Grand Slam champion missed most of the next three months and cut short his season to have surgery on a troublesome foot injury.
He pulled out of a Brisbane warm-up event with a slight thigh strain but declared Saturday his troubles were behind him.
"I feel good. If I am not feeling good, I will not be here," Nadal told reporters two days before the start of the first Grand Slam of the year.
Federer names Wimbledon as potential
farewell venue
Swiss maestro Roger Federer has revealed that Wimbledon, where he won his first Grand Slam title, could be the ideal place for a farewell tournament when he decides to call time on his illustrious career.
Federer's comments arrive at a time when the tennis world is celebrating the achievements of his long-time rival Andy Murray, who said next week's Australian Open could his last as he struggles to recover from a hip injury.
"I have a lot of places that are very special to me, thankfully," Federer told CNN. "I've been very fortunate. But yeah, sure, like a Wimbledon stands out as maybe a place.
He is not expected to hang up his racket before the 2020 Tokyo Olympics, where he will look to add an individual gold alongside his doubles triumph at Beijing 2008.
Andy Murray to retire at Wimbledon,
at the latest
Hindered by a hip injury, the three-time grand slam winner announced Friday on the eve of the Australian Open that he will retire at Wimbledon in July — if he can make it that far.
Indeed, the 31-year-old Scot admitted the year's first major could be his last event, such is the state of his surgically repaired right hip.
He left his press conference in tears, a day after the Telegraph reported Murray looked like a shadow of his old self when he was soundly beaten by his childhood pal and the current world No. 1, Novak Djokovic, in a practice session at Melbourne Park.
"I can play with limitations but having the limitations and the pain is not allowing me to enjoy competing or training," Murray, down to 230th in the rankings, said. "Wimbledon is where I would like to stop playing but I am not certain I am able to do that.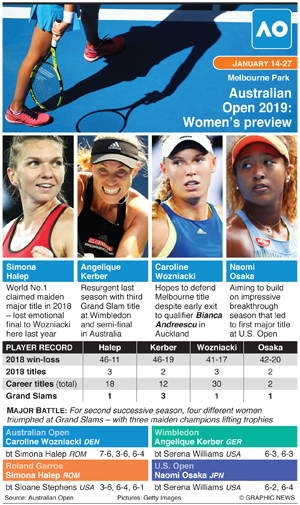 "Not feeling good. Been struggling for a long time. I'm not sure I can play through the pain for another four or five months.
"Pretty much done everything that I could to try and get my hip feeling better and it hasn't helped loads. I think there is a chance the Australian Open is my last tournament."
Svitolina has Grand designs on reaching the top
Elina Svitolina is determined to break through and win her first Grand Slam this year with the world number one ranking also in the sights of the confident Ukrainian.
The 24-year-old scored the biggest win of her career at the WTA Finals in Singapore last October to end the year at a career-high four.
It marked a steady climb through the rankings since she debuted in 2010 at 498 with her aggressive style pushing her ever closer to being on top of the world.
But Grand Slam success has so far been elusive, with just three quarter-final appearances to show in the 25 majors she has played.
Svitolina is hoping that will change as she gears up for the opening Slam of the year in Melbourne starting Monday.
"I played great in the end of the season. But of course the main goal for me is to be number one and win a Grand Slam," she said Saturday.
"But I try to not think so much about it and not have this pressure because, you know, everyone is fighting for the same thing. There is enough pressure that's put on us." She admitted, though, that "it motivates me".
"For this year, I try to be more aggressive, try to build more from the baseline," she added.