A tapestry of a life and a voice for justice
View(s):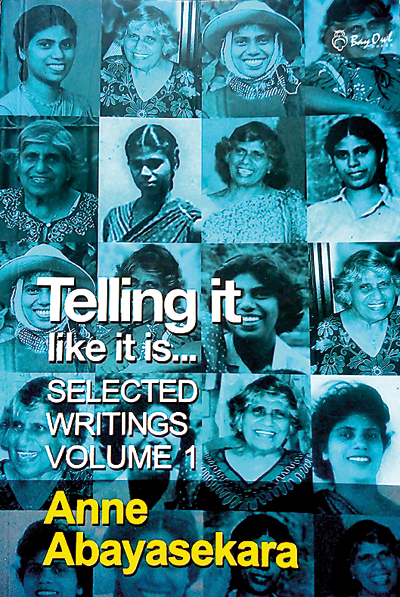 "The true patriots are those who, while they are committed to the good things in our society, will also recognize the bad and become actively involved in doing something to remove the huge blots that darken our horizon." So said prominent journalist Anne Abayasekara in a stirring article published in 'The Island' newspaper in 2003 under the title 'Who is a Patriot?' The article speaks of how ordinary Sri Lankans standing up and demanding an end to bribery and corruption from the government and public sector instead of belonging to the 'many of us who give tacit assent' would do wonders for our island nation. Words which perhaps ring as true today as they did when they were published, if not more so.
Given above is merely a minute sample of the honest, moving and evocative journalism of Ms. Abayasekara which is what 'Telling it like it is (Selected Writings Volume 1)' is full of. The book is a selection of her work published by her children as a tribute to Ms. Abayasekara, who passed away in 2015. One of Sri Lanka's first female staff journalists, Ms. Abayasekara has seen it all – from the 1948 Independence Day celebrations to the 1983 riots to the end of the war. Her astute observations of the many events, people and places she has written about offer readers an immersive view of the subject matter she has explored.
The title of the book has been taken from a moving piece she wrote after the '83 riots, which had the same title. Ms. Abayasekara is Sinhalese and she expresses her absolute shock and disgust regarding the riots - one of the few who openly did so at the time. "There was no need for exaggeration. What actually happened here was horrendous enough," she says, another article on the riots pointing out that while the Sinhalese who fearlessly opened their houses to shelter their Tamil brothers and sisters were worth commending, "it is time we also acknowledged the fact that there is also a large body of citizens in this country who, while they may not actively participate in such violence, openly or tacitly condone barbaric behaviour of thugs and hooligans".
The book is divided into five sections – 'The Spoken Word' – three speeches delivered by Ms. Abayasekera at various functions, 'One Spot Beloved by All' – a little over 20 articles on various topics concerning our paradise isle, 'All About Eve' – six articles on issues concerning women and gender, 'Where the Heart Is' – seven articles about family and  'As Others Viewed Her' – six appreciations written by various people both in her lifetime and after her demise.
The speeches seem to have been carefully crafted to suit the occasions they were delivered at (a very moving and soul searching speech about what one's school means to them given at Uduvil Girls' College, Jaffna, for instance), while the selection of articles on Sri Lanka offers great insight into Sri Lanka through the eyes of someone who has seen it all unfold, from Independence to the end of the war, with mentions of certain major world events as well. For example, an article in 2001 titled 'What do we tell our children?' written in the aftermath of the infamous September 11 terrorist attack in the US reflects on Christianity and violence across the globe and in Sri Lanka.
The masterful weaving of quotes, examples, analogies etc. into Ms. Abayasekara's writing explains how she gained a name among a generation of Sri Lankans as a courageous journalist whose articles many people read with keen interest. The articles on 'women's issues' are also very interesting and insightful – for example, an article on how a housewife can be joyful and find happiness even with a limited budget is very thought provoking (although modern day feminists may very well disagree with what has been said). The section on her family life will be fascinating for those who wish to learn about life in days gone by.
A possible minus point of the book is the repetition of similar or identical facts and events in many places. This is most evident in 'Voices of Jaffna' and 'A Visit to Jaffna', two articles which, published within half a month of each other, describe the same trip to Jaffna and very identical events  a  fact which might be felt more acutely by those who read the book voraciously rather than those who read chapters at random over time.
Overall the book is an excellent selection of articles on a wide variety of topics and would most likely be enjoyed by many who like to reminisce or learn about "the good old days" or reflect on the ideas of someone who could be considered a woman who was both ahead of her time and a journalist of integrity and independence.
Book facts
Telling it like it is (Selected Writings of Anne Abayasekera
Volume 1)
Published by Perera & Hussein (Bay Owl Press)
Price: Rs. 1250
Reviewed by Kaveesha Fernando