Pearls for the festive season
View(s):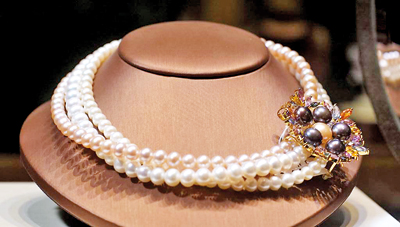 Pearls possess an allure steeped in history. In readiness for the forthcoming festive season Tiesh last week launched its 'Collection de Perles' – a tribute to the 'Queen of Gems' which has enticed countless women over the centuries.
In line with Tiesh's contemporary designs, the collection consists of rings, earrings, pendants, necklaces and bracelets, all of which have been enhanced with the use of Sri Lankan precious stones and well as diamonds.
Speaking at the launch, Directors of Tiesh, Thiyasha and Ayesh de Fonseka said, "This new collection of pearl jewellery caters to the demand and suggestions made by our ever-growing clientele which has a fascination for pearl encrusted jewellery. The intricate designs feature natural pearls set in precious metals of white gold, yellow gold, rose gold and silver. As in all creations by Tiesh, this Collection de Perles too will leave customers spoilt for choice with an array of dainty albeit classic designs to more elaborate one-of-a-kind pieces."
Since its launch in 1997, Tiesh (earlier known as Lakmini (Pvt) Ltd), has grown in popularity.
Its recently opened 27,000 sq.ft Gems and Jewellery Emporium in Kandy is Sri Lanka's largest.