Fashion and culture at 'Innovation Island'
Mercedes Benz Fashion Week 2018 in Colombo
View(s):
By Ruqyyaha Deane
The theme 'Innovation Island' was taken up by an interesting mix of local and international designers at the Mercedes Benz Fashion Week which hit the ramp last weekend at the DIMO 800 Merceses Benz Centre in Colombo.  From exquisite batik, to delicate beeralu lace and fine handloom intertwined in their collections, it was a harmony of fashion and culture on the ramp.
Opening Day 2, the Spring Summer 2019 collection of  Danish designer Henrik Vibskov, set the tropical trans-seasonal feel of the evening incorporating intricate details on Sri Lankan textiles and being inspired by the island's delights to create flowing silhouettes.
A colourful blast into the past, Ann Mendis's 'A memento voyager' collection really took her personal theme to heart as the influence of memorabilia was apparent in the prints that featured newspaper  types, stamps, porcelain motifs of the 90s and glassware.
Raidha's Maldive collection of androgynous clothing emphasised Victorian greenhouse beehives as most materials used had the hexagonal shape printed on them. Handwork, prints and embroidery fabric with lace trips and French lace were featured in the hijab and non-hijab silhouettes.
Tharshana Wijesinghe's collection 'Eclectic Journey' showed off  his drawn textile patterns that are a hybrid of glamour and fantasy presenting a look that was bold yet demure, an interesting juxtaposition that stood out on the catwalk. Wijesinghe also collaborated with the brand Kantala to bring in an artisanal handbag line.
'Origami' created by Upasana Design Studio shone the spotlight on asymmetric drapes and free flowing silhouettes. The neutral white and maroon colour scheme brought out the structured element of the clothing – Indian desi cotton hand-spun to be Khadi, a nod to sustainability.
Also presenting their collections were Poornima Wijendra, Maheen Khan, Charini Suriyage, Ramona Oshini, Natalie Goonetilleke and brands Fernandorochelle, ITR'by Khyati Pande, UDĀK, Kúr, Linen Atelier and Common Folk.
Urban Island ended the evening with a collection of home-grown contemporary tropical travel styles including cotton, handloom, linen, batik and swimwear from Aqua Island.
Mercedes Benz Fashion Week  in Colombo was presented by DIMO and the Academy of Design (AOD).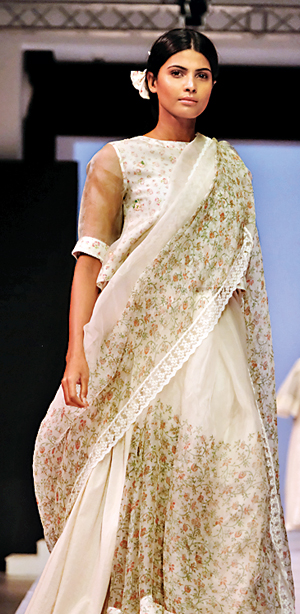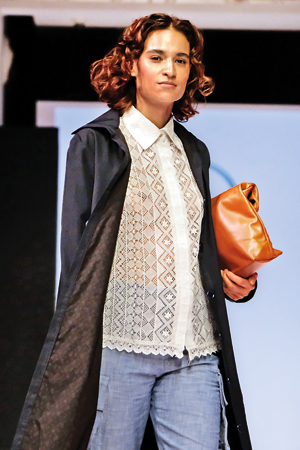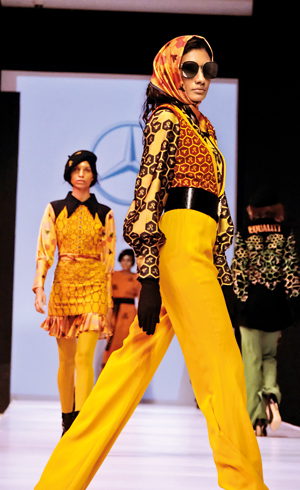 The third and final runway for Mercedes Benz Fashion Week Sri Lanka 2018 featured designs from the country's apparel frontrunners in the Industry Showcase.
The night commenced with the MAS Lines, starting with MAS Linea Aqua's Exotic Wonder range in tropical floral prints on multifunctional swimwear for active young women. MAS Kreeda's #taggeneration continued the tribute to millennial culture with their versatile casuals in earth tones paired with statement prints, while MAS Fabrics' activewear focused on precise engineering and minimised seams. Rounding out the company's diverse showcase was MAS Intimates with a versatile range of lingerie in a 'Millenial Pastelcolour' palette that was evocatively layered over by sheer outerwear.
Vogue Tex presented 'Ying Yang', a boho-chic collection in monochromatic black and white featuring tiered ruffles and hand embroidered lotus flower motifs. Rum Punch blended flirty music festival vibes and subtle dreamcatcher prints with a punk rock edge for 'Festive Traveller', while Teejay showcased their comfortable performance wear in 'Versatility'.
Hirdaramani Knits continued the trend of combination wear with their 'athleisure' range, featuring jackets and sporty looks in predominantly holographic and glowing neon hues, while Hirdaramani Woven focused on upcycled denim with inspiration from worker uniforms and overalls in its silhouettes. LICC Jeans continued with tropical and oriental influences for its Indigo Traveler collection.
House of Lonali in collaboration with Rainco presented their standout collection 'Cityscape' – smart, structured urbanwear with hints of striking colours like acid yellow and complete with matched accessories, inspired by the fast-paced and ever-changing cityscape.
Emjay International's Travel Junkies collection was inspired by local arts and crafts, incorporating vibrant prints overlayed on versatile loungewear. 7N80E by Norlanka used Sri Lanka's latitude and longitude coordinates as an unusual statement branding in their layered urbanwear collection, pairing jackets and jumpsuits in blues and utility colours with neon orange detailing.
The flexible 'beach to bar' concept came alive in Aqua Island's Tactile Breezer range of tricoloured vacation wear in recycled materials. Moose Clothing Company wrapped up the evening with travel-themed collections, with Fast Fashions' versatile Dauntless Travelbug range and the urban chic Business Traveller by Casualwear, in smart blacks and metallic fabrics.
Versatility and functional multi-purpose wear was the overarching theme for the night, and will no doubt have a deep and immediate impact on local design trends.
Making definite fashion statements with their choice of attire, guests attending the Mercedes Benz Fashion Week  at the Dimo 800 Mercedes Benz Centre caught the eye of the Sunday Times photographers Amila Gamage and Priyantha Wickramaarachchi