Battle for supremacy in rubber
By M.H. Lakshman, Rubber Development Officer
View(s):
There were several articles in the media to show who is the best in rubber sector in the country. All points may one-sided giving a good impression of the Rubber Research Institute of Sri Lanka (RRISL) and a bad impression of the Rubber Development Department (RRD).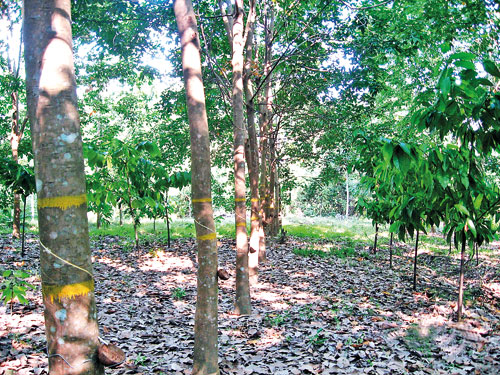 The RRISL is the oldest research institute in the world and, to enhance productivity in both rubber smallholders and estate sector by producing very good clones and introducing of new tapping systems, it still has a leading role in rubber sector in the country. Similarly the RDD role can't be forgotten as many achievements came from this organisation.
The Rubber Master Plan 2016 clearly gave each a role in the rubber sector.
RDD
 To ensure achieving national rubber production and productivity targets with efficient provision of extension services and planting subsidies to farmers.
 Timely release of accurate national data and information pertaining to rubber industry.
 Ensure the implementation of RMP projects assigned to RDD.
 Take action to revise the Master Plan as and when relevant based on updated working papers
RRISL
 To enhance the technological performance in plantations and manufacturing industry to a globally competitive level with a view to assure higher productivity and cost competitiveness over the long run with the provision of innovative technological solutions industry-wide.
 Ensure the implementation of RMP projects assigned to RRISL. Take action to revise the Master Plan as and when relevant based on updated working papers.
Objectives
The goals stated in the Rubber master plan highlighted the following objectives:
 Increase the area under rubber to 169,000 hectares by 2025.
 Increase local rubber production to 300,000 metric tons per annum by 2045.
 Reach national rubber plantation yield to 1,700 kg per ha year by 2045.
 Establish the Rubber City, a dedicated Rubber Industry Park by 2018 that will have a capacity to generate a turnover of U$1 billion.
 Turnover of rubber products industry to exceed $5 billion by 2030.
 Increase consumption of rubber to 240,000 tons (157,000 metric tons of NR types and 72,000 tons of SR types in addition to 11,000 Semi-processed types) by 2025.
 Attract investments and develop markets for Latex Crepe based products by 2020.
 Reach a conversion value equal to $15,000 per ton of rubber used by 2025.
 Increase value of rubber wood based products turnover to $350 million by 2025.
 Double the consumption

In 2013, Sri Lanka earned $10.4 billion through exports of merchandise and the contribution of the rubber sector exports, which include raw rubber, rubber products and rubber-wood based products, with an income of around $1 billion being 10 per cent of this value. The government aims at increasing income from the export of merchandise to $15 billion by 2016 and rubber industry has been allocated a share of $1.7 billion. Along with rubber, other industries such as garments, tea, gem and jewellery and spices will contribute to the total target of $15 billion. The national export income target for 2020 has been set at $20 billion and the share of the rubber industry in this endeavour is estimated at around $2 billion under normal circumstances. The Master Plan has raised the performance bar and specifies a strategic direction. (Source-Rubber master plan)
Upstream activities
Upstream activities involve farming of rubber, processing and marketing of produce which is carried out at a different scale by smallholders, private estates and plantation companies where smallholders' share is over 72 per cent. Rubber farms are scattered over an extent of 133,000 ha spread over three major and 15 minor rubber growing districts. At present, a multitude of clones are used in these farms based on the recommendations of the RRISL with a view to maximise productivity while reducing certain risks. Total employment in upstream activities is estimated to be around 200,000 of which around 40 per cent are women. Sri Lanka can proudly claim that child labour has never been an issue in this sector. It is evident however that the competitiveness of the upstream segment is under severe strain due to many factors. (Source-Rubber master plan)
Farm productivity
Productivity measured in terms of annual yield obtained from a hectare is the key contributor to profits hence viability. In terms of productivity, Sri Lanka in 2014 ranked low with an average national yield of 914 kg per ha. In comparison, Thailand and Vietnam record yields in the range of 1,600 to 1,700 kg per ha per year. It is unconceivable as to why Sri Lanka records low productivity because the RRISL has developed some of the best yielding clones in the NR world while the RDD has a long history of providing extensive extension services including generous subsidies. The rubber production segment may not survive for long unless effective measures are taken to enhance farm productivity to match with international benchmarks. (Source-Rubber master plan)
Constraints
The upstream sector is constrained by increasing labour costs/shortages, inadequate transfer/absorption of technology, and poor adaptation of innovations that leads to low productivity in general. Shortage of workers including rubber tappers is a serious threat. Availability of land for rubber cultivation in traditional rubber-growing districts is also becoming scarce due to diversification of crops and urbanisation. All these have led to a dearth of new investments in the upstream segment. A concerted long-term effort is required to manage these constraints. (Source-Rubber master plan)
Criticism against RDD
The main arguments against the RDD in the several articles highlighted in the media are to do with the extension service. Another matter is that the RDD has been set up with, among other matters, the purpose of distributing subsidy payments to rubber growers both new and replanting. Also the organization has been driven by non scientific staff who cannot take decisions in the areas of agronomy. This criticism is misrepresented due to not properly evaluating the role of the RDD by those who have been critical. Some appear to have been badly treated during the service either in the RDD or RRISL and compelled to write some points to harm to both institutions ultimately not benefit for rubber sector in the country.

Organisation weakness
Many administrative weaknesses cause much damage to employees in both institutes. There is no career path specially in the RDD for many extension offices who have a service of more than 30 years in the rubber industry and retired at the same level when he/she joined. This is due to the actions of personnel who are the top administrative officers in the RDD.
Have farmers abandoned rubber?
That's correct. Due to poor prices which mismatch with manufacturing cost, many are hastened to grow other crops than rubber. This attitude of farmers can be changed with the proper intervention of a well-organized extension service. Presently the rubber extension service in both the institutes is operational but due to inherent weakness in the service, there is no expectation of a "best result achievement". My opinion is upgrade the condition of extension service in the RDD and the extension arm of RRISL should be focused to estate sector to enhance productivity in rubber plantations of the RPCs.
Conclusions
Rubber still adds considerable proportions to the nation's economy although it has many constraints to development. Some writers who contributed to this subject in the media highlighted these constraints mainly from an organization weakness but forget other vital contributions to the dismal failure in the rubber sector. They eventually singled out the RDD as the main culprit and ignored other issues which are destroying rubber in the country. The RDD has a leading role to play in the rubber sector, is a vast organization and has many resources towards uplifting rubber from its present state.