Dhatusena-My Son: A book for our times
View(s):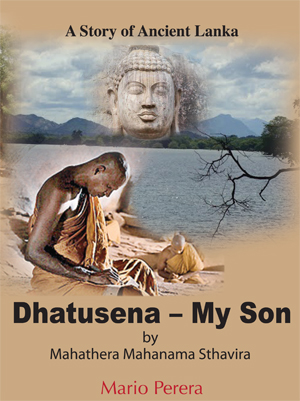 Mario Perera's new book 'Dhatusena-My Son, by Mahathera Mahanama Sthavira' was released recently. Published here are extracts from the book's Preface written by Juanita Perera, Ph.D, of the University of Rochester, New York:
Even prior to Independence, and especially after the defeat of the LTTE in 2009, opponents of Sinhala – Buddhist Lanka have heavily focused their attacks on the Mahavamsa, discrediting its narrative from many points of view. In this context it will be remembered that the first ever Sinhala – Tamil racial riots were provoked in 1939, as a result of G.G.Ponnambalam tearing into the Mahavamsa. The riots spread from Nawalapitiya to the East and up to Jaffna.
Recently the polemics around the same subject flared up once more.
King Dhatusena who commissioned the writing of the Mahavamsa, has had a following in recent times among authors, writers, and cinematographers. Most noteworthy among such works is the television serial C Raja – Lion King of Jackson Anthony. The book Dhatusena – My Son, purports to be written by Thera Mahanama and is therefore essentially a novel. The book elaborates in great detail the historical, political, social, and religious contexts in which the lives of the heroes and villains of the narrative unfold. The subject of the book is permeated with reflections that probe the depths of the country's religious and cultural heritage, which form the background of the story.
This book is probably the most detailed work of its kind featuring three cornerstones of this country: Dhatusena, Mahanama, and the Fabulous Mahavamsa, the Great Chronicle of Glorious Lanka. The importance of this topic to Sri Lanka of today is unquestionable. Its relevance would seem even more. important than before.