Asia's Buddhist animal rights conferences – a first in the region
View(s):

Around the world, animal rights and animal welfare are gathering momentum – for animals too are sentient beings or non-human persons, increasingly receiving that status not only through laws and judicial determinations, but also through national Constitutions.

Many nations host conferences on diverse subjects, sponsored by civil society organisations and by governments, to develop strategies to protect and enhance the quality of life of vulnerable sections in society. With the evolution of animal welfare, animals are now recognized as a part of society requiring protection from cruelty, abuse, exploitation and neglect.

Animal welfare has been the focus of numerous international conferences organised by animal rights organizations. In some countries – Kenya, Denmark, China and the UAE, governments have initiated or co-hosted such conferences. TheWorld Organization for Animal Health (OIE), the inter-governmental organization responsible for improving animal health worldwide hasten Animal Welfare Standard Codes and as Janice Cox says, "One of the most important activities in the OIE Global Initiative on Animal Welfare is convening  global conferences on animal welfare." The EU's foremost animal welfare network, Euro Group for Animals, has expressed appreciation of the World Bank's recognition of  animal welfare as a critical issue for the future and committing to a global conference on Animal Welfare and Development.

And, for Sri Lanka, it was a particularly special event  when on October 26, 2017,  the 2nd Asian Buddhist Animal Rights Conference, on the theme, "Towards Creating a Vegetarian/Vegan Friendly Society" took place in Colombo – jointly organised by two humanitarian organisations – Dharma Voices for Animals (DVA) Sri Lanka, Colombo and Kandy Chapters headed respectively by lawyer Senaka Weeraratne and veterinarian Dr. Chamith Nanayakkara and the Anagarika Dharmapala Humanitarian Foundation co-chaired by Deshamanya Jayantha Sumanasekera  and then Plantation Industries Minister Navin Dissanayake,  with Speaker Karu Jayasuriya as Chief Guest.

As Weeraratne, who is also the former Honorary Legal Consultant to the Law Commission elaborates: "It was inside a bus plying from Baoji to the Xi'an Airport in China that the idea of launching International Conferences on the theme 'Animal Rights in Buddhist Asia' had its genesis.  The date: October 18, 2014. A memorable 27th General Conference of the World Fellowship of Buddhists (WFB) had just concluded in Baoji, China, and the delegates were now returning home. Two bus passengers, namely, Bob Isaacson, a former human rights lawyer, co-founder and President of Dharma Voices for Animals, a non-profit organization based in San Diego, USA, and himself basking in the happy thought that DVA had been admitted as a fully-fledged member of WFB at the Conference and at the same time were exchanging ideas on ways and means of spreading the message of DVA to the wider world."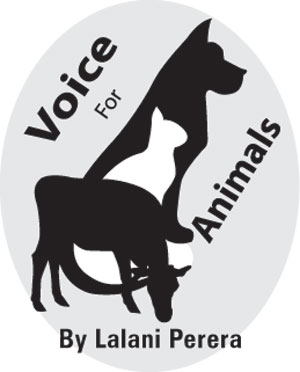 Weeraratne recalls how during  that conversation he had suggested to Isaacson to consider convening international conferences on 'Animal Rights in Buddhist Asia' as part of DVA's future activities. He continues, "The idea gained ground rapidly and saw fruition within two years when the First Asian Buddhist Animal Rights Conference was held on September 30th 2016 in Seoul, South Korea."
As the preamble to the 2nd Conference Concept Paper narrates, "It is estimated that about 70 billion land animals and hundreds of billions of animals that live in water are being killed for food every year….. Besides causing animals to suffer, our treatment of them is causing human suffering. There is an irrefutable connection between animal abuse and human misery…….Buddhism provides a firm moral foundation to address this issue." Among others, this conference received support from Ven. Dr. Omalpe Sobitha Thero(Sri Bodhiraja Foundation), Sagarica Rajakarunanayake (Sathva Mithra), Nihal Wijerathne (Sri Lanka Avihinsavadhi Maha Sangamaya), Amila Wijeratne (Animal Rights Protection Force) and Voshita Wijenayake (Animal Welfare Coalition).
The conference called upon Buddhists to refrain from harming animals and become vegetarian or vegan, at least one day per week and to forego flesh foods in the month celebrating Vesak and appealed to Buddhist clergy to consume a vegetarian/vegan diet, while urging the public to serve only plant based food as dana to clergy. As illustrious singer-songwriter Sir Paul McCartney said "If slaughterhouses had glass walls everyone would be vegetarian."
The conference also urged a ban on cattle slaughter and the enactment of the Animal Welfare Bill without further delay.
In our pre-dominantly Buddhist nation, will the government commit itself to host such a conference?
In a message to the conference, Ven. Vajiraramavasi Nanasiha Thera, citing published reports laments that Sri Lanka imports animal flesh as local production is insufficient to meet the demand despite earnest governmental efforts to boost the local supply. In a nation where its Constitution gives Buddhism the foremost place, this is indeed a shame. It is no surprise, says the Ven. Thera that with the pitiful cries of animals undergoing  slaughter reverberating in the environment, our society has become more vicious and crimes have increased.
As Russian author and moral philosopher Leo Tolstoy said, "As long as there are slaughterhouses there will always be battlefields." Recalling the many national, regional and global conferences he has attended where countless reports containing worthy recommendations have remained confined to paper, gathering dust, the Ven. Thera's fervent hope is that the deliberations of Asia's 2nd Buddhist Animal Rights Conference will not suffer the same fate. Even if a minuscule number of the 600+ participants who attended the conference contributes  to achieving at least one or two conference aims, that will be an accomplishment.