Appreciations
View(s):

I have to accept that our memorable time together is complete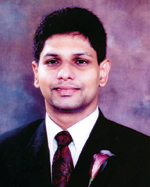 Roshantha Kulatilake
It was February 2, 1973 – the happiest day in our life. A beautiful baby boy was born to Thathi and me at 7.35 a.m. at St. Michael's Nursing Home in Colombo 3.
You started school at Royal College and I remember Thathi and I taking you to the temple to get blessings as you started on your education. Malli was born four years after you.  After finishing your O'Levels  at Royal College you joined Wycherley International School and later the Institute of  Technological Studies and were enrolled into the Business Administration Programme at North Eastern University in Boston, U.S.A.
It broke our hearts to send you so far away. There was no internet and communication was so difficult. You did us proud by obtaining your Degree in Business Administration and returned home in 2002 to marry Samantha Warnakulasooriya, whose parents were family friends and who also studied at the same University.  You joined us in our family business. Your precious daughter Maia was born in 2009.
You did your Masters in Business Administration through the University of Wales. You were accepted by the Canadian Government for Permanent Residency in 2012.  Again you decided to go so far away from us because you thought you must give Maia the best education you could.
In June 2017, you came back in shock when Thathi passed away suddenly. You were such a source of comfort to me. Seeing you in a suit for the funeral I asked you whether you were not feeling too hot and you said that it was okay to suffer for a short time as you wanted to wear a suit at Thathi's funeral. You had the courage and sincerity to speak before a large gathering, of the respect and love you had for your father.
Your last trip home was in end July this year to attend the bana and dane for Thathi. You were so vibrant and full of life. For one year I found solace in talking to you and you helped me bear Thathi's loss. We discussed so many things regarding my life and our business and I value the advice you gave me. The first three days of your visit you stayed with me while Sam and Maia stayed with her parents. These were the most precious days you have shared with me.
You said you wanted to spend just one night at Induruwa Beach Hotel with your family and went in Thathi's vehicle on July 30. I warned you about the sea at Induruwa as it was your grandfather's village. As a child I had got caught to a large wave there and was luckily thrown on to the beach. Then you said there was a little bay on the side and you wanted to take Maia there. On the 31st at 5 a.m., I prayed and meditated as I always did and a message was flashing in my head – "Roshantha accident". I brushed the thought aside but was worried as you were driving after a long time in our country. I called you at 8 a.m. but there was no answer. You had gone for breakfast leaving the phone in the room and then gone to the little bay for a swim.
Roshantha was only waist deep but he was carrying Maia when a wave hit him from behind and Maia flew out of his arms. I can only visualize his panic as he dived under to look for her and may have screamed out her name and swallowed a lot of water. I can find no other explanation. Little Maia was saved as she decided to tread water and Roshantha was robbed of his young life. The rest was a nightmare.
Roshantha was always a quiet, well behaved child. He started reading at 4 years and became an avid reader. He was never without a book. I used to chide him when he carried books to parties and weddings. We then found that he wrapped comics around his ankles and pulled up his socks so he could get away with it.  He was always a dreamer and did not need much company. He had a few firm friends whom he entertained at home. We took him to Singapore when he was 8 years old. He gave us a couple of shocks there. On the first day our friends took us to a pool and as he saw the pool, he jumped into the deep end. He could not swim. Luckily he came up and our friend Nihal pulled him out.
We took him to C.K. Tang and as he always chose the book section, we asked him to read till we walked around with Shanil on the same floor. Suddenly we heard an announcement that a little boy was four floors down on the Linen floor and for the parents to come and get him. We rushed down and found him with his eyes full of tears holding the hand of a Chinese gentleman. He never lost his zest for adventure.
I have wonderful memories of our life as a family for amidst all the challenges of running our own business, we managed to spend most evenings together and visit our friends who had children of the same ages. I planned a "Round the world" trip in 45 days in 1987, where we covered UK, USA including Hawaii, Japan and Hong Kong. We also went on safari to Kenya and Tanzania in the 90s, and glided in a hot air balloon over the Masai Mara. So many wonderful memories.
Roshantha loved his family and adored his daughter Maia. He dedicated his life to them.On this final lap of my life, I am faced with such sorrow and sadness at the loss of my beloved husband and precious elder son within such a short space of time. I can now find solace only through the preaching of the Buddha and the Dhamma. I have now realized that I must dissolve the agony by accepting the fact that I can now give them both merit which is far above any material benefits I could ever give them. His time with me is complete and he must travel on his journey through sansara.  Our time together within this short space of time was wonderful. I must grieve no more as Roshantha is now free from this cruel world. I love you so much but I cannot hold you back. You are now free to attain the supreme bliss of Nibbana.
"From affection springs grief, from affection springs fear; for him who is wholly free from affection there is no grief, much less fear."
                             -The Dhammapada
                           Ammi
---
A pioneer who groomed many generations  of agricultural economists
Prof. T. Jogaratnam
Professor Thambapillai Jogaratnam is considered the father of Agricultural Economics in Sri Lanka.  He was the first academic to introduce the discipline to the university system of Sri Lanka, and his exemplary career and academic ethics have groomed many generations of agricultural economists in the country.  He passed away on September 18.
That he is "no more" is the saddest thought to all his students and colleagues. We used to celebrate his birthday for many years on October 29 and this appreciation of his life and work on his 87th birthday is a tribute to the yeoman services he rendered to agriculture in Sri Lanka.
Popularly known to his senior colleagues as Joga, he was born in Navaly, Jaffna on October 29, 1931.  He received his primary education at Althea School, Dehiwela, St. Anthony's College, Kayts, and Jaffna Central College, Jaffna, and completed his schooling at St. Peter's College, Bambalapitiya and Royal College Colombo, from where he entered the University of Ceylon in 1950.
He graduated from the University of Peradeniya with honours in B.A Economics in 1953. Subsequently, he was appointed as a Temporary Assistant Lecturer in the Department of Agriculture of the Faculty of Agriculture and Veterinary Science in August 1953 and made permanent in July 1954.
He obtained his M.S.A. in Agricultural Economics from Ontario Agriculture College, the University of Toronto that later became the University of Guelph, and returned to Sri Lanka in 1956 to take the full responsibility of the teaching of agricultural economics and farm management. He earned his PhD in Agricultural Development from Cornell University, the USA in the late sixties.
Dr. Jogaratnam became the first Professor of Agricultural Economics in Sri Lanka in 1970 and the first Head of the Department of Agricultural Economics and Farm Management when it was established in 1972.  In 1978, Prof. Jogaratnam became the second Director of the Postgraduate Institute of Agriculture (PGIA) of the University of Peradeniya and served in this capacity until he resigned from the University service in 1986 to accept an international assignment in Nigeria where he was the Agricultural Planning Coordinator for a World Bank funded Agricultural Development Project.
He returned to Sri Lanka in 1989 to rejoin the University service. Recognising his contribution to the field of Agricultural Economics, he was once again appointed as the Professor of Agricultural Economics by invitation in 1991. He performed the three complementary roles of the University Academic, namely, teaching, research and outreach activities exceptionally well. Prof. Jogaratnam taught varied subjects ranging from principles of economics to agricultural development and policies, with relative ease.
He retired in 1998 and was subsequently appointed as Professor Emeritus and a member of the Council of the University of Peradeniya. Despite his departure from active university services, he continued to serve the Department of Agricultural Economics (now Agricultural Economics and Business Management) and the Postgraduate Institute of Agriculture in many ways including teaching and research supervision.
His research interests covered the broad field of agricultural development including food and nutrition policy, demand studies, land settlement, research management, institutional building and environmental concerns. His research has been published widely in the form of numerous research papers, monographs, reports and popular articles.
Prof. Jogaratnam's services to academia have been recognised by other universities. He was conferred honorary D.Sc. Degrees by both Eastern and Ruhuna Universities.
He held many administrative responsibilities from the time he returned with a doctoral degree in the late 60s. As an administrator, he made a concerted effort to develop teaching and research facilities in agricultural economics.
His initiatives towards this end include: an agreement with the Agricultural Development Council (ADC), New York, USA, a Rockefeller sponsored research foundation organization that supported Ph.D. level training abroad; USAID funded Agricultural Education Development Project, which improved teaching facilities at the Faculty of Agriculture and trained 38 academics, who, among others, laid the foundation for modern agricultural education in Sri Lanka.
His leadership was governed by democratic principles.    He consulted everyone before making important decisions. He relied more on kind words and rewards rather than on punishments to motivate the staff. Prof. Jogaratnam always took a personal interest in arranging places and securing financial assistance for postgraduate studies of the probationary academic staff. He always fought for the rights of academic staff, not only of his Department but also of the entire Faculty. He had a clear vision that university teachers should be trained to the highest level to ensure a knowledge-based agricultural system in the country.
Recognising his academic standing and the administrative capabilities, many ministries, government departments and non- government organisations in Sri Lanka, as well as many international organisations, frequently called on him to serve in many committees and governing boards.
Prof. Jogaratnam who served the University for over 40 years was a simple person and a true gentleman. He had an exemplary character and got along well with everyone irrespective of their status. He commanded the respect of the whole university community.
The staff from not only the Department of Agricultural Economics but also from the other Departments of the Faculty of Agriculture and even from other Faculties of the University often approached him for valuable advice. He always listened to them patiently and advised them accordingly. He practised an open door policy and never kept anyone waiting at his doorstep. He always helped his students in whatever way he could.
Many were the tributes that poured in for him: "Professor Jogaratnam was indeed a role model of what a good teacher and an academic – intelligent, gentlemanly, firm and compassionate – can be".  "He was a teacher of par excellence, who evoked deep human sentiments among students while teaching". "He was simple, approachable and understanding" and "was generous and gracious for his colleagues and students". "He was tacitly firm and overtly very soft-spoken person with overflowing kindness and professionalism in every dimension in decision making".
"Professor Jogaratnam will continue to live in our hearts as the pioneer in teaching, research and outreach in the field of Agricultural Economics in the State University System in Sri Lanka and as the most empathetic, modest and noble professional among the Agricultural Economists".  "The void he left will never be whole, but his virtues of perseverance and modesty will help us hold him in our memories, forever". "He will be remembered fondly for the teacher and mentor par excellence that he was, becoming a constant source of inspiration to his colleagues and students".
 -Academic staff of the Department of Agricultural Economics and Business Management, University of Peradeniya
---
Surgical giant who was a role model to many of us
Dr. Darrel Weinman
A few days ago we were informed of the death of this eminent Neurosurgeon. To those of us who were surgical trainees in the mid-60s, this is the passing away of a surgical giant. He together with Dr. Shelton Cabraal, were the pioneers of Neurosurgery in this country. At the time specialisation in surgery was in its infancy. We, the trainees, in all spheres of surgery were in awe of his commitment to neurosurgery and his patients. He would be found at all hours in the ward.
A brilliant academic, a Hallet Prize winner of the Royal College of Surgeons, he would arrive in the ward on a call in his black Morris Minor before you had even 'put the phone down'. He kept comprehensive records of all his patients which enabled him to deliver many lectures and orations on Sri Lankan  disorders of the brain. These, he also wrote up in the Ceylon Medical Journal and they were devoured by us as they were clear, detailed and beautifully written. He would open a surgical lecture session by saying "I opened batting for St Peter's so I should start this session of lectures." To many of us he was a role model worthy of emulation.
I happened to be in England, in 1973, attending a guest lecture by Dr. Weinman to a British audience. Seated next to me was a famed British neurosurgeon who was the author of many books on neurosurgery. At the end of the lecture he exclaimed to me, "who is this surgeon, where is he from, he should be here in Britain, he will be such an asset." I felt so proud.
The next part of the story, is unfortunate, but was the fate of many such talented doctors in the mid '70s. The government at the time was socialist –communist. There was a belief that all doctors were 'an errant group' and should be hounded.  He, Dr. Weinman was a victim of this narrow bigoted attitude of the Government in power. He and his wife migrated to Australia. Sri Lanka's loss was Australia's gain.
Dr. Channa Ratnatunga
---
I live with beautiful memories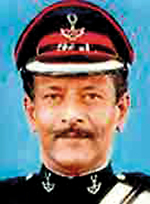 Major Raja Amarasekera de Silva
Ten long years I have lived without you
The day I lost you I lost myself too,
Time is not a healer of the  sadness
As the years go by I miss you more and more
I have been living with the beautiful memories
Of the life we shared for 43 years
Each one of them reminds
Of how much I am missing you
May you attain the Supreme Bliss of Nirvana
Your everloving wife
---