A collection of poems from the East
View(s):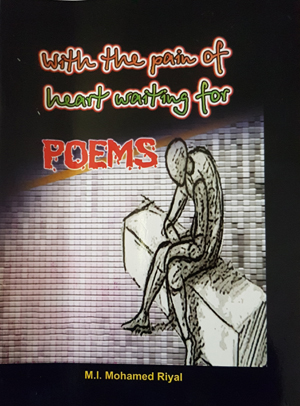 That Sri Lanka's Eastern Province is a fount of Tamil literature, especially poetry, is no exaggeration.
It is against this backdrop that budding poet, M.I. Mohamed Riyal from Maruthamunai in the Eastern Province, has translated his thoughts into English poetry in an attempt to take his creations to the international arena. He says he plans to publish his next collection of poems in Australia.
He has published 12 of his works which bring out the ordeal of the poet's struggle through various phases of life. In his words, his poems have bloomed out of the serenity of his village home overlooking the Kottukkal River.
His foray into the world of literature began at a young age and he has gained recognition for his short stories and poems, especially in the East.
Rev. Br.Dr. S.A.I. Mathews describes Riyal's 12 poems as blistering stars because they "found in the darkness, the piece of soul that remains" awaiting the inevitable, the dawn of dusk.
Although the language is simple the poems carry deep meaning. The booklet appropriately carries the title 'With the Pain of Heart, Waiting for Poems'.
"The poem written on a paper is lying on the table with no one to read," reads one verse.
The work, despite a few shortcomings, is a leap over a linguistic barrier.