Sri Lanka motor traders in Japan see 'silver lining in dark cloud'
View(s):
With the Japanese brand new and used car sector taking a hit from the import control measures in the wake of rapid rupee depreciation, Sri Lankan motor traders in Japan are now seeking new ways to remain in business.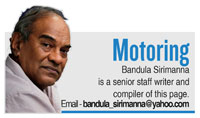 Weaker demand in Sri Lanka is seen as negatively affecting Japan's used-car industry, and the outlook for the sector remains unclear.
The Sri Lanka Automobile Association in Japan (SLAAJ) has taken the lead in developing trade links through appropriate programmes to establish mutual relationships with vehicle dealers, government agencies, local and international organisations and other parties.
The association is exploring the possibility of three main parties – vehicle exporters, vehicle importers and the Sri Lanka Government – working together under one umbrella to examine the industry's obstacles and issues at hand and to disseminate the solutions in a method that is mutually beneficial to all parties involved.
"Every dark cloud has a silver lining," the President of SLAAJ Nishantha Meegalla said, adding that, "it is only through a united front amongst these parties that we can work towards achieving our goals, and overcome the present difficult situation. "
He was speaking at SLAAJ's first ever Automobile Convention in Sri Lanka in Colombo recently.
Launched at this event was the "SLAAJ Guarantee", a sticker that will be pasted on every vehicle exported from Japan hereafter, ensuring the end user will be guaranteed of quality, and the proper standardisation with their purchase.
"One of the biggest challenges faced by vehicle exporters out of Japan is the lack of coordination between industry officials and the other relevant organizations which in turn affects the business," he pointed out.
Sri Lanka has a good geographical location and so can reach new markets such as Africa, Russia, Australia and EU, etc through the Japan Used Motor Vehicle Exporters Association, the Vehicle Importers Association Lanka and Vehicle Importers Association Sri Lanka towards this end, he added
Former President SLAAJ Jagath Ramanayake revealed that the association has achieved many successful accomplishments including the setting up of a new company in Australia "Samurai Motors" to market Japanese cars.
He noted that SLAAJ is planning to open a new auction site in Japan for the benefit of its members while helping them to explore new markets and new opportunities.
Umar Ali, President Kobe Motor Company, said, "Constant and ad hoc policy changes mean that we have to recalculate our procedures which results in trade losses faced by exporters and importers as well as delays in shipments and documentation".
This is why the association plans to liaise with two of Sri Lanka's main bodies and work as one voice to raise issues and formulate policies that will be helpful to motor traders and policy makers, he opined
Kobe Motor Company is one of the top 10 vehicle exporters out of Japan. Of the top 10, six companies are Sri Lankan owned.
Since its inception in 2012, the association has conducted trade development between Sri Lanka and Japan through integrated programmes, launched awareness programmes relating to the automobile industry, vehicle spare parts and other businesses.