A drought that shows no mercy
By Sandun Jayawardena, Damith Wickremasekara, Kasun Warakaptiya, Abdullah Shanawaz & Asiri Fernando
View(s):
Nearly a million Sri Lankans, or one in every 20, are victims of a prolonged drought in 18 districts, with Jaffna, Batticaloa, Mannar, Kilinochchi and Anuradhapura among the worst affected.

Crops have failed leaving farmers' destitute, residents without drinking water and an the outbreak of disease. The dry conditions have raised fears of a water shortage in the Greater Colombo area, warned the National Water Supply and Drainage Board.
The Director General of Metereology, Sarath Piyatilleke, said that "the output of greenhouse gases" causes an increase in global warming. He warned that it could increase "extreme rainfall events" leading to floods. Paradoxically, whilst parts of Sri Lanka are facing a severe drought, in another part of the planet Hurricane Florence has caused massive flooding in North and South Carolina in the United States.
According to Disaster Management Director General, Dr S Amalanadan, the total number affected is 966,779 people, or 267,779 families. He said water tanks and a fleet of water bowsers had been deployed in the affected areas to provide drinking water. Relief, however, is yet to come.
Agriculture Minister Mahinda Amaraweera said that the Government had set aside Rs600 million as compensation to farmers who lost their crops. However, a statement from the President's Media Office said that two billion rupees had been set apart for drought victims, whilst the armed forces and police have been deployed in relief work. The move, it said, came after President Maithripala Sirisena had a discussion with Prime Minister Ranil Wickremesinghe. The differing statements showed a lack of co-ordination in the emergency relief operations.
The Northern Province has been the worst affected, with the number affected topping 100,000 in each of the districts of Kilinochchi, Jaffna and Mannar. According to the Disaster Management Centre's (DMC) situation report issued at 9am yesterday (22), 112,188 persons from 34,000 families in Kilinochchi, 110,170 persons from 30,421 families in Jaffna and 102,163 persons from 29,421 families in Mannar were affected. A total of 360,303 persons from 104,257 families in the Northern Province have been impacted by the drought.
Batticaloa district had 105,676 persons from 32,409 families affected, while 66,256 persons from 20,008 families have fallen victim in the Anuradhapura District.
The official report of the National Disaster Relief Services Centre (NDRSC) shows that only 206,038 of these families receive drinking water from the authority in the 18 affected districts.
DG of Disaster Management Dr Amalanadan said they hadn't yet received detailed reports on the number of farmers and amount of farmland affected, and that they would submit a Cabinet proposal together with the Agriculture Ministry to obtain the necessary compensation for affected people the moment they received data.
In the Jaffna District, the NDRSC supplies drinking water to only 23,972 people. Assistant Director of the DMC for the Jaffna District, S Ravi said that the northern islands of Karainagar, Kayts, Kachchaitivu and Delft were the most affected.
"The peninsula and the rest of the mainland have normal drought conditions. Safe drinking water is the chief issue, followed by water for irrigation," he elaborated. Mr Ravi, however, was optimistic that the latter problem would be resolved come the Northeastern monsoon.
In Batticaloa, the situation is most critical in the western part of the district. All the moisture from the farmland has been sucked out. However, farmers in the area say that it is too early to surmise if this will have a big impact on the maha season cultivation, which will begin later this month.
Cultivation meetings are being held with farmers planning for the season ahead.
Meanwhile the situation in the Mannar District is dire. 29,000 families and 102,163 people in total are victims of the exhausting drought, Assistant Director of the DMC for Mannar, K Thileepan informed.
"There is a severe shortage of dry rations and essentials for the people," he said. "Most people's livelihood activities have been battered for the past two months. Farmers haven't much to hope for or expect in the harvest this Maha season. Tanks have dried up."
Mr Thileepan said livestock farmers too were severely affected. "The water shortage has caused most of the cattle to die. This is a heavy blow to the farmers' economic situation. Manthai, Madhu and Musali are the most affected.
Meanwhile, Assistant Director of the DMC in Mullaitivu, S Lingeshwarakumara said the agrarian situation was grim with regular droughts leaving the fields parched and arid. He said that he hadn't received a report on how much agricultural land had been left in this state, nor the precise number of farmers affected.
K D Bandara, the DMC official for the Anuradhapura District said that, as droughts are a regular climatic feature in this district, farm-based livelihood becomes increasingly difficult for people, at-least seasonally.
He, however, said that this time the drought wasn't as serious as on previous occasions. "Clean and safe drinking water is the only issue, but our authorities are supplying this to all those affected," he said.
A Alahakoon, the DMC district official in Puttalam said that there were issues with cultivation, which impacted the livelihood of certain segments of the population.
(Additional reporting by Deva Adhiran)
Effect on cultivation
Agriculture Minister Mahinda Amaraweera stated that while some provinces were affected by drought, much of the damage to cultivations had been avoided as about 95 percent of paddy and vegetable harvests had already been reaped when the drought set in. "There has been some damage to paddy cultivations in the North Central Province, while chena cultivations have been significantly hit," he revealed.

The Government has decided to set aside Rs 600 million to award compensation to farmers next month after assessing the damage to their crops, he further said. If the drought were to continue till the maha season though, it could potentially bring difficulties in finding enough water for cultivation, Minister Amaraweera stated. "If that happens, we will have to reassess the situation and decide if we will plant less crops than we normally do."

An official at the Hector Kobbekaduwa Agrarian Research Institute noted that according to the latest figures in their possession, there has not been an increase in the price of paddy or vegetables, mainly because the harvest from most crops have already been reaped. The official however, said if the drought were to persist for two more months, they could see a reduction of certain vegetables in the market, leading to an increase in price.

H K Piyathilake, a wholesale and retail vegetable trader at Manning Market, Pettah, said there were currently no vegetable shortages in the market. "Even if some vegetables don't arrive from Nuwara Eliya, the harvests from Jaffna are coming in to replace them," he said. Mr Piyathilake said the drought may affect vegetable harvests if it were to continue for another two months, which would mean that it will impact the next cultivation season.
Expect extreme weather changes
Sri Lanka can expect an increase in the frequency of extreme rainfall events, warns Sarath Premalal, Director General of the Department of Meteorology. Speaking to the Sunday Times, Mr Premalal said that the increase in global temperatures can lead to an increase in frequency of the 'extreme rainfall' events, and will likely cause flooding, prolonged dry periods and droughts in the coming years. Rainfall is now occurring in two extremes; heavy rainfall within a few days followed by long dry periods, he explained.As such, in the future, the dry zones will get drier as the temperate continues to rise, he noted. According to a United Nations report, Sri Lanka has been experiencing a lack of rainfall since late 2016. It is believed to be the worst drought in 40 years.

The Meteorology Department prepares projections on future weather patterns taking into account global greenhouse gas emission based on projected development trends, net global thermal radiation and historic local weather patterns. Mr Permalal expressed his concerns regarding ongoing deforestation noting that forests play a crucial role in soil water retention. According to the Met Department, Sri Lanka on average receives 1,861mm of rain per year. However, close to 59% of it evaporates back into the atmosphere before being absorbed into the soil. When an extreme rainfall event occurs, if good soil water retention does not occur most of the rain water moves laterally on the surface causing floods he explained. Therefore, floods may become an even greater threat as the world warms. In urban areas the situation is further exacerbated. Many urban centers have poorly planned or managed rain water drainage systems and absorption into the ground is limited due to soil compacting, tarring and the use of concrete or interlocking brickwork.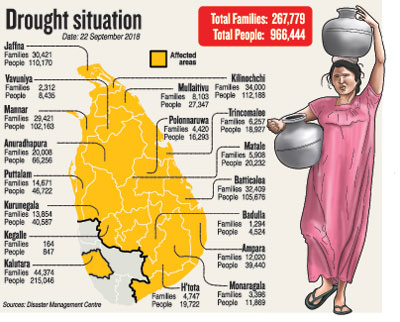 Consumers asked to use water sparingly
The National Water Supply and Drainage Board (NWSDB) will face difficulties in providing water to certain areas in Colombo if the drought conditions prevail during the coming weeks, Deputy Chairman M.H.M Salman, said.

He said this was mainly because the demands of consumers have spiked with the hot and arid weather condition.

He pointed out that currently their pumping stations are functioning at optimum level to maintain water pressure to provide the needed amount of water. He said that they will be unable to control the pressure if demands keep increasing.

People in elevated areas and in highrise buildings which don't have sumps would be at a high risk of receiving smaller amounts of water as the pressure would be reduced.

"We request consumers to only use water for necessities; there is a dry and arid situation islandwide. We spend a lot of money to provide purified drinking water to everyone.

Therefore, we request the consumers to limit their water wastage and refrain from using pipe borne water to water plants and wash their motor vehicles," he said
He explained that they are currently providing pipeborne water to 2.3 million consumers while providing water in bulk amounts to several municipalities, where they sell water at retail prices.

Mr Salman pointed out that the Kelani River too has been hit by the drought and shows a decrease in water levels. He further added that if the river water level kept dropping, seawater would sweep inland and make the water unsuitable for drinking.

Meanwhile, residents of Kalutara area are facing a shortage of drinking water as saltwater has surged inland with water levels of the river dropping.

NWSDB Deputy Chairman explained that the Aluthgama area is the most affected in the Kalutara district.

The Water Board has deployed five water browsers to the area to provide drinking water.

The NWSDB was providing water browsers to rural areas as some places lack pipe borne water as well and are facing the brunt of the drought. Anuradhapura, Polonnaruwa and Hambantota are some of the districts which are severely affected, while Kurunegala and Puttalam are also partially affected. The Northern Province too has been provided with bowsers to distribute drinking water.

Mr Salman said that the NWSDB was planning to develop an islandwide pipeline system as part of efforts to face times of drought. Secondly, they are attempting to expand their drinking water production by erecting seawater purification plants in Jaffna and Puttalam. Construction of these plants has already started.

"Yet purifying seawater is a costly affair. We therefore request the public to conserve drinking water as much as possible," he said.

Meanwhile, tanks are quickly drying up, the Irrigation Department warned.

The Director General of Irrigation, Eng S Mohanaraja said that the average water levels remaining in 354 tanks have reduced to 24 percent of their full capacity.

He explained that the tanks in Anuradhapura were the worst affected. The Maha Kanadarawewa is now a mere trickle of water. The tank in its full capacity can hold 44.59 million cubic meters (MCM). But, it currently has just 5.52 MCM of water.

Tanks in Polonnaruwa too were affected, though some of the larger tanks had a reasonable amount of water. Parakrama Samudraya is at 50 percent of its full capacity, while the Minneariya tank had a water level of 68.76 MCM from 135.30 MCM. These levels will decrease further if the drought persists.

Eng Mohanaraja said due to the current situation, the department is refraining from diverting water to the smaller tanks and to the farmlands as they are preserving the remainder of water for drinking.
Spike in electricity consumption
The use of fans and air conditioners due to the prevailing heat and humidity has contributed to a sharp rise in electricity consumption in recent weeks. Director (Development) of the Ministry of Power and Renewable Energy, and Ceylon Electricity Board (CEB) spokesman Sulakshana Jayawardena told the Sunday Times that electricity consumption had climbed from 40 Gigawatt Hours (GWh) to about 45 GWh within the past two weeks. "There is a direct relationship between the rise in temperature and electricity consumption," Mr Jayawardena said, explaining that the consumption was due to use of ACs and fans due to the increase in heat and humidity.

Demand for new air conditioners, however, has been relatively low, according to companies and sales agents the Sunday Times spoke to. Many were of the view that the prevailing economic woes in the country were to blame, with most air conditioning units being beyond the reach of many consumers.

Lalith Swarnanayake, proprietor of Lalith Air Con and Auto Parts, said there was a drop in the sale of air conditioners during this period compared to last year. "Generally, we expect the August to September period to be good for business, but this has not been the case so far," Mr Swarnanayake noted. He said the general impression among dealers is that while people wanted to buy air conditioners due to the intense heat, many just could not afford it.

An official of a leading consumer goods company also agreed with this assessment, saying business has been slow when it comes to air conditioning units. "We would normally sell more than we have done, especially considering the prevailing heat," the official said. He however, added demand for air coolers, which are far cheaper than air conditioners, had risen sharply. The cost of an air cooler is about 75 percent less than an air conditioner and as such, many people who could not afford ACs, but who still wanted something more than fans to cool their homes, were buying such coolers, he observed.

Abans too reported that there has been no improvement in the sales of air conditioners. Chameera Seneviratne, Sales Manager of the company's Air Conditioning Sales Division, said the peak periods for AC sales for companies is from mid-March to May and from August to September. Last year, their company sold between 5,000 to 6,000 units during April. This has not been the case this year, likely because ACs were beyond the reach of most average consumers.