SLFP appoints committee to review coalition with UNP
By Our Political Editor
View(s):
Govt. faces dilemma on many issues, questions as to whether it is running on auto-pilot
President expresses concern over rising CoL, but UNP leaders blame it on world issues and Rajapaksa era loans
President Sirisena gets Rs. 700 million for eight-point food production programme, including renovation of thousands of tanks and revival of agriculture
Tensions peaked once again between the coalition partners – the Sri Lanka Freedom Party and the United National Party (UNP) – this week over fresh issues.
The flashpoint this time, evidently serious, is over accusations that the UNP had almost abandoned SLFP policies and was only implementing its own. The subject formed the complaint of many members of the SLFP Central Committee (CC) which met on Thursday night at the Janadipathi Mandiraya (President's House) in Fort. It was chaired by President Maithripala Sirisena.
They decided to appoint a high level Committee headed by Fisheries Minister Mahinda Amaraweera, the General Secretary of the United People's Freedom Alliance (UPFA), to examine their three and half year old relationship. The Committee will trace back the Memorandum of Understanding (MoU) which the SLFP signed with the UNP to determine what their party has achieved.  Thereafter, they will identify how far the UNP had acted on SLFP policies as against its own. According to SLFP General Secretary Rohana Luxman Piyadasa, the "continuity of the SLFP–UNP government was discussed." He said there were three important issues to be addressed. He told the Sunday Times, they were that (1) the two sides would have to work out certain undertakings, (2) plans should be discussed, and (3) methods of co-operation should be developed.
If the intention is for continued cohabitation, with a probe on the past relationship spawning more issues, many an obstacle lay in the way. In a broader context, with a presidential election due, there is no likelihood that either side would agree to a common candidate, a precursor to any workable arrangement. This is particularly in the wake of both President Sirisena and Premier Ranil Wickremesinghe making it increasingly clear that they will be candidates from their respective parties.  It is highly unlikely, if not impossible, that either one of them would yield the candidature to the other. Moreover, the gap between the two has widened with deep distrust building up over many issues.
The performance review also assumes greater significance since Finance and Media Minister Mangala Samaraweera will present his second budget on November 5. Party leaders at a meeting chaired by Speaker Karu Jayasuriya decided Thursday that the budget debate would end with the final voting on December 8, more than two weeks before Christmas. Notwithstanding any other outcome, the CC move is a strong signal to the UNP to bear in mind the sensitivities of the SLFP in presenting the budget proposals.
President Sirisena was told at the CC meeting that the SLFP Bala Mandalayas or its grassroots level branch organisations have been formed in 90 percent of the electorates. Only a few remained. "I know about the working of these bodies, since I have been General Secretary of the SLFP," President Sirisena said adding that there were then 120 of them. They were the bulwark of the party. The areas where the Bala Mandalayas were non-functional, he was told, included Kurunegala (Anura Priyadarshana Yapa and T.B. Ekanayake), Kaduwela (Susil Premjayantha), Hakmana (Lakshman Yapa Abeywardene) and Ratnapura (John Seneviratne). They were among members of the Group of 15 from the SLFP who now sit on opposition benches. President Sirisena who was in Anuradhapura on Friday returned to Colombo in the evening and handed over letters to SLFP new heads of nine Bala Mandalayas.
This seemed a double blow for the SLFP rebel group. Last Thursday, former President and Sri Lanka Podu Jana Peramuna (SLPP) de facto leader Mahinda Rajapaksa faced a flurry of questions. It was an auspicious (or nekath day) and he had to attest as witness at a number of weddings. At the first one, that of a relative from his ancestral home of Medamulana, he was asked when he was taking charge of the government?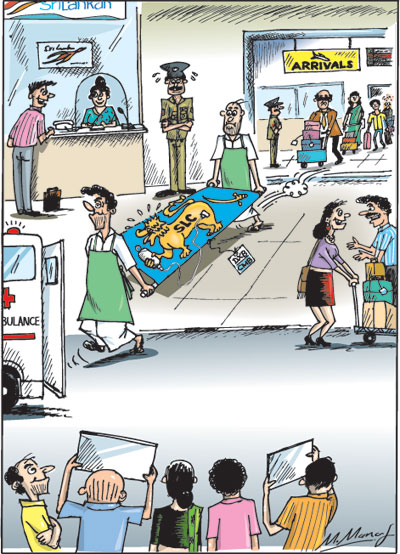 At another wedding, the questions were more pointed – when are you taking over as Prime Minister? Later, at his official Wijerama Road residence in Colombo, Rajapaksa accused former Minister S.B. Dissanayake, of the rebel group of "spreading false stories." He told a group of SLPP confidants, "SB, like all others, have been speaking to me every now and then. Most ideas did not make sense. I have never consented to what he said or given him any commitments," Rajapaksa lamented. His remarks do not appear to be a bogey trail since Rajapaksa was publicly castigating Dissanayake. Those remarks came amidst wide belief that the former Minister was brokering a deal between President Sirisena and Rajapaksa. Now, both President Sirisena and Rajapaksa have dealt blows to the rebel group. Already this group has earned the ire of many a leader in the SLPP. Thus, it laid to rest reports that a nexus was growing between President Sirisena and Rajapaksa. Or is that a new strategy after many a stumbling block sprung up during a dialogue?
On the other hand, a source familiar with developments at the political hierarchy, said that relations between President Sirisena and Wickremesinghe have spiked in the recent weeks. It was only at last Tuesday's weekly Cabinet meeting that President Sirisena lamented the cost of living was high and people were complaining about it.
Another recent instance, the source said, were matters related to an ongoing major investigation. A top State legal officer is reported to have sought an affidavit from a key person under probe naming three others including a VVIP for being recipients of large sums of money from him. The individual had reportedly refused to oblige the legal officer and notified the actions, described as "politically devastating," to one of the three, had he agreed. The source declined to give details claiming that the matter was "highly, highly sensitive."
The SLFP CC also decided to appoint a Committee to formulate further party reforms. It began its task on Friday in what appears to be hurried preparations for President Sirisena's candidature at the upcoming presidential election. Yet another Committee was appointed to determine disciplinary action against Puttalam District parliamentarian Sanath Nishantha Perera. He and his brother Jagath Samantha Perera were remanded until May 25 this year by the Chilaw High Court for violating bail conditions. They are accused of allegedly assaulting the Arachchikatuwa District Secretary when he was inspecting a storage facility in 2007. Thereafter, and for so many years, the duo had been evading arrest. This Committee will now consider legal action.
The SLFP Relations Review Committee's findings, a source said, would help President Sirisena raise issue with Prime Minister Wickremesinghe. It is a clear indication that a discussion on their future relationship would become inevitable in the months to come if not earlier. In the prevailing political atmosphere, far from patching up differences, the gap has been widening. It naturally raises questions on the future of the coalition with more than a year of its tenure remaining. President Sirisena who left for New York yesterday has been telling his party leaders and officials, who raised issue over different matters, to await his return.
Sharp differences of opinion have also surfaced between the coalition partners over the crucial issue of the rising cost of living, both outside and at the Cabinet level this week. The terse and defensive message from the UNP leadership appeared to be — don't blame us for most of the hardships the people face. It is not our fault.
It began with a statement by Prime Minister Wickremesinghe declaring that the depreciation of the Sri Lankan rupee vis-à-vis the United States dollar was an inevitable global phenomenon. The prices of goods have escalated as a result, he said. Such a trend is the hurricane in the form of price spirals to hit Sri Lankans, already drenched and shuddering. Fuel prices are being increased in rapid regularity through a mysterious pricing formula. Imports of consumer goods, medicinal drugs, air travel, and local/foreign transport fares are among those facing upward price revisions.
Premier Wickremesinghe's remarks nevertheless bear sound reason. The strengthening of the US dollar is slowly melting away the currencies of many nations, even in India and Pakistan. It is for economic and financial experts to dig deeper if this was the only reason in the case of Sri Lanka. However, to the lay mind, a number of questions do occur. Under the previous administration, the equivalent of the Sri Lanka Rupee to the US Dollar was contained by the intervention of the Central Bank. It pumped dollars to the market. However, this time, it seems a free fall. The drop has been almost every day and continues. This weekend it reached more than Rs 170 to a US dollar.
Coalition leaders argue that keeping the rupee vis-a-vis the US dollar earlier at a stable level necessitated recourse to foreign reserves. That way they kept the cost of imports down. However, one of them admitted that the free fall and not to intervene, a prescription from the International Monetary Fund (IMF), was now being followed. This is particularly in the light of fears that these reserves now standing at more than eight billion dollars would dwindle further. Added to that are fears that the calendar for debt servicing, mostly on loans obtained by the previous regime has started to kick-in and will escalate by 2019. Large repayments are due. A subject of debate, no doubt, would be on which one is better – the one followed by the previous regime or the IMF agenda now being pursued. Needless to say, that from a common man's point of view, lower costs made life easy. Now they have to both economise and pay more. They see no immediate relief. Of course, Finance Minister Samaraweera knows what is better for Sri Lankans and is steadfast he will not touch the foreign reserves.
A new syndrome over people's woes and the country's ills surfaced at last Tuesday's weekly Cabinet meeting. Ministers were discussing item 28 on the agenda – Minutes of the Meeting of the Cabinet Sub Committee on Cost of Living held from September 5, 2018 to September 10, 2018. It was presented by Industry and Commerce Minister Rishad Bathiuddin. He also tabled the minutes of earlier meetings from August 21 to August 31, 2018 ((Item 52).
The Sub Committee tasked to ascertain ways and means of bringing down the Cost of Living, headed by International Trade and Development Strategies Minister Malik Samarawickrema, made a rather unusual recommendation. It wanted the price of an LPG gas cylinder increased by Rs 195. This was on the grounds that the rupee was depreciating vis-à-vis the dollar and world market prices were rising. The result – the common man's price of a packet of rice, flour-based products, goods and services like laundry, transport and labour have all shot up. So has the price of a cup of tea. Even in the most unlikely event of fuel prices coming down or the rupee appreciating, the new increases in prices will remain and so will the consequent hardships to the people.
President Sirisena was to point out that it was a serious issue. He said it was his understanding that the general perception in the country was that the prices of consumer goods were on the rise. Housing and Construction Minister Sajith Premadasa, the Deputy Leader of the UNP, endorsed President Sirisena's viewpoint. He elaborated on it saying that if one were to ask ten people, nine would say the cost of living was very high. True indeed.
The otherwise genial Finance and Media Minister Samaraweera argued that the LPG gas prices were still lower than during former President Rajapaksa's regime. Backing his claim was Highways Minister Kabir Hashim who said prices of most consumer items were still lower than 2014 when Rajapaksa was in power. This was to see an about-turn from Premadasa. He hurriedly declared he was withdrawing the remarks made earlier. This was to fall in line with the thinking of his two ministerial colleagues. Needless to say the move evoked laughter. On two different occasions, he has even threatened to resign from the Cabinet.
The remarks were another addition to the growing "we are not to blame syndrome" by ruling UNP coalition leaders. Firstly, it is no state secret that the Rajapaksa administration was voted out of office in January 2015 due to the many hardships imposed on the people by high living costs besides heavy corruption, a phenomenon which persists even now. The debate is whether it is at the same level as it existed before or more or less.  Secondly, by blaming it on Rajapaksa, Minister Samaraweera's reasoning makes clear that anything which is less than what prevailed during the Rajapaksa regime is both justifiable and permissible. So blame all the coalition's ills on him and the people would happily accept it. Such a strategy succeeding cannot possibly be guaranteed. What has happened to the pledges the UNP made ahead of both the presidential and parliamentary elections? Thirdly, did not the voters give the UNP a mandate to implement the pledges it made including priorities like the lowering of the Cost of Living? Just a day later, Samaraweera contradicted Premier Wickremesinghe. He said that the Rajapaksa 'debt trap' was the major cause for the fall of the rupee to the US dollar and not the strengthening of the US dollar and its global impact on other currencies.
Premadasa's remarks notwithstanding, President Sirisena pointed out at the Cabinet meeting that people would not remember what went on during the previous regime. He opined that they should be educated about such matters. Samaraweera whose portfolio includes the media undertook to carry out an information drive. On Thursday, he chaired a meeting of state media representatives at the Information Ministry and declared a week long "Information Week" from September 21 to 28. That is no easy task when Samaraweera has been strongly critical of the non-state media for what he perceives as a bias in favour of the opposition or of some being "racial." However, his links with most social media including news websites are strong.
President Sirisena, co-incidentally also won Cabinet approval for Rs 700 million for an eight-point food production programme to be carried out till 2019/2020. Here is his plan of action spelt out in a Cabinet memorandum: (1) To renovate all tanks to enable cultivation work notwithstanding future bad weather conditions; (2) Maximising production output using less water; (3) Help persons engaged in agriculture, fisheries and livestock; (4) To launch special projects to upgrade capacity of local mills; (5) Activities relating to efficient distribution of foodstuffs produced locally, proper management of additional food reserves and minimise food wastage; (6) Formulate plans to minimise damages caused to food crops by wild animals and to take further action in that regard; (7) Encourage research work relating to the field of food production; (8) To activate re-cultivation of abandoned paddy land and to cultivate bare land and encourage such activity. Taking part in the project will be line ministries, provincial ministries, district secretariats, universities, civil organisations and the private sector.
Other than the rapidly rising cost of living, another important issue the government had to face are allegations of a plot to assassinate President Sirisena and former Defence Secretary Gotabaya Rajapaksa. It all began with a news conference by Namal Kumarage who styles himself as the leader of the Force Against Corruption (Dhooshana Virodhi  Balakaya). Here are edited excerpts from what he said at a news conference in Kandy on September 13 from a recorded conversation. Some of the personal allegations he levelled are deleted.
"This media conference is convened to make a special revelation about Deputy Inspector General of Police (DIG) Nalaka Silva, head of the Terrorist Investigation Division (TID)…… He said President Maithripala Sirisena cannot be trusted and that we should work to strengthen the Prime Minister. He said that President Sirisena and Gotabaya Rajapaksa will get together in 2020 and that they had already formed an alliance. There was currently a conflict between the President and the PM. He told me that if the situation worsened as we got nearer to 2020, that I should get hold of underworld leader Makandure Madush and do whatever is possible.
"I asked him what he needed me to do. He told me to do whatever needs to be done as Madush had issues with both President Sirisena and Gotabaya Rajapaksa. I researched details on Makandure Madush and found that he was arrested and was in remand for about a year, during which time he formed a relationship with the TID. Even after Madush fled to Dubai, his relationship with the DIG (allegedly) continued. It is said that Madush is making plans to eliminate President Sirisena due to his strong stand against the drug menace. Nalaka Silva is (allegedly) assisting this plot.
Nalaka Silva told me that we can attack the President while he's visiting Battiacaloa and Ampara and that we can pin the attack on an individual named Pushparaj, who is a candidate who contested elections from the Eastern Province. I don't believe we should delay making these revelations any longer. I will however, not be revealing all the evidence in my possession as it would be detrimental to national security.
Q
:
Do you think this incident too will be covered up like the others?
A: I feel that this officer has the backing of some unseen hand. But, I don't think it will be covered up, as I don't think even the PM is involved in any of this. I also have phone conversations where he says (allegedly) that these matters should only be between us and that the IGP need not know about them. As such, it may well be that even the IGP is unaware of any of it. What I gather is that all this is being done with the intention of coming to power.
Q: Since when has he been discussing these plots with you?
A: It can't be more than two months. It all started after the incidents in Kandy.
Q: You are making a serious accusation regarding an alleged plot to assassinate the President and former Defence Secretary. Why did you stay silent until now?
A: I was waiting for the right time. I am only one man. I am going up against the Director of the TID. I must think of the consequences of my actions. You must also realise that if I am to do this, I have no option but to win. You don't need to imagine what would happen to me if I were to lose.
Q : Did you lodge a complaint with the IGP?
A: I haven't done so. You have to remember that it was the IGP who introduced me to DIG Nalaka Silva. As such, I was reluctant to make a complaint against him to the IGP. This is why I'm making this information public, so that an investigation can be conducted to determine the truth.
Almost every media except one television channel had ignored the news conference. Lending some credibility to the claim were a tape recording Namal Kumarage played to back up his claims. It allegedly bore the voice of DIG Nalaka Silva. Some of his Police colleagues claimed that the voice could be identified as that of DIG Silva. At first, Police Chief Pujith Jayasundera assigned the Special Investigation Unit (SIU), which functions under his direct charge, to probe the accusations. Routinely the SIU is tasked mostly to probe conduct of Police officials. Here was a case that directly impacted on the country's national security. President Sirisena said a detailed probe was needed. Later, the Criminal Investigation Department (CID) took over. The CID has sent the tape recording for authentication by the Government Analyst. An embarrassed Premier Wickremesinghe, who had been surprised by the development, also called for a report.
There was further credence to Kumarage's claim. Former Defence Secretary Gotabaya Rajapaksa told the Sunday Times he had received credible information about attempts to kill him. He declined to divulge from where the information came since that would place the sources in danger but pointed out that he even sought additional security. He has also now written to Police Chief Jayasundera. As a former Defence Secretary, there is little doubt that Gotabaya Rajapaksa still has access to channels to not only receive information but also to verify them.  See box story
The coalition seems to be in a dilemma over many issues that leave one with the inevitable feeling that it is on "auto pilot." The blame for its inability to manage the economy, in the light of the rising cost of living, is all being placed on Mahinda Rajapaksa. No doubt there were hardships then. However, the SLFP decision to probe its relationship with the UNP shows there is something awry and some of the people's needs are not being addressed. This is at a time when the law and order situation has been taking a nose dive with the Ministry of Law and Order being slow to react to what is going on. Even Police Chief Jayasundera is locked in battle with the National Police Commission (NPC). But then, so what.
Gotabaya says his life under threat; asks for more security

I received credible information that there was a plot to kill me using the help of underworld leader Makandure Madush," former Defence Secretary Gotabaya Rajapaksa told the Sunday Times in an interview this week

He said he had verified the information from "very reliable channels" and found it to be correct. "Thereafter, I spoke to President Maithripala Sirisena, to restore the original number of my personal security detail. I told him that it had been halved. Though he agreed to look into the matter, there was no response from him thereafter. This was over one and half months ago", he added.

Mr Rajapaksa declined to reveal from where he received the information or how he verified it on the grounds that "it would endanger the lives of those who helped me." He said the attack on him was to be carried out when he attended Courts. Since he was aware that the underworld leader's attempt, he had taken additional precautions, he said.

Since the media reports about an alleged conspiracy to assassinate both President Sirisena and Gotabaya Rajapaksa, the former Defence Secretary's telephone has been ringing. Both retired and serving military officials as well as those from the Police have been telephoning him and urging that he take additional precautions and curb his local travel.

Mr Rajapaksa said he had been talking to a minister whom he knew. He had even sent the head of his security details to brief him personally about the threat. "I have now written to the IGP explaining my position," he said. He said he plans to make a detailed statement to the Police.

Here is his letter to the Police Chief with a copy to the Director, CID:

"I, Nandasena Gotabhaya Rajapakasa, of ………. Mirihana drawing attention ………..on a statement made by Namal Kumarage and broadcast over several media networks, wish to draw the attention of the Sri Lanka police and call for an investigation about the content of the statements.

"I wish to state that I served as the former Secretary of Defence and Urban Development under the Mahinda Rajpaksa government and also I am the brother of former President Rajapaksa. I wish to recall that I provided leadership to the militarily defeat of the world's deadliest terrorist organisation and also implement the law against drug traffickers and the underworld gangs.

Therefore I state that the probability of becoming a target of those who lead such underworld gangs and drug traffickers are high. I wish to draw attention to the statement by Namal Kumarage that Makandure Madush has given a contract to assassinate me.

"I wish to give below the contents of the statement by Namal Kumarage at the press conference.

"The anti-corrupt front organisation made a disclosure about a conspiracy to assassinate President Maithripala Sirisena and former Defence Secretary Gotabaya Rajapaksa. The organisation had lodged a complaint with the Police Commission. An inquiry was  made by Ada Derana from the Police Media spokesman SP Ruwan Gunasekara and it was stated that that the IGP has ordered the Special Investigations Unit to carry out a special inquiry about the statement…………….'

………..by 2020 President Sirisena and Gotabaya Rajapaksa will join hands. They are already together. There is a dispute between the President and the Prime Minister. I was told to use Makandure Madhush, an underworld figure as a last resort closer to 2020. Gotabaya Rajapaksa or Maithripala Sirisena. I asked what should be done specially. I was told do anything. The reason Makandure Madhush has an issue with Gotabhaya Rajapaksa. He also has a problem with Maithripala Sirsena as he is giving leadership in the fight against drugs. Nalaka Silva is supportive of that."

A DVD copy of the television newscast is attached herewith.

"The dangers of the allegations are that a Deputy Inspector General of Police also has been mentioned and I have reasonable belief that my life is under threat.

"Therefore I appeal to conduct an independent inquiry, to take legal action and in view of the concern about my life to provide suitable and more appropriate security to me."