Sigala's story: Lessons not just for children
View(s):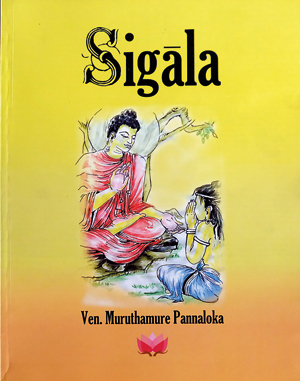 Sigala was a wealthy youth who lived in the time of Lord Buddha. To fulfil a promise given to his father, Sigala worshipped the six directions- East, West, North, South, Up (sky) Down (earth) every morning. The Buddha, witnessing Sigala's ritual preached the Sigalovada Sutta to him, interpreting the true meaning of the six directions.
A new book by Ven. Muruthamure Pannaloka Thera, resident at the Dhamma Sarana Buddhist Temple, Australia, focuses on the noble teachings of the Buddha in the Sigalovada Sutta, "Sigala- Buddha's Guidance to a Better Life'.
In Sigala,Ven. Muruthamure Pannaloka Thera looks to promote social and spiritual values for a better personal and social life preached by the Buddha. The book is written to convey a clear message not only to children but also teens and adults, giving a comprehensive insight on the Buddha's teachings of the Sigalovada Sutta.
The book relates the story of Sigala, prequel to the story of Oneli and Matthew who live in modern times. Their parents teach the two children the moral values of the Sutta which help in shaping their personalities and lives.
The Buddha's preaching of the noble human qualities of self-control, good manners, proper conduct and a sense of modesty derived from eliminating the four vices of conduct, the four motives of actions and the six channels of wasting wealth are specifically explained with colourful illustrations by Mangala Kalansuriya.
The book also explains the Buddha's interpretation of the six directions-East stands for parents and children, South for teachers and students, West for husband and wife, North for friends, Down for employers and employees and Up for clergy and lay people with duties and responsibilities that should be fulfilled by each of the groups.
The book is not on sale but will be distributed to Dhamma Schools and school libraries soon.
Requests for copies could be made through Ven. Muruthamure Pannaloka Thera, Dhamma Sarana Buddhist Temple, 329-335 Greens Road, Keysborough, Victoria 3173, Australia or by calling +61397690872.
Sigala is published and printed by the Dhamma Sarana Buddhist Temple, Australia and Neo Graphics (Pvt) Ltd.