Close encounter with tradition
By Oshani Alwis
Catch the Guru Gedara Festival at the Chitrasena Kalayathanaya today
View(s):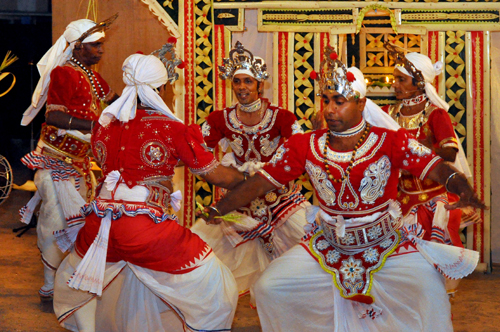 The four-day celebration of Sri Lankan traditional arts and crafts, the Guru Gedara Festival was launched at the Chitrasena Kalayathanaya, Colombo on August 30 as the first immersive traditional arts experience of its kind in the country.
Shedding light on local art forms which are fading away, the Chitrasena Vajira Dance Foundation gathered the most respected gurus of each traditional art with the hope of promoting these arts and crafts among the younger generation.
Commemorating the 75th year of the Kalayathanaya, homage was paid to dance legend Chitrasena who pioneered the expansion of  traditional Sri Lankan dance forms. At the opening of the Guru Gedara Festival, the Chitrasena clan- Vajira Chitrasena, his daughters and granddaughters paid tribute to his memory.
Heshma Wignaraja, Festival Director, addressed the audience stating that her greatest inspiration is her grandmother, Vajira. "Back in the old Kalayathanaya in Kollupitiya, I experienced a guru gedara created by my grandparents where some of the most celebrated artistes frequently gathered bringing in both traditional and modern forms of art showing how a modern guru gedara should function," recalled Heshma.
The Pahan Maduwa Shanthikarmaya was the highlight of the evening. The ritual, a spiritual part of the Sabaragamuwa tradition of dance,  is performed to invoke the blessings of the gods by lighting of the lamps. A segment of the ritual was performed to mark an auspicious beginning to the festival wishing prosperity to the Kalayathanaya and all the participants. Dancing to the beat of the traditional Davula, clad in colourful Pabalu Andum Kattalaya with the Netti Malaya (head gear), was a talented dance troupe from Ratnapura guided by Yohan Punchinilame.
The festival features huts- each demonstrating traditional masks, drums, gok craft, puppetry, dance costumes and accessories respectively presented by the gurus Karunadasa Olaboduwa, Wimalasena Elpitiya, Chaminda Mahawattage, Gamwari Premin, R.M. Anura Kumara, P.A. Somasiri and Milton Gunasiri. Dance demonstrations, workshops, discussions and cultural performances will also be showcased at the Kalayathanaya premises at 590 Elvitigala Mawatha Colombo 5.
The Guru Gedara Festival, open to all from 10 a.m. to 10 p.m, ends today, Sunday, September 2 with a traditional ritual, Veediya Kapeema starting at 7 p.m.