BoC lent Mihin Lanka Rs 1.142b sans guarantees
By Sandun Jayawardana
View(s):
The State-run Bank of Ceylon (BoC) continued to lend money to budget carrier Mihin Lanka (Mihin), sometimes without guarantees or official letters of request, despite repeated failure by Mihin to settle payments on time.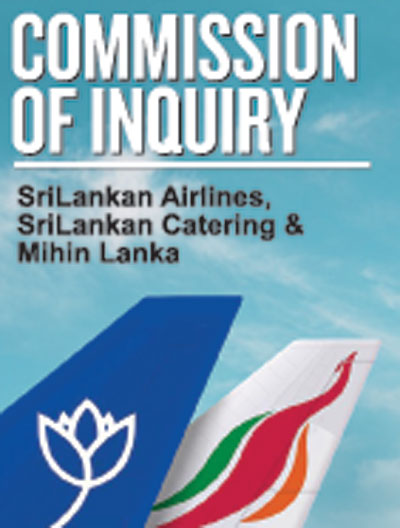 Documents submitted to the Commission of Inquiry (CoI) probing alleged irregularities at SriLankan Airlines (SriLankan), SriLankan Catering (SLCatering) and Mihin, this week revealed that Mihin had borrowed Rs 1.142 billion in Overdrafts (OD) during a 9-month period from April 2007 to January 2008, when Gotabaya Rajapaksa was its Chairman. Mihin defaulted on all the repayments.
It was further revealed that the government subsequently took out a loan amounting to over Rs 1.381 billion from the BoC on March 31, 2009, to settle Mihin's debts owed to the bank.
SriLankan's Company Secretary Dalrene Thirukumar and Operations Control Manager Gopitha Indrajith Ranasinghe, and BoC Relationship Manager Corporate Credit Division, Prageeth Lasantha Balasuriya gave evidence this week.
The CoI comprises Retired Supreme Court Justice Anil Gooneratne (Chairman), Court of Appeal Judge Gamini Rohan Amarasekara, Retired High Court Judge Piyasena Ranasinghe, Retired Deputy Auditor General Don Anthony Harold and Sri Lanka Accounting & Auditing Standards Monitoring Board Director General Wasantha Jayaseeli Kapugama.
Some highlights of revelations before the CoI this week:
 From April 2007 to January 2008, Mihin obtained ODs on 8 occasions, which had been approved by the BoC's Board of Directors, sans guarantees on most of those occasions. In some cases, even the official letters of request from Mihin could not be found, as per evidence given by BoC Relationship Manager- Corporate Credit Division, Prageeth Lasantha Balasuriya.
 From 2007 to 2009, when Gotabaya Rajapaksa was Chairman of Mihin, requests for ODs and loans were made by Mihin's Board of Directors to the BoC, citing the need to improve the airline's working capital and to settle urgent payments.
 Mihin had requested for a Rs 1 billion loan from the BoC on December 26, 2007, for restructuring purposes and to settle temporary OD facilities, which the Bank rejected, after the Treasury failed to give a guarantee.
 Mihin defaulted on repayments till the government borrowed over Rs.1.3 billion from the BoC on March 31, 2009, to pay off the airline's debts to the Bank.
 The BoC had waived over Rs 168 million as interest charged on Mihin's ODs, when they were settled in 2009, causing loss of the revenue to the Bank. Mr Balasuriya told the CoI that the Bank preferred the outcome, as, had they kept the ODs for a further period, the losses would have been far greater.
 On December 30, 2015, under a new government and Board of Directors, Mihin obtained a Rs.1.65 billion loan from BoC to settle outstanding fuel bills owed to the Ceylon Petroleum Corporation (CPC). Mihin provided a 'comfort letter' (letter of assurance that payments will be settled) from the Treasury, which was subsequently extended to March 30, 2019. Mihin also obtained 2 US$ 2.5 million loans in November 2016, after providing 'comfort letters' from the Treasury. None of these loanss have been settled to date, as Mihin is now in liquidation.
 Mr Balasuriya stated that BoC had written to both, the Treasury and the liquidator, requesting repayments of these 3 loans.
 On January 22, 2014, former SriLankan Chairman Nishantha Wickramasinghe had a Kuala Lumpur-Colombo flight diverted to Singapore, claiming there was a 'government delegation' waiting at the airport. The diverted plane was already carrying 124 passengers. A subsequent check of the plane's passenger manifest revealed that the only government minister on board was Dr Sarath Amunugama. The others picked up by the diverted aircraft were the Chairman and his wife, said SriLankan Operations Control Manager Gopitha Indrajith Ranasinghe.
Flight UL 306, originally going to Singapore, left Colombo at 1 pm, but returned to Colombo, after about 40 minutes into the flight, due to a suspected fuel leak. The plane was checked and cleared to fly after finding no fuel leak. In the meantime, the Chairman, who was in Singapore, had insisted that the first available plane be sent there, as there was a government delegation in Singapore waiting to return home. Mr Ranasinghe said he offered two options. The first was that UL 306 can be sent to Singapore as a delayed flight. The second option was diverting UL 319, bound for Colombo from Kuala Lumpur, to Singapore. The chairman wanted the second option.
Mr Ranasinghe said, he had pointed out that UL 306 was already at the Departure Gate and the delay will only be 1 1/2 hours. As such, he questioned whether diverting a scheduled flight was necessary. Nevertheless, the Chairman had insisted on diverting UL 319.
There is no document which states that Dr Amunugama had ever requested a plane to be diverted to Singapore. The diversion was done on the verbal instructions of the Chairman, who claimed it was to pick up a government delegation, Mr Ranasinghe testified.
Under questioning by the Attorney General's Department officials, Mr Ranasinghe said that such a diversion of a flight had only been for the President, and this was the first time in SriLankan's history, when a scheduled flight had been diverted on the instructions of the Chairman.
Diversion of a flight warrants additional payments to pilots and crew, as they are paid on an hourly basis. It also means additional fuel payments, engineering charges, landing and overflight charges in Singapore and other expenses, Mr Ranasinghe admitted. In the case of transit passengers who may have missed their connecting flights, it would also have meant that SriLankan may have had to accommodate them in hotels, until the first available flight could be found. However, there were no documents regarding additional payments incurred by SriLankan, as no internal inquiry was ever held over the incident, it was further revealed.
 Neither the Cabinet nor the Monetary Board granted approval for the Employees' Provident Fund (EPF) to purchase SriLankan Shares held by Emirates in 2010.
Reading from Board Minutes, Company Secretary Dalrene Thirukumar said SriLankan did not possess documents to show that the EPF's investment had been sanctioned by the Cabinet or the Monetary Board.
Though, only the BoC was authorised to purchase Shares, a SriLankan Board Minute of August 30, 2010, listed People's Bank (PB), National Savings Bank (NSB) and the EPF also as registered Shareholders. The BoC owned 12.1 million Shares, PB 4.2 million Shares, NSB 4.2 million Shares and EPF 1.8 million Shares.
 SriLankan obtained 3 Treasury Bonds amounting to Rs 46 billion in 2012, 2013 and 2014, to help the cash-strapped national carrier, at a time when it was already facing a dire financial crisis.