Somalatha Subasinghe Play House brings back those classics
By Hiranyada Dewasiri
View(s):
Presenting its annual theatre festival for children and youth – 'Somalatha Subasinghe Theater Festival for Young Audiences', the Somalatha Subasinghe Play House (SSPH) brings four well-known plays to the Lionel Wendt from August 9 – 12. The plays will be staged at 3.30 p.m. and 6.45 p.m.
Celebrating its 36th anniversary, the late veteran playwright and director Somalatha Subasinghe's 'Vikurthi' (Distortion), a prescribed play for Grade 11 Drama and Theater studies, will be staged on August 9. The plays based on international folk and fairy tales, 'Ratmalee' (Red Riding Hood) and 'Punchi Apata Dan Therei' (Little Red Hen), a prescribed play for Grade 6 Drama and Theatre and Grade 9 Sinhala Language and Literature will be staged on August 10. The final two days of the festival will feature 'Walas Pawula' (The Three Bears and Goldilocks) written by Somalatha Subasinghe and directed by Chandana Aluthge.
'Vikurthi' is a play that targets young adults from around the age 14 to 17. To date, it has been performed by about 20 different casts, says Kaushalya Fernando, an Artistic Director of SSPH and daughter of Somalatha Subasinghe. 'Vikurthi' came to the public stage in 1982 as a 30-minute play for a school theatre competition by St. Paul's Girls' School, Milagiriya, written and directed by Mrs. Subasinghe when she was teaching there. Leading actresses Chandani Seneviratne and Nilmini Sigera, who were students there at that time, embarked on their theatrical journeys with 'Vikurthi'.
Back then, life and theatre were much simpler, recalled Chandani who played 'Hilda' in that maiden production of 'Vikurthi'. "We were so passionate and committed," she says, adding that all that she is now, she owes to Mrs. Subasinghe. "She used to always tell us that to be sharp, we must face our obstacles and clash against them." She remembered how they used to handle their own sets with the spirit of team work, something she practises to-date. "Artistes who don't enter the field of acting through theatre are not exposed to this experience," she said.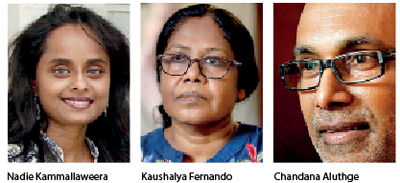 Somalatha Subasinghe's children's theatre group was started in 1979. Kaushalya recalled that at rehearsals, the young members would talk of how their families pressurized them to follow science streams and attend tuition classes even though their interests were different. "My relatives were ashamed that I was following the art stream," she recalled. Witnessing the experiences of these young people, Mrs. Subasinghe wrote 'Vikurthi'.
Many critics had said that 'Vikurthi' is a workshop production that would lose substance when these issues died out. "It has been 36 years but the crisis in education has only worsened," points out Kaushalya. Working with young people in theatre and having children of her own, she noted that today's education system is fatiguing and allows no time for creativity. "Like a factory, we try to mould identical children and forget that they have different talents and capacities."
Nadie Kammallaweera played the role of Priyangani from 1997 to 2006. Joining the production right after leaving school, she recalled the passion and energy of the young cast members. "We were crazy about theatre and were eager to learn anything to put up a better show," she said reminiscing how she had to learn dancing for Priyangani's role when she hadn't danced before.
A child's world is different from an adult's and they are still in the process of understanding it. "We should make theatre with this in mind," says Nadie. She thinks that art is what cultivates human values and emotional intelligence in children. Through art, children learn about human relationships, conflicts and through this they learn empathy. As a mother, she said that when children are raised without art, they struggle to handle situations and control their emotions. Theatre gives value to collective experience and team work. "Whether you are a part of a cast or a member of the audience, the experience is collective and highly imaginative," said Nadie. Putting aside time to go watch a play teaches children to value the work of others.
The Somalatha Subasinghe Theatre Festival for Young Audiences started in the latter part of the 1980s. "We used to hold the festival during the August school vacation but for the past three years we have held it in December too,"said Chandana Aluthge,also an Artistic director of SSPH. As a practice, SSPH takes their plays to schools in different parts of the island. Although 'Vikurthi' is a prescribed text, he said that schools are instructed to have the plays staged in a way that does not hinder studies. Some principals are reluctant to have the play staged during school hours which takes away the opportunity for children to watch it in their school at a low rate, he added.
The Somalatha Subasinghe Play House invites parents who grew up with these classic plays to introduce them to their children during the August holiday. The Theatre Festival for Young Audiences is presented in partnership with People's Bank.
Tickets priced at Rs. 400,
Rs. 600, Rs. 800, Rs. 1000 and
Rs. 1500 will be available at the Lionel Wendt from August 1.