Of guns and men of the Kandyan era
View(s):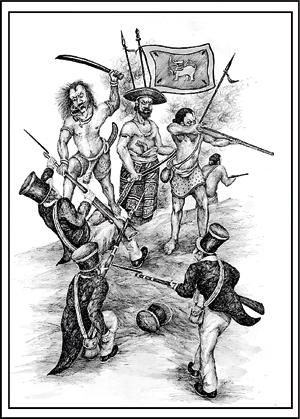 Mahanuwara Yugaye Aprakata Witti (Little-known Facts from the Kandyan Period) by Chamikara Pilapitiya, to be launched early August, is a two-volume publication that guides the reader through secret footpaths to a hidden kingdom; a forgotten kande-uda-rata that will beguile readers with light thrown on obscure, hardly-ever-explored, yet utterly fascinating recesses.
It is the culmination of ten years of research, mostly based on rare local manuscripts and little-perused contemporary foreign sources. Apart from his passion for history and the traditions of his native region, Chamikara in writing the book had the advantage of coming from an old aristocratic Kandyan family, because a substantial portion of the sources would have only been available to someone with certain kinds of credentials.
The book includes the horoscopes of the last Sri Lankan King Sri Wickrema Rajasinghe, his queen Rengammal, Ehelepola Kumarihamy the ill-fated noblewoman, and the patriot and warrior Veera Puran Appu. It also includes the saga of the Sangakkara family of which Kumar Sangakkara is a 'scion'. There is also a chapter dedicated to the Nittaewo, the intriguing primitive pygmy race said to have been driven to extinction by Veddas more than two centuries ago.
The two volumes together collate more than 500 illustrations, some of them being made public for the first time. These include the oldest Sri Lankan gun, going back to 1580, the largest 'kodi-tuwakku' in the country, the personal gun kept by King Rajasinha II and the oldest cannon used by the Sri Lankan army, dating back to the 1700s. There is also the picture of a gun of Sri Lankan origins called "the king of all guns", now preserved in a US museum.
Other illustrations include battle maps and sketches, previously unpublished. Two interesting pictures are a sketch from the Netherlands, dated 1766, of the Kandyan army on parade, and a map of the city of Kandy drawn by the Dutch during the invasion of 1765.
The book with its wealth of otherwise unrecorded material is to be considered an academic or scholarly work, but the author has kept the language simple and easy for the general readership.
Chamikara, a ruggerite while studying at Trinity College and a keen rider and driver in motor sports, has in the past decade devoted all the time he could spare from his current occupation in the tea trade and family commitments for his research. He is also the author of "The History of Sri Lankan Firearms" and "The Secret Tunnels of Sri Lanka." Mahanuwara Yugaye Aprakata Witti is a Neptune publication.