Nalandians shine at young scientists research tournament in Kuala Lumpur
View(s):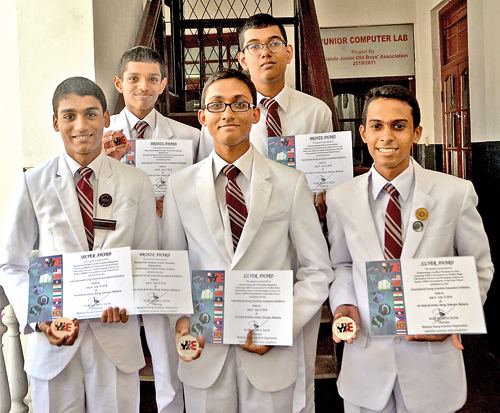 A group of Nalandians brought pride to Sri Lanka by winning top awards at the Young Scientists Research tournament held in Kuala Lumpur recently.
Competing with participants from 30 countries, the Sri Lankan representatives at the competition were Nalandians M. M. Tharindu Deepaloka Manasinghe, Maneesha Pramuditha Rajapaksha, Senith Nimenka Rajapaksha, Ayodya Panchala de Silva, Dinera Susiriwardhena, Akila Dulsara and Januka Dharmarathne.
Tharindu Deepaloka introduced a special 'barrel' to combat the garbage problem in Sri Lanka. As fumes emanated when burning polythene is a huge contributory factor for environmental pollution, Amila's invention is capable of burning even 1 kilo of household polythene without releasing fumes to the air.
Reacting to the incidents of people being trapped when vehicles fall into rivers, Senith Rajapaksha had introduced a system whereby a message is immediately sent to life saving authorities when an accident occurs. The new system enables doors and shutters to open automatically and thereby passes the message to the authorities that have been connected by the system.
Maneesha Pramuditha Rajapaksha of Year 12 and Ayodya Panchala de Silva of Year 10 won a Silver medal for their low-cost mechanism introduced to separate chemicals from drinking water and purify it using solar power. The benefits of this can be obtained by placing this equipment on a household water tank. This can even be utilized to purify a small quantity of water.
Dineru Susiriwardhena, Akila Dulsara and Januka Dharmarathne of Year 10 had come up with a technique to obtain maximum benefits from scraped coconut. Coconut blended at a lower speed for a longer time, can yield thicker coconut milk they found.
Principal of Nalanda College, Thilak Watthuhewa said that Nalanda College does not gear their students only towards classroom education, but guides them towards many extra curricular activities simultaneously. He said that the Research Guild of the School deserves credit for all these achievements.
The Research Guild of Nalanda College was begun in 2011 by former principal Ranjith Jayasundera. Upeksha Abesekera who is in charge of the guild at present said it was started in 2011. "Each year we take a batch of 50 and pool their ideas. Then we act in cooperation with the resource persons and direct students for national competitions. Those who are successful in national competitions will be selected for international competitions. By now our students have achieved many victories. Their achievements must be given due recognition."