Learning to be a mammologist!
View(s):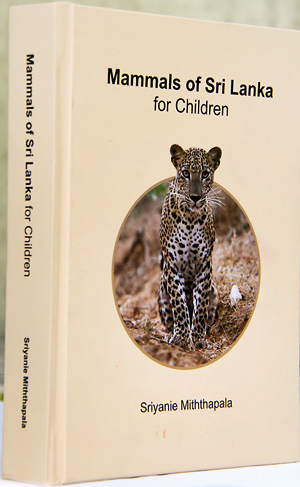 Parents looking for books on nature for their children in local bookstores and at sales like the recent Big Bad Wolf ( which drew booklovers in droves) are apt to sometimes pick ones emblazoned with attractive images and colourful presentation. Dr. Sriyanie Miththapala's new book 'Mammals for Children' does not fall into that category despite the mesmerizingly intent gaze of the leopard that looks out from its cover. Yet, its content is what should absorb the reader.
This is a book for Sri Lankan children and parents too, which will not just help parents introduce their youngsters to the country's 'extraordinary mammalian diversity' but which they also could keep as a solid reference volume to fill in the gaps of knowledge that they themselves may have. Dr. Miththapala is eminently qualified to address all categories of readers – from youngsters to parents and teachers.
Children of today whose playtime and hence casual exploration of their environment is sadly limited, gain much of their information from the television and Internet and no doubt, the plethora of excellent wildlife programmes on TV channels contribute to their wider knowledge. They may have watched with fascination programmes on polar bears and African lions, yet when it comes to the local setting, material is less accessible and this is where this book with its specific focus on the mammals of Sri Lanka is so invaluable. How many of us know that we have 96 different types of wild mammals that live on land and 28 different types that live in the sea?
Well structured with clear and concise tables, the information is presented  from the basics – What is a mammal, how do they feed, how they are named, where do they live, what time of day they are active and what the mammals endemic to the country are, etc. Under each chapter, the scientic terms are clearly explained- so in the section 'what is a mammal', terms such as endothermy, ectothermy are explained, in the section on 'how mammals feed', come piscivores, and frugivores in addition to the common herbivores and carnivores. She explains too how these terms were coined-  'frugivore' from two Latin words 'frug' meaning 'fruit' and 'vorare' meaning to devour.
For adults, the book takes us back to our schooldays and science lessons long forgotten –the descriptions of each mammal are not long but packed with information, whether on the much written about elephants and leopards, or the less familiar otters, civets, shrews, bats or aquatic mammals. Common misconceptions are addressed and teasing tidbits interspersed: how in Sri Lanka we often mistakenly call the Asian Palm Civet, 'polecats' and how in fact they are referred to as 'toddy cats' because of their tendency for sleeping in the crooks of branches or in fish tail palm trees from which toddy is obtained.  "Startlingly, markings on their faces make them look as if they were wearing masks, like robbers," Dr. Miththapala writes in a description that will resonate with children.
In the Strange Mammals section, we encounter the Indian Pangolin and the Indian Crested Porcupine- the latter, we learn, is one of very few mammals not protected by law in Sri Lanka. In some places diagrams are used for clarity- to show the difference between the foot of an even-toed ungulate and an odd-toed ungulate.
Sections like Wild and Domesticated Animals, Know How to Behave Around Wild Animals are important lessons on conservation.
Well known as one of the country's leading conservation biologists, Sriyanie Miththapala has written previously of how her parents, particularly her father P.A. Miththapala (with whom she co-authored books like 'What Tree is That?' ) nurtured in her a love for nature, something many parents seek to give their children. In an article published in the Sunday Times some years ago, she wrote of her father's propensity to treat animals as people. Nature and conservation have thus always been part of her life and it was her scientific research along with others that helped establish the classification of the Sri Lankan leopard in 1996 as a separate sub-species, distinct from the Indian sub-species.
Dr. Miththapala had her first degree from the University of Colombo and gained her MA in Biology from Smith College, USA and her PhD in Wildlife and Range Sciences from the University of Florida, USA. A former Principal of Ladies' College, she is currently a consultant to the IUCN Sri Lanka (International Union for the Conservation of Nature) and is a member of its global Commission on Ecosystem Management. She has also published several books on the fauna and flora of the country and this is an updated and revised version of the book originally written in the 1990s.
Her scientific knowledge apart, one of Dr. Miththapala's great strengths as a writer and teacher is her ability to present a complex subject in a manner that anyone can relate to. This coupled with her experience in working with young minds makes her uniquely placed to author a volume of this nature. At the outset, Dr. Miththapala recalls some words of advice given by the wife of her mentor at the Smithsonian Institution, USA–that when writing for children one should always pitch the article slightly higher than what is expected. It is advice she has followed.
This is not a coffee-table book but a hardcover of regular size and hence the images, contributed by some of the country's best photographers, though by and large of excellent quality are sometimes smaller than what one would like to see. The font size, no doubt intentionally chosen for younger readers, is larger than usual. And scattered within the pages are games – an animal game for 5-9 year olds to the tune of Farmer in the Dell; songs, puzzles, quizzes and easy-to-make animals- how to make a paper bat for instance that children will enjoy trying out.  There is even information on how to make a plaster cast of a mammal track and how to take mammal rubbings.
Thoughtful inclusions- a line from Lewis Carroll, little notes on books like 'Moby Dick' and 'Ring of Bright Water', 'Rikki-tikki-tavi' may lead young readers to discover these classics.
"Now that you have read about mammals, and know how to recognise them, there is one more word, you must learn," Dr. Miththapala writes in conclusion. "Anyone who studies mammals is called a mammologist! As you read about, look at and learn more about mammals, you can call yourself a mammologist!"
Over the years, Dr. Miththapala has kindled a spark in many young minds and this book, will no doubt, lead many more to discover with joy, and value the world around us.
('Mammals of Sri Lanka for Children' is available at all leading bookshops)
-Renuka Sadanandan
Book facts
Mammals of Sri Lanka for Children

By Sriyanie Miththapala

Printed by Softwave Printing and Packaging (Pvt) Ltd.

Price: Rs. 1, 500