Appreciations
View(s):

A much loved brother who supported me in all my ventures

Prof. Samantha Hettiarachchi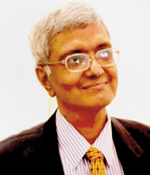 The touching tributes and appreciations of  Professor Hettiarachchi, both in the print media and social media since April 24 this year, bear testimony to the lives he impacted in many ways, as an academic, a teacher and a friend.
Three months since his passing, I pen these words of appreciation and admiration more from the perspective of knowing him and growing up with him for almost 40 years, as my eldest brother-in- law. I was just nine when he connected with our family as a 'dear friend' of my eldest sister Premini. I believe our first acquaintance was through the telephone. In a day and age when the ring tone of our land phones were like clanging cymbals and no CLI, my efficiency as the telephone operator was appreciated by Aiya and to this year he would enjoy mimicking my responses to him over the phone.
Aiya was my sister's 'world' for almost four decades. In the early years of marriage they were overseas on post graduate studies and diligently pursing their academic fields of interest. Imperial College London and the UK were their second homes until about 2005 when after the tsunami hit,  he was consulted by many countries as he served as a key member of the Advisory Committee of the Disaster Management Centre, their travels took them to the other continents as well. Prof. Hettiarachchi's name is synonymous with the University of Moratuwa and the field of Coastal Engineering worldwide.
The tributes paid by students on facebook, the appreciations by his University colleagues and friends spoke clearly of his personality and character. He was a good friend to many, be it during his college days at STC Mount, among his campus batchmates or with students. Whether you needed simple advice, a brush up in subjects, an empathetic ear, a listener if you will, he would be there for you. He earned much respect from people of all walks of life in society for his pleasing and simple manner. He lived a principled life grounded by a strong sense of right and wrong. He spoke out when it really counted and never let something wrong be unchallenged. Perhaps that's what earned him a warm welcome to our family, as he would have been a 'son after my father's own heart'.
Samantha aiya, led by example as he mentored  not only the many students who walked through the corridors of the Civil Engineering Department for 38 years, but also mentored and was a great inspiration to his nephews and nieces, as a fond 'Baaps', 'Maama' and 'loku thaththa'.  He was a dutiful son and a beloved caring youngest brother to his four siblings.
On a personal note I am appreciative of an elder brother who admired my various talents and positive outlook on life. He endorsed my professions supportively though I am the non-academic in the family. Being a keen fan of my travels and experiences he would encourage me to diversify my skill in whichever field I pursued. Perhaps one thing we both had in common was that we were 'spoilt youngests' in our families and our siblings still treat us like we haven't grown up. If there was anything I had which he fancied for his collection of items, his claims on them got the better of me, as I just couldn't say 'no' to him. In turn, he was sensitive to my point of view in discussions we had with akka and supported me always, pointing out how I felt.  Aiya had a great memory for insignificant detail of events or conversations and years later he would refer to them vividly. He kept track of my closest friends and acquired some 'fans' among them too. Wherever people exchanged greetings with Samantha aiya, they became fond of him, as he possessed a unique charm and exceptional charisma in addition to a good sense of humour. The past few years he would enjoy posing for a 'click' on my camera as he knew the outcome would be exceptional.
I believe his greatest achievement in University and life's reward for him was when he conquered the strongest 'wave of love' in meeting my sister Premini and spending two thirds of his life with her.  He couldn't have asked for more in receiving such devoted care and unconditional love especially in the latter stages of his life while he bravely endured his illness. Akka dedicated all her time to take care of  him, while juggling her academic career and house work as well. Even on his sick bed he would share his knowledge and expertise via email and telephone and mentor a few students who visited him at home.  I recall a few times I accompanied him for treatment he would enumerate emotionally in detail, the many students and colleagues who showed their gratitude in numerous ways in the last few months of his life. This only bears testimony to the valued legacy he left behind which no wealth can quantify. I can imagine how much more he could have accomplished in his life were it not for his illness.
His avid interest in and valued collection of fountain pens earned him recognition even in other nations through his writings in pen magazines as well. Though his crowning qualities were his thirst for intellect and academic knowledge, his collection of miniature cars, trains, houses, and wrist watches among other interesting items, were hobbies he cherished as relaxation.
Aiya was not really a 'religious person' rather he preached a better sermon with his life than with his lips and was a person of much faith. Whenever I visited them at home in the last year, I was privileged to encourage him with prayer and praise. The night before he passed away, together with a dear friend of mine, by his bedside in hospital we prayed and sang the famous chorus 'because He lives I can face tomorrow',  little  knowing that truly he was ready to face his tomorrow in eternal rest. Thus, till we meet again, a professor and gentleman bade us goodbye.
 Nimmi Gunewardena
---
Memories of a larger than life Appa
M.C.H.M. Rasheed
It is 50 years since I lost my maternal granddad Mohamed Cassim Hajiar Mohamed (MCHM) Rasheed – we affectionately called him "Appa". On July 19, 1968, I turned 18 and he 69.
Born on December 11, 1898, he stood tall and sturdy at 5-9: a well-built man of powerful stature; a striking personality; always smartly dressed. He was a leader full of wisdom, a patriarchal figure amongst family who often sought his advice. Appa taught and trained us in many aspects of Islam; of proper speech and conduct; and of patience. The proverbial rattan cane was perched atop his wardrobe as a symbol of discipline, but hardly used. He was the epitome of an exemplary father. He was a landed proprietor and merchant, having established Kingston Agencies, an indenting firm, in the 1950s.
Appa was a great traveller in his heyday, having sailed with two first cousins, Abdul Hameed Mohamed Junaid, Mohamed Ali Mohamed Hussain with his nephew Mohamed Mohideen, through Europe in January 1930. They journeyed for over  three months, touring the pyramids of Egypt, Mount Vesuvius in Naples, skiing across snow-capped mountains in Switzerland, visiting the Eiffel Tower in Paris, witnessing bull-fighting in Spain, and sailing through the rough seas of the Bay of Biscay, photographs of which he brought home. I remember listening to him, in rapt attention while he relaxed on his armchair with a lit filter-tipped Bristol cigarette. In 1960, he left home in Bambalapitiya to Ratmalana airport, to perform Haj in Makkah and covered Madhina in Saudi Arabia.
In the 1950s, his compassion extended to bringing three young brothers from a tea estate in Rakwana and raising them like family. Alwis, a brilliant artist seated aimlessly on the street who  was spotted and brought home by book-binder Mustafa-nana who was Appa's button-man of sorts, later became his driver.
In the evenings, my brother and I helped Appa write the accounts relating to the labour force, which he strictly supervised at his cousin SLM Abdul Rahman Haji's construction sites in Wellawatte. Appa was meticulous in his financial dealings to the last cent. It was a profound lesson in financial integrity instilled in us.
Appa was also a great environmentalist; planting in our extensive garden a variety of trees, training us to water them regularly, the fruits of which we greatly enjoyed. Into animal husbandry too, he reared poultry and goats. He taught us the finer aspects of weaving a chair with rattan; the art of skinning a chicken; organizing family get-togethers; and treating guests with honour.
Appa used to take our family to late night South Indian Tamil movies screened at the Plaza, Roxy, and Odeon cinemas. He enjoyed especially the meaningful lyrics of those memorable songs which he explained to us.
He suffered a stroke one morning in July 1968, and was taken to a Colombo hospital. He passed on serenely a day or two later in the presence of his wife Ummu Thahira, whom we affectionately called "Umma." It was decidedly a heart-rending moment. It was the end of a personality of genuine love, care and concern.
May Allah bless you, dear Appa.
Firoze Sameer
---
An epitome of love and sacrifice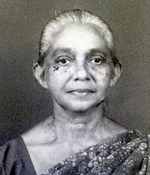 Soma Muriel Cabraal
A year has passed since you left us and much has happened which you would have loved to have been a part of. We trust that you watch over all of us from heaven above and smile at that which you would have been proud of.
A year has passed and you are still the epitome of love and sacrifice for us; the true essence of duty and the prime example of Godly fear. A decade later, undoubtedly none of that will change.
A year has passed and we still miss the stories you would tell and your presence at evening tea; the things we've learnt of our heritage and of your own experiences over the years. Other stories cannot take that place.
A year has passed and nothing quite fills the emptiness you left behind.It might quite certainly remain as such in the years to come.
A year has passed and you are truly missed and thought of often, dearest Mamma; a God sent angel, a model for us all! May you continue to rest in peace and rise in glory!
Oshanthaka Cabraal
---