Fuf says it was a decent wicket at Galle
View(s):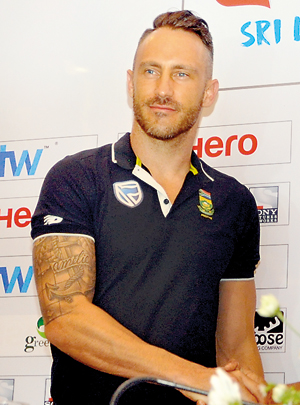 South Africa faced one of their worst ever test defeats but the skipper Fuf du Plessis, doesn't take any credit away from Sri Lankans. Especially, couple of months after many talks of how the Galle wickets is prepared, the South African skipper says it's "actually a decent Test wicket"
"I didn't think the wicket was that bad! I thought it was actually a decent Test wicket"
"It's obviously a lot more challenging to face spin. But there weren't any demons in the wicket at any stage while we were playing. I just have to go and practice my topping in the next week" was the view of Fuf du Plessis when he met the media after a shocking 278 runs defeat at the hands of sixth ranked Sri Lanka.
"You almost think it's worse than what it is." Du Plessis explained.
"The biggest weapon that they had was their consistency. Consistency in spinners is what makes it hard. You just have to get the ball to spin a little bit and it's enough, because they don't bowl any bad balls. I think often it was the ball that didn't spin as much as we thought that got us out. But it wasn't easy."