The unsavoury battle for the nut pie
By Namini Wijedasa
View(s):
Desiccated coconut industry accuses milk powder manufacturers of gobbling up millions of nuts
Claims unregistered backyard processors buy up large quantities from growers; milk extraction done under unhygienic conditions
Says multinational firm among companies whose practices threaten survival of coconut-dependent sectors


The decades-old desiccated coconut industry is grappling with a shortage of nuts. Making it worse, producers allege, are unregistered backyard processors who buy up vast quantities of nuts from growers and, via suppliers, sell kernels or milk extracted under unhygienic conditions to manufacturers of coconut milk powder.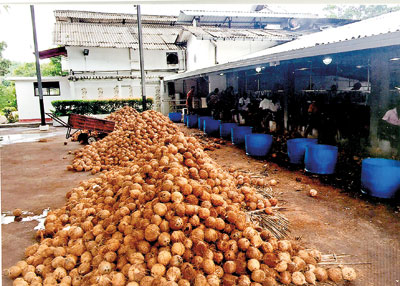 The Desiccated Coconut Manufacturers' Association (DCMA) has also appealed to policymakers not to allow coconut milk powder producers – led by two companies, including a multinational – to increase their capacity as it will hit every other sector that is dependent on coconuts. And they ask that no new coconut-based factories be approved as "coconut supplies are stagnant and any new ventures cannot be sustained".
"There is a serious crisis in the industry," said Sunil Watawala, a committee member and past president of the DCMA. "We went through a very bad period this year due to a shortage of coconuts. We were at a standstill. Production was slow during the last eight months. Most mills closed down. Some worked one or two days a week."
Sri Lanka typically requires more than three billion nuts a year – 80 percent of them are for local consumption and 20 percent for export. The Coconut Development Authority (CDA) sets quotas for registered manufacturers of desiccated coconut and other products such as coconut oil. All of them must share around 600 million nuts.
Fifty-two desiccated coconut mills are listed with the regulator. Together, they have the capacity to churn out around 85,000 tonnes of desiccated coconut a year but must satisfy themselves with 40-45,000 tonnes, as there aren't enough nuts. And in 2017 – a dismal year for coconuts – it dropped to 29,000 metric tonnes.
Desiccated coconut is predominantly exported for use in ready-to-eat food, confectioneries and other products. "We have been a regular and consistent foreign exchange earner," said Mr Watawala. "We have spent millions and millions in developing this industry. And we are one hundred percent local."
The underlying concern of the Association is that its members are losing their nuts to the bigger companies. They claim that these firms have been getting around the quotas by securing coconuts (in kernel or milk form) from illegal processors via their regular suppliers.
"These backyard entities do hatcheting, paring and pre-processing of coconuts in their homes or other informal places," said Keerthi Kuruppu, Manager of Sanhinda Mills (Pvt) Ltd, a medium-scale, modern factory with ISO9000 certification. "They have no labour costs and no overheads and we find it difficult to compete. As they lack infrastructure and because of the way in which they operate, they can pay higher prices for the nuts."
"We want these illegal activities stopped," he continued. "They are unauthorised and use up nuts that would otherwise have been exported through the legitimate industry." Sanhinda has a quota of 50,000 nuts per day.
The CDA confirmed the existence of underground operators and said their role in the market had helped thrust coconut prices to unprecedented levels.
Chairman Udaya Rupasinghe said he had summoned coconut milk powder producers–both individually as well as with other industry stakeholders–and cautioned them not to acquire their raw materials from backyard processors. He said that, after a spate of CDA raids in May on these illegal operations, many are no longer active.
Sri Lanka usually produces between 2.8 and 3 billion nuts a year. Last year, this dropped to 2.4 billion. The bulk of it goes towards public consumption, leaving – as mentioned before—around 600 million nuts for industries. As with many other produce, the farm gate price of a nut is low. It is inflated while heading down the supply chain via several middlemen.
But the retail price of a nut rocketed to between Rs 100 and 120 some months ago, even becoming a political issue that contributed towards dissatisfaction with the Government. A controlled price was introduced for small coconuts but it did little to solve the problem.
The CDA identified that illegal processors were playing a significant role in deciding coconut prices. With little or no overheads or standards to adhere to, they were willing to buy nuts at rates others found made little business sense. So the regulator clamped down.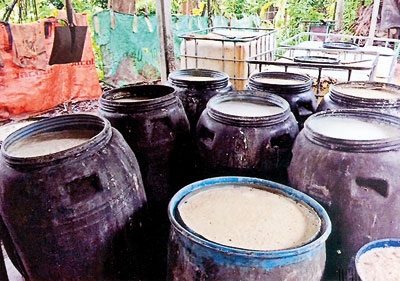 "During the past few months, we were able to find people who pre-process nuts in houses and sell to companies," Mr Rupasinghe said. "Among them were some former players in the desiccated coconut industry. During one of these raids, I was even assaulted. Some of them are like IRCs (island reconvicted criminals)!"
The CDA has identified at least 47 backyard operations. Many of them do the processing in unclean conditions, particularly as there is no regulation or monitoring. This includes in sheds and gardens. Photographs even show coconuts heaped on the ground near an outhouse.
It was found that the coconuts processed in this manner went through regular suppliers to companies that produced coconut milk powder, Mr Rupasinghe said. But he felt the practice has now been controlled to a large extent.
"We can't guarantee it 100 percent," he admitted. "We can't see what is going on at night, for instance. We are not police. We are an authority and our employees are off at 4.30pm. But I know that a lot of them have stopped and that's why the price of coconuts dropped."
The auction price of a kilo of coconuts (which is how the industry buys them) was Rs 70 this week. The price per nut was Rs 47. "We even paid Rs 110 per kilogram of coconut, which is usually two nuts," Mr Watawala said. "It went up to Rs 120 per kilogram."
During meetings with key industry players a few weeks ago, the CDA Chairman showed them videos and photographs of the raids to make them aware of the surroundings in which pre-processing took place. Everyone was warned not to encourage the underground network that fed some of their regular suppliers.
"They got scared," Mr Rupasinghe said. "I said I will tell the world not to use your coconut milk powder as the Government will have to take responsibility. I instructed them to buy coconuts only from registered parties because we monitor them."
The Chairman said there was some merit in protests by desiccated coconut producers. They were being deprived of nuts by the illegal operations. And he said these factories usually produced desiccated coconut only when the price of the nuts fell. But they were also at the forefront of resisting coconut imports into the country (it was, however, permitted for two coconut milk powder producers who brought in coconut meat during the recent shortage).
"They (CDA) have done a lot," Mr Watawala said. "Prices are stabilising. We don't disagree. But we are still trying to tell the Government not to give all available coconuts to one multinational. Make it available to others in the coconut-based industry. As far as desiccated coconut exports are concerned, every rupee comes into the country.
Others may be showing they are investing a lot of money here but taking all their profits out."
Multinational company says it adheres to high quality standards

The Sunday Times approached one multinational company that produces coconut milk powder for a comment. A statement issued in response said that they buy coconuts from Sri Lanka and, that too, only three percent of what is available for sale.All of the company's suppliers, without exception, are registered with the Coconut Development Authority (CDA). "Further, they are required to adhere to our strict internal guidelines, where we adopt a comprehensive assessment scheme, including regular audits, to ensure compliance with our high quality standards.," it said. "Compliance is non-negotiable and we guide suppliers with feedback, recommendations and corrective measures at every opportunity, even going so far as to discontinue working with suppliers who are not willing to meet our strict standards.""The CDA also conducts random audits and spot checks of our suppliers, to ensure strict compliance with local regulations and specifications," the statement held. "We also encourage and assist our suppliers to obtain international quality certifications and set up their own quality control departments. As a result, all our coconut milk suppliers are ISO 22000 certified."The company's coconut milk powder is Sri Lanka Standards-certified against the SLS-1309 Sri Lanka Standard for Coconut Milk Powder, it said. Thus, SLS conducted its own audits of the manufacturing process to ensure compliance with local hygiene and quality standards.

"In addition, since we export CMP to more than 50 countries, meeting international quality standards and specifications is a mandatory requirement," the statement continued. "Our manufacturing facility also undergoes ISO audits since we are ISO 22000 certified."

The company started producing coconut milk powder in the late 1980s, around the same time it began manufacturing dairy-based products, it pointed out. "The focus has not shifted since then, except to accelerate our support to coconut farmers in face of the recent issues around agronomic resiliency," it said.

Work was being done in collaboration with the Coconut Cultivation Board (CCB) to help improve farmer livelihoods and coconut supply. "We are encouraging them to use coconut for their own (in-home) consumption, to meet domestic needs first," the company maintained.

"We have been very outspoken about our desire to make a positive impact in the local community, not just in terms of supporting farmers but also in empowering consumers via transparent labelling," it concluded. "Although not required by law, we voluntarily display the percentage of coconut milk used in our coconut milk powder on the packs."