Spot fines from today to drive down road toll
By Shaadya Ismail
View(s):
The new spot fine system effective from today (July 15), will help reduce the enormous road accident toll, a senior official said.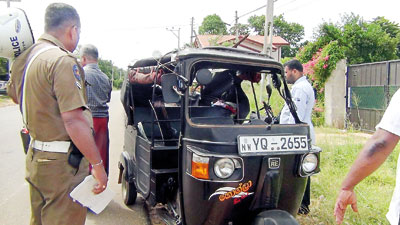 The high number of fatal road accidents is driving reform of the current outdated fine system, National Council for Road Safety Chairman Sisira Kodagoda said.
"There are many accidents that go unreported at hospitals, police stations and so on, as a result of which many accidents are not entirely recorded," he emphasised.
The new spot fine system will apply to 33 offences. The highest fine of Rs. 3,000 will be for failure to comply with speed limits – a major cause of accidents. Speeding claimed 302 lives last year and 294 lives in 2016.
The lowest spot fine, Rs. 500, will apply to six offences; there will be Rs. 1,000 fines for 21 offences and Rs. 2,000 fines for four offences.
The spot fine system will be implemented by the police, with the officer issuing a ticket for the fine and the amount having to be paid at the relevant police station.
Offenders will be allowed a grace period of 14 days to pay the fine but the levy would be doubled during this period, the police Traffic Administration and Road Safety Division said.
While the flouting of road rules is the main reason for accidents, the Director of Traffic Administration and Road Safety, Superintendent Indika Hapugoda said, faults by agencies such as the electricity board, water board and local government authorities also led to accidents.
"There are instances where road accidents occur due to the absence of street lights," he said, "and the most common reason for pedestrians to fall prey to accidents is due to the fact that some local government authorities have sold pavement spaces to vendors, as a result of which the pedestrians walk on the roads, which subsequently lead to accidents."
In the first five months of this year, there were 1,231 fatal accidents in which 1,281 lives were lost, a slight decrease from the same period last year where there were 1,252 fatal accidents that claimed 1,326 lives, police records show.
Superintendent Hapugoda said that despite the reduction of fatalities accidents must be reduced further.
Pedestrians and motorcycle riders head the death toll: of the fatalities from January to May this year: 389 pedestrians and 417 motorcycle riders were killed, followed by 174 passengers, 116 drivers, 101 cyclists, 82 pillion riders and two others. Last year's toll was similar.
Former deputy police inspector-general of traffic and road administration Camillus Abeygoonewardena said rigid effective law enforcement implemented uniformly would reduce accidents.
"Static law enforcement is not going to help curb accidents. There must be different ways of enforcement such as deploying marked and unmarked police vehicles, and civilian policeman and plainclothed police should be posted at strategic locations," he said.
Mr. Abeygoonewardena pointed out that proper road engineering, building expressways and introducing advanced public transport could reduce road accidents.
"More than detection, it is the perception that has to be created in people that if road rules are not followed there will be consequences," he said.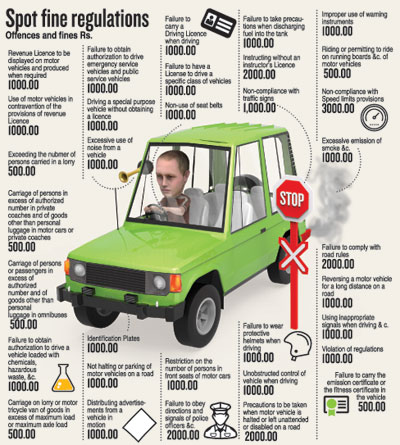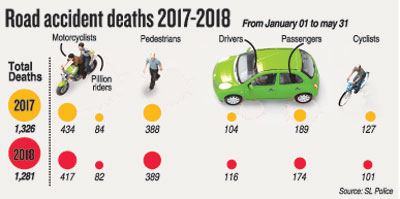 Trishaws squeeze more time for meters
Three-wheelers have been granted yet another extension of time, until August 1, to install fare meters, the National Council for Road Safety said.The deadline was extended because some three-wheeler organisations had said members needed more time to fix meters to their vehicles, council Chairman Sisira Kodagoda said."The date will not be further extended, and if the three-wheelers don't comply with the regulations strict action will be taken against them," he warned.

The meter regulation was ready for implementation on January 9 last year but continual objections from three-wheeler associations have forced postponement multiple times.

This year, the date for action was first set for April 20, and this was postponed until June 20 due to claimed difficulties faced by three-wheeler owners outside Colombo in obtaining meters, and now a further extension of time has been granted, Dr. Kodagoda said.

Asked about the current absence of penalty in the Gazette for the non-installation of meters, Dr. Kodagoda said provision for a penalty could be inserted in the Gazette but also the courts could act against offenders.