Hundreds of uncared-for elderly escaping unbearable lives
By Chrishanthi Christopher
View(s):
Increasing poverty, unbearable financial burdens amid rising costs of living, chronic diseases, and lack of care from the state for those in their twilight years, and broken family bonds, are among factors prompting hundreds of Sri Lanka's elderly to end their unhappy lives.
Suicides among elders have been rising, latest statistics from the Police Department show.
Last year, 231 persons over the age of 71 years ended their lives — 210 were men.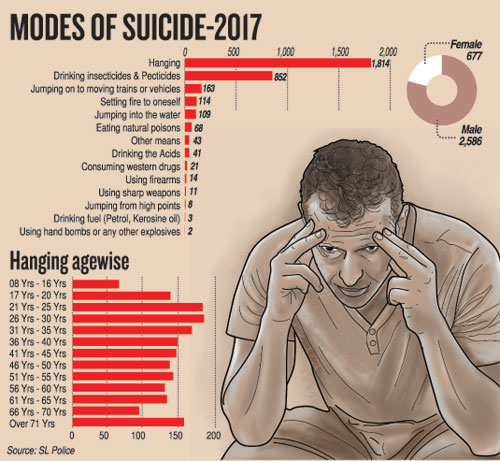 Others include 136 people between the ages of 51 and 55 years, 129 between the ages of 56 and 60 years and 132 between 61 and 65 years, and 93 between 66 and 70 years.
Dr Jeyan Mendis, founder and former director of the National Mental Health Institute attributed the increasing suicide rates to stress arising from financial debts.
He said the cost of living and family commitments have pushed breadwinners to borrow.
He compared the population now and over 20 years ago and said that the number of persons over 60 years has also increased.
There are more people over 61 years now compared with 20 years ago.
According to the Census and Statistics Department, the elderly population in Sri Lanka in 2012 made up 12.5% with 1.11 million males and 1.40 million females.
While there are no census figures thereafter, forecasts suggest that by 2021 the number of elderly (over 60) will swell to 3.5 million. They will make up 16.7% of the population. By 2041 it is estimated that a quarter of the population will be over 60 years.
Poverty, loneliness, diseases such as diabetes, heart conditions, kidney malfunction, and lack of appropriate services for the elderly are the primary causes of suicides among the elderly.
Children going abroad for studies and settling down overseas also contributes to the tragedy.
Dr. Mendis said that 20 years ago, or earlier, the elderly were looked after by their children. The baby boomers had up to five children and never worked. Also, the extended families lived in one household and the matriarch or the patriarch was respected.
But over the years, families have become smaller with only father, mother and a maximum of two children. Both parents work and most families have a single parent who has to be the breadwinner.
The state has failed to provide for the elderly, and families find it difficult to care for the elderly and the disabled.
The police crime report also shows that hanging oneself seems the most common method of suicide among both the young and elderly.
In 2017, people who died by hanging themselves added up to 1,814. Among them, 1,508 were males and 306 females. The next common mode is drinking pesticide or insecticide. Dr Mendis attributes this to the availability of chemicals among farmers and in the plantation sector.
Hanging is painful, but the elderly resort to this mode because their intention to die is very strong. "They have been harbouring suicidal intentions for a long time and they plan it,'' Dr Mendis said.
To counter this tragedy, the lives of the elderly should be made more worthwhile.
They should be made to feel important and useful and should not be allowed to feel that they are a burden to society. This can lead to depression.
Most of them are lonely, because the husband or wife is dead and the children have gone overseas to live. Some have no children and this can also lead to suicidal tendencies.
"People who have suicidal ideas should reach out for help,'' he said.
There are around 105 psychiatrists in the country. They can be reached through several hospitals including general hospitals, teaching hospitals and base hospitals.
A depressed person is unable to see himself as a person who needs help. This is where the family can help.
Symptoms of depression, include feeling low, hopelessness, worthlessness, and the thought that it is not worth living.
Dr Chitramali de Silva, director of Mental Health at the Ministry of Health said that suicides in the plantations and in farming areas are high.
Older people become depressed for many reasons including financial needs, chronic diseases and loneliness.
Other reasons for suicide according to police statistics, include harassment, family disputes, economic problems, mental disorders, chronic diseases, ill treatment by children, physical disability and addiction to narcotics.
The state-run Elders' Secretariat, said it has carried out several programmes.
Director S. Singapuli said that day care centres are being set up countrywide where the elderly can go and relax. Around 600 day care centres have been set up.
Also, the elderly are being encouraged to start up food outlets, called the 'Atthamma Catering' in tourists areas to sell traditional Sri Lankan meals.
"We have already started two such eateries in Anuradhapura and Polonnaruwa,'' Mr Singapuli said.
The elderly also can cultivate vegetables in their home gardens and sell produce to the eateries.
The Ministry of Social Empowerment gives just Rs 25,000 for elderly care centres.
The Police Crime report of 2017 said that 2,586 males and 677 females had taken their lives countrywide, with ages ranging from 8 years to more than 71 years. Among them, 757 belonged to the age group of more than 60 years, including 652 males and 105 females.
In 2016, the number of deaths by suicide stood at 3,025 with 2,339 males and 686 females. Of this 734 were above 60 years, including 620 males and 114 females.
The year-on-year deaths have been rising over the past five years.