Using the Volusha app to stay ahead of the news
By Mahesh De Andrado
View(s):
One of the best ways to stay tuned with what's happening around you is to read newspapers and look up articles on the internet. The only problem is that with each day, we seem to be getting busier and busier. So much so, that we don't even have time to read the newspapers or watch TV. As a last resort, we rely on social media updates such as Facebook and Twitter to stay updated. This is a problem that Volusha aims to solve.
Setting Volusha up
As with any app, you first need to install the app and create a user account. The account is so that you can always have your favorite news content providers saved if you ever decide to reinstall the application and can't be bothered adding the same news sources repeatedly.
Once you finish setting up the account, you can begin reading news articles that you may find interesting. Volusha actually takes your location into account and attempts to deliver the most relevant local content to your fingertips. I must say, it does so quite nicely.

So what exactly is Volusha?
Well, put simply, Volusha is an all-in-one news aggregator app for Android and iOS. Developed by 3iTeam International, Volusha at first appears to be like any other news aggregator app. But the specialty of Volusha lies in the content it delivers. Rather than gathering up news from international sources (which it does), the app actually gathers news from local newspapers and websites and offers it to users in an easy to read manner.
But some may argue that the biggest problem they face is to actually read the news article itself. Well, Volusha has a solution for that. The app will actually read out an article of news for you so that you can go about your normal work. So you can literally be arranging up your house or cleaning up your room and you can have the app reading you the latest news stories so that you can listen to it at your own leisure.
Reading news with Volusha
The top section of the app delivers the latest headlines across multiple topics. Located below are individual topics that can be selected to read. The local content is sourced from local news website and newspapers.
Clicking on a particular news article will take you to the actual webpage of the news provider themselves rather than a cached version for Volusha. So you get the same experience as you would if you visited the web page of Colombo Page through your phone or PC, as you would if you went through Volusha.
The only difference here is that located at the top of the web page is a speaker icon. Click the icon and Volusha will proceed to read the news headline for you. So if you're driving around town in the daily commute, you can keep your phone on a dock and have Volusha read the latest news back to you. It can also be used if you're doing a lot of household chores and you want to read up on the latest news as well.
If you are looking at more specific topics such as Technology, Sports, Entertainment or Business, you can do so via the Library option in Volusha. Here too, you're given a list of articles which you can either read through or have Volusha read back to you. Articles are presented in groups of 5 making it easier to scroll through them if you're looking for a specific article.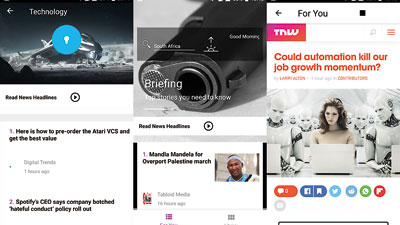 What sets Volusha apart from the rest?
The primary answer to that is the fact that Volusha can actually read back news to you, thus freeing up your hands to engage in other activities. Even if you're not doing anything and you're too bored to scroll on a website, Volusha can come to your rescue and help you out. That being said, there are a number of areas in which I felt that the app can improve. For starters, it only has a set number of news providers. True enough, they are adding more news providers every day, but it would be nice if we could add our own news providers as well. After all, what good is having an account and a personal library if we cannot customize it to our own liking and preference?
Another thing I noted was that rather than take an article and optimize it for readability like how Google News or even Feedly does, Volusha simply redirects to the original news article and adds a header on top of the web page to read out the article to you. One main disadvantage of this I saw was that certain news providers are not optimized for mobile view. So you'll either be scrolling a lot, or you won't be able to view the entire article as the font size is too large.
Another small hiccup I found in the app was that there was no way to exit the app. Simply pressing the back button would not close the app. Rather, I had to go to my Recent apps and close it from there or press the Home button. This also means that the app is possibly running in the background taking up processing power and memory as well.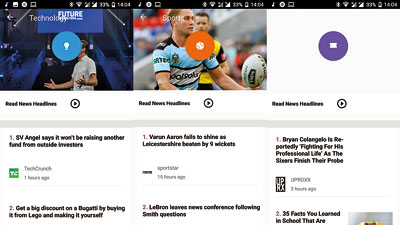 With some improvements, it has potential
Overall, as an application to reduce the hassle of staying up to date with the happenings around you locally and on an international level, Volusha does a nice job. With a few improvements and optimizations, I feel that they could indeed go a long way and perhaps even reach international levels.
The author is senior tech writer for ReadMe a leading tech news provider.
For more information log onto readme.lk