Celebrating playwright Oscar Wilde on stage
By Purnima Pilapitiya
View(s):
It's Friday evening and most of the world is impatiently waiting to leave the weekday grind for two days of escape. Seated in his rehearsal space, soft swing and jazz echoing in the background and glancing through a book on Oscar Wilde is Jith Peiris, who has accomplished just that. This July, he hopes to offer the devout theatre lover an escape into a brand of drama we rarely see today, in his latest production "The Importance of Going Wilde".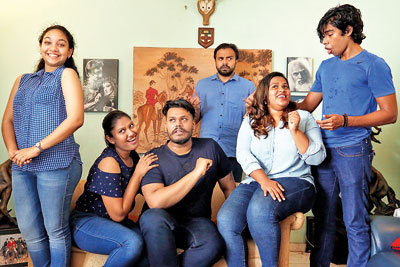 The aptly titled production will be an evening celebrating Ireland's foremost playwright and one of English literature's timeless masters. The production will feature excerpts from "An Ideal Husband" and "The Importance of Being Earnest" back to back throughout the evening. In the local English theatre scene which sees a healthy dose of musicals, light comedy the occasional intense play not to forget the customary serving of Shakespeare, Wilde despite his flamboyant legacy has made little to rare appearances on the Sri Lankan stage.
In fact, the master of wit has been secluded to school productions. Wilde was best known for his cutting wit and satire as well as his keen observations of upper class Victorian society and its hypocrisy. Backed by a private life which shook Victorian principles and a "devil may care" attitude, Wilde is still revered for his beautifully imaginative and hilarious works which slice through the hypocrisy society amidst well timed laughs.
The production will also be a chance for both the audiences and actors to be exposed to drawing room comedy or the "comedy of manners" which became popular in the 1880's in England along with "society plays".
Jith has a soft spot for Wilde, having grown up on his jokes and wit which were part of family conversations especially with his father, he remembers fondly. "I conscientiously pick pieces that examine society," he explains. Jith is at home in the genre and style of Wilde's theatre with countless plays from Ray Cooney, Philip King and H. C. N. De Lanerolle in his repertoire. Along with being comedies all these plays have another common characteristic- they provide a satirical look at society and the human relationships.
What Jith sees today is the deterioration of society and humanity, he adds matter of factly. He hopes that this production; one which most Sri Lankan audiences haven't seen on stage will re-examine the art of being a good conversationalist. "I push my young students to be chatty," he divulges.
Plays of this style are mostly true to the name- "drawing room comedy". But the lack of vigorous physical drama and stage antics has done little to make Wilde go out of style more than a century after his death. His work has his signature quick repartee, witty one liners, and unforgettable characters- not excluding the strong, uninhibited females that occupy the selected plays. Younger audiences might even see Wilde as the King of internet trolls had he lived to see Twitter and Facebook, while his elegant wit might even rub off the enlightened hipster.
Together with Wilde's most renowned play "The Importance of Being Earnest" and "An Ideal Husband" which was one of his most politically up-to-date plays at the time, Jith is hopeful that the production's effect will be as significant as it was when Wilde first flounced in on the literary scene with his wit and laughter after a repressive Victorian moderation.
The Creative Arts Foundation present "The Importance of Going Wilde" directed by Jith Peiris from July 28-29 at the Lionel Wendt Theatre.Tickets will be available at the Wendt .