Poson Moon
By Manoshi de Silva
View(s):
Shane lived in an apartment in the middle of a busy town. Both his parents worked and they were always very busy. He didn't even get to talk to them properly on some days. They went to work at the same time he left for school and came home late when he was about to sleep. Even during the weekends they had office work and they were busy with their laptops and phones.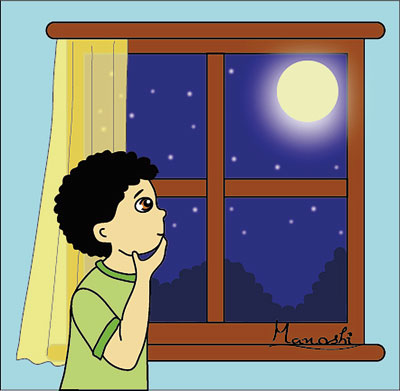 Shane was looked after by his Nanny, who was his care-taker. She was very fond of him and Shane too liked her a lot. She fed him, played with him, told him stories and stayed by his bed till he fell asleep. When he came home from school, he told her everything that happened and she listened with a smile.
Nanny was a caring and trustworthy person and Shane's parents also felt relieved to leave him in her care. They knew Shane was well looked after by her. So whenever they were not at home or got late to come home, they didn't have to worry about anything. They knew that Shane was in safe hands.
Shane's Nanny rarely got a chance to go home because she had to be with Shane all the time. Her house was far away and it took a long time to travel there. She couldn't pay a quick visit and so she had to take a couple of days off. But since Shane's parents were always busy and out of their house most of the time, Nanny didn't get a chance to visit her family often.
One day, before Shane went to sleep, he went near his window to close the curtains. His Nanny was sitting by the bed, waiting to tell him a story, like she did every night before bed. "Oh look at the moon," Shane exclaimed. "It looks so big and round!"
"That's because Poya is near," said his Nanny, "on Poson Poya day it will be a perfect round circle!"
Shane climbed onto the bed. "I like to look at the moon," he said, "do you also like the moon?"
"Oh I do like the moon," smiled Nanny. "Since I was a little child like you, I used to sit on the veranda step of my home and watch the moon rise on Poya days. On Vesak and Poson Poya days, after returning from our village temple, we sit in our verandah and have tea. You can see the moon shine bright from there with Mihintale in the background far away."
Shane watched his Nanny's eyes shine as she smiled picturing her home.
"Is your home very far?" he asked her, "is that why you don't go home that much?"
"If I go home, who'd be there to look after you?" she smiled and tweaked Shane's nose. But Shane felt the sadness in her voice.
"You must be missing not seeing the Poson moon from your home," Shane said.
"Let's watch the moon from your room on Poson day," said Nanny and covered him with his sheet.
The next day Shane went near his mother while she was typing fast on her laptop. "Mama, I think Nanny would like to go home for Poson to go to the temple with her family and to watch the moon from her verandah," he said. "What?" asked his mother, raising her head. "Can't we let Nanny go home for Poson?" Shane asked eagerly. "Dada and I are both busy on those days and we'll be out most of the time. We can't leave you here alone!" replied Shane's mother and started typing again.
"I know how she must be feeling without her parents and her family near her," said Shane walking away sadly, "I also feel sad when I can't be with you two." "Why do you say that?" asked his mother, "we're here at home with you."
"But I wish I could go to the temple with you and Dada and watch the moon with you two. Then Nanny can go home and go to her village temple and watch the Poson moon with her family."
That night when Nanny came to put him to bed, she had a happy smile. "Madam gave me permission to go home for a couple of days for Poson. But if you want me to stay to look after you, I will stay back," she said to Shane. "No, I want you to go home," said Shane. "Go to the village temple with your family and when you come back tell me whether the Poson moon looked bigger and brighter than it looks now."
"It's the same moon you see from home," smiled Shane's mother who was standing behind Nanny. "You also can see if it's bigger and brighter when we go to the temple on Poson night."
"We?" asked Shane in surprise, "I thought you and Dada will leave me at Granny's place till Nanny comes back."
"Your Dada and I decided to stay at home the days Nanny is not here," smiled his mother. "We'll go to the temple together and if you like, we'll watch the moon from here. We can tell Nanny when she comes back, how beautiful it looked from your window on Poson day." Shane smiled happily. The moon looked brighter already, peeping from his room window.