Kavisha Dilhari's performances is more than her promise
Most Promising Schoolgirl Cricketer
View(s):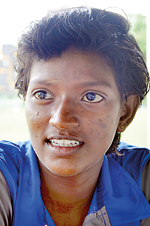 Kavisha Dilhari's contributions has been the cornerstone of Rathgama Devapathiraja College emerge champions in the All-Island Girls' Schools Cricket Championship in 2016, '17 and '18, which is a very rare achievement.
In recognition of her achievements she was selected to the National Women's Cricket squad.
Dedication, commitment and discipline has ensured Kavisha's climb to the top of her game in School Cricket. An outstanding all-round cricketer, she opened the season with a bang, scoring a triple century (353) against Kottawa Dharmapala Vidyalaya, which included 40 towering sixes. She ended the 2018 season scoring over 700 runs as a right-handed batter, while capturing nearly 40 wickets as an off-spinner.
She said she is elated on her selection to the National squad which is a just reward for the personal sacrifices made in her school career. The experience she gained as a member of 3 champion sides, playing under 3 different captains, had helped her become a complete cricketer.
As the Captain next year, Kavisha intends to devote her time grooming the younger players of the side, as she will have the services of only one senior player. She is ready to take on the burden, both in batting and bowling. This talented cricketer is worthy of emulating, as she intends to lead from the front and inspire her team to give off their best.
A firm believer in discipline and sacrifice, she is of the view that these traits will sustain the strengths of any team.
Kavisha's ambition is to serve her school, that made her an outstanding cricketer, in every possible way and to give off her best to the country as a National cricketer.