Rajiva Wijetunge synonymous with Mercantile Sports
View(s):
 40 years in Mercantile Table Tennis, 
 35 years in Mercantile Athletics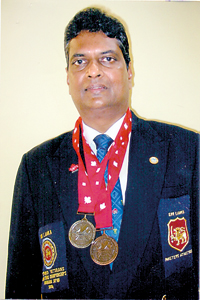 Hailing from Matara, a past pupil of Royal College, Colombo 7, Rajiva is no stranger to Sri Lanka's sporting arena. From his younger years at Royal College, Rajiva was determined to stride ahead through Cricket, Athletics and Table Tennis (TT). From 1977-1979, he represented Royal College at Cricket as an opening bowler, and was a member of the Royal College Cricket team for the Centenary Royal-Thomian encounter in 1979. Rajiva was also adjudged Best Bowler at the 1979 Royal-Thomian 50-Over Encounter. Another unique achievement of Rajiva's was that he was a triple coloursman, being awarded Royal College Colours for Cricket, Athletics and TT. In 1979, Rajiva participated in the 1st Merc. TT meet, held in Colombo. A tradition he continued for the last 40 years.
On entering the corporate world, Rajiva was keen to pursue sports as a veteran Athlete, and contribute to the improvement of Athletics and TT in general. Rajiva was appointed National Selector for TT from 2002-2007, and thereafter from 2010-2015. He is the only Sri Lankan to win an individual medal at the 2005 World Masters' Games in TT. He was a Member of the National Olympic Committee in 2007-2008 and was Chief of Mission of the Sri Lankan Contingent for the 3rd Commonwealth Youth Games in Pune, India 2008.
Rajiva was President of the TT Association of Sri Lanka, from 2007-2009, and was the President of the Mercantile TT Association, from 2013-2015.
Further, Rajiva was adjudged Best Athlete the Over-55 category, at the Sri Lanka Masters Athletics Meet and the Mercantile Athletics Meet, in 2014. He has won 25 International Medals for Sri Lanka and is a Double International Masters in Athletics and TT. He was recently honoured by Royal College as the Guest of Honour at the 2017 Royal College Colours' Night, held in April 2018.
Rajiva's determination and dedication to TT and Athletics have been paramount. he has participated in Mercantile TT without without a break for 40 years, from 1979-2018. A feat not achieved by any other Paddler. He has further participated in the Merc. Athletics Tournament for 35 years, from 1983 to 2018 without a break.
Rajiva's dedication, commitment and determination through 40 years is a prime example to any Athlete, that age is no barrier to achieve one's sporting goals. That one can achieve any task that one sets his/her mind to. Sports builds character, teamwork, discipline and fitness which Rajiva personifies.
As his daughter, it is a privilege to have a father such as Rajiva – he is a daily inspiration.
Janani Wijetunge Palihakkara