Move over Miami Vice, new-look tourist police to help safeguard foreigners
By Alvin Sallay
View(s):
It will not be exactly Armani, but our tourist police will soon be wearing more public-friendly uniforms and they will have gear to match, including jet-skis, as the government attempts to raise its game in the face of growing criticism from the tourism sector that the industry lacks the infrastructure to provide visitors a safe and friendly environment.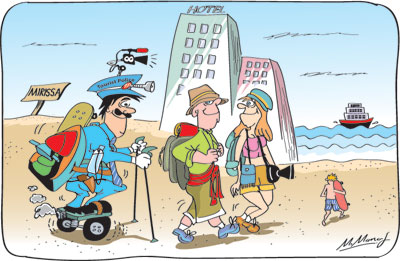 The sartorial overhaul for the long arm of the law was one of the few nuggets of information to come out of a long-winded seminar titled 'Managing Issues, Change and Reputation for the Future of Tourism in Sri Lanka' organised by advertising agency Bates Strategic Alliance and its consultancy NGage, last week.
The recent sexual harassment and assault of Dutch tourists in Mirissa had prompted Nimal Gunewardena, chief executive of Bates to take on the onerous task of highlighting the challenges facing the tourism industry. Nine stakeholders, including Bates who have been involved in the promotion of tourism in this country for a long time, addressed a packed seminar at the Lakshman Kadirgamar Institute.
Each speaker – many leaders from the industry – was given a seven-minute time limit to make their presentation. Many went over the allotted time. Nine times seven minutes is more than an hour. Yes, the seminar dragged on and it was hard to pick out the rare gems of information for most were calls for the government to act. Action plans are many, but whether it will be implemented is another matter was the cry from the audience.
But one plan which will be implemented shortly will be the refurbishment to the wardrobe of the tourist police. Goodbye khaki, instead the Cops will be attired in a "less-threatening' uniform, according to Kavan Ratnayaka, chairman of the Sri Lanka Tourism Development Authority.
"It will not be Armani or any Italian style, but we will get help from Hameedias who will provide the uniforms which will be more attractive and look less threatening," Mr. Ratnayaka revealed.
Apart from looking good, the Tourist Police -to be bolstered by 300 officers – will also feel good as they will soon learn the rudiments of key languages spoken by the majority of visitors to Sri Lanka with the British Council giving a helping hand (in English) as well as the Indian and Chinese embassies providing lessons of Hindi and Mandarin.
"We have also bought equipment which will help the Tourist Police in their duties, things like jet-skis," Mr. Ratnayaka disclosed.
Miami Vice move over. Mirissa Vice is on the scene. But will our lawmen be as good as Don Johnson? Many foreigners, and indeed locals, feel there is no rule of law in this land and that on some occasions, they are indeed hand-in-hand with the local government officials and toughs of the area.
How to get rid of the political influence and implementation of well-meaning plans was the chorus from the audience. Already Mirissa has come under the microscope.
The perpetrators of the Dutch assault are under custody, the restaurant where the incident happened has been closed and the beach is patrolled by police diligently.
Sanath Ukwatte, president of The Hotels Association of Sri Lanka (THASL), welcomed the damage limitation and called to strengthen the rule of law. "The recent incident in Mirissa has left a bad impression on the country but having said that Sri Lanka is safer than most other tourist destinations," Mr. Ukwatte, chairman and managing director of Mount Lavinia Hotel said.
"We have to impose severe punishment on the culprits (Mirissa incident) as an entire livelihood is at stake. There are more than 200,000 people employed in the tourism industry and they have to be educated too. But I feel Mirissa is also a blessing for it has created awareness that we need to act fast on getting so many things right," Mr. Ukwatte added.
Hiran Cooray, chairman Jetwing Hotels, called for a positive attitude from the movers and shakers in the industry. "We have to talk positively of our country, not doom and gloom. We need people to come and invest in the tourism sector and they must go into areas where tourists are not going at the moment."
Addressing the subject of uncontrolled over-visitation and inadequate facilities, Srilal Miththpala, a past-president of THASL and a wildlife enthusiast pointed out that the country's tourist hotspots Sigiriya, Kandy and Yala had reached a plateau and saturation point in terms of numbers of visitors.
"The leopard in Yala is now so used to vehicles that he even comes out and powders his nose in front of them. Every day 340 vehicles enter the park and this number reaches 700 on holidays. In 2016, 273,000 people visited Yala and the revenue earned was Rs. 7.4 billion with six billion going to hotels in the area. Rs. 500 million was earned by drivers so we cannot just close shop as an entire community is dependent on tourism," Mr. Miththpala disclosed.
Sri Lanka should take lessons from Kenyan wildlife parks according to Mr. Miththpala. "In Kenya there is a sighting protocol. When an animal is sighted, a jeep is given 10 minutes so that the tourists can take photos then they have to move on. In some parks in Costa Rica, they allow 50 people to go in only when 50 people come out."
Harith Perera, president of Sri Lanka Association of Inbound Tour Operators revealed how digitalisation had turned the industry upside down. "There are 2,131 hotels listed by the SLTDA but on Bookings.com the number is 12,500. SLTDA has 36,000 registered rooms while this number is 90,000 online."
The Mirissa incident could be used as a launching pad by tourism authorities in the country, according to Jean-Marc Flambert who used his years of experience in Saint Lucia as a case point. Mr. Flambert said the tiny Caribbean island had turned around its industry despite a number of bad events including killings of tourists. "There was a lot of bad publicity but despite this the island has a vibrant tourist industry. Sri Lanka can also use Mirissa as a turning point to help more this country's tourism industry into the future."
Hotelier Amal Goonetilleke said Sri Lanka had a lot to do if it was to sell itself as a luxury destination saying: "We lack proper destination branding and there is no marketing strategy."
On the same subject, former Sri Lanka Tourism Promotion Bureau chairman Rohantha Athukorala said that despite all the advantages the country had – diverse, compact size and authenticity – it had never been innovative. "The last good product we had was brought out in 1972, the Pinnawela elephant orphanage. We have got to tell our story to the world and be innovative like the tea and apparel industry," Mr. Athukorala said.
The last word came from Nimal Gunerwardene, whose company is celebrating its 25th anniversary this year. "This is a huge subject and the Sri Lanka Tourist Development Authority has brought out a four-year strategic plan which requires close collaboration between the private and public sectors."
And in this plan is a new-look tourist police force. Suave, sharp and smart. Hope they can keep those beach boys in place – and allow the tourists to roam free.
Tourism industry dismayed by reversal in order to dismantle illegal Mirissa structures

Sri Lanka's premier group of travel agents have expressed concern and dismay over a decision to suspend the announced removal of unauthorized structures in the southern coast town of Mirissa after attacks on tourists.

The Sri Lanka Association of Inbound Tour Operators (SLAITO) said in a statement that it was "disturbed to learn, that days (after the decision to remove these structures), the Coastal Conservation Department (CCD) has decided to suspend the removal of illegal constructions on the Mirissa and Weligama coastal belt until further notice, going against assurances given to the tourism industry, the previous week.

SLAITO members are disappointed to hear about the suspension as this issue is being monitored by tour operators who are waiting to see a swift response from authorities as they are responsible for the safety of tourists they send to Sri Lanka.

It said that in the wake of the brutal attack on Dutch tourists at a beach bar in Mirissa, Tourism Minister John Amaratunga proactively called all stakeholders to meet together without delay.

"The Sri Lanka Police, the Ministry of Law and Order, the SLTDA and the CCD were present at the meeting where the Minister assured them and the tourism fraternity as a whole, that swift action would be taken to ensure the removal of unauthorised constructions in the area," the association said.

On receiving his assurances, SLAITO in turn assured foreign tour operators that the issue was under control and is being appropriately managed by the relevant authorities.

Days later came the suspension order.

The illegal establishments identified for removal are a compliance and safety risk and have resulted in creating a dangerous and unsafe perception of Sri Lanka tourism. "This is probably the worst public relations for the country at a time when the government is relying on the tourism sector to bring in precious foreign exchange," SLAITO added.

The association urged the Government to proceed with the initial decision, as not coming down hard and strong on such attacks against tourists will effectively kill the industry and keep tourists away for fear of more such attacks. Undoubtedly, by suspending the effective and punitive measures that were taken, other disruptive elements will be emboldened to copy such attacks which go against the culture and hospitality of Sri Lanka itself, it said.

"Any leniency in implementing the law, especially in a high profile case such as this; which has received worldwide attention, will result in negative word-of-mouth publicity that will take years to correct," the association added.