One year on, Meethotamulla victims continue to be hit by official indifference
By Sandun Jayawardana
View(s):
One year after the Meethotamulla garbage dump tragedy, survivors are still haunted by memories of that fateful day. Many also allege that their plight has been largely forgotten by the officials.
Over 30 people lost their lives when the garbage dump collapsed on their homes on April 14, last year. Most were celebrating the Sinhala and Hindu New Year at the time. More than 100 houses were completely destroyed, but according to area residents, well over 200 families were evicted from the area as many houses fell within the area declared by the authorities as a 'danger zone'. While some were moved into flats provided by the Government, 63 families who refused this offer still live in rented accommodation, according to the People's Movement Against the Meethotamulla Garbage Dump.
The Government provides a monthly allowance of Rs.50, 000 as rent to these families. They have also recently been paid compensation for the estimated value of their houses. Throughout the past year, however, no steps were taken to value the lands belonging to the families. This has become a major point of frustration for the victims.
Many say that the compensation paid for their properties isn't enough to either build a new house, or purchase one.
Amila Ruwan (36) showed us the remains of his home. A part of a wall is all that remains. "At least I can see where my house was," he said, gesturing to the mound of earth beyond. "There were three rows of houses here. There's no way to tell now. Even we struggle to explain how it looked like to people who didn't live here."
Amila who now lives in a rented house in Salamulla with his wife, three children and his parents says the psychological scars of that day still remain.
"Even now, my youngest child, who is 3 and 1/2 years old, is afraid to go past this area. Whenever he sees this place, he starts crying," he revealed.
The landslide came within a few metres of Rafeek Aslam's house, but it was left intact. However, he was asked to vacate within several days of the disaster as the authorities feared a further collapse of the dump. Mr Aslam and his family now live on rent in Dematagoda.
Not long after the family left, his house and its surroundings became a haven for drug addicts and thieves who removed everything they could get their hands on, he alleged, pointing to the missing windowpanes and other fixtures of his house. There was no security provided after the first couple of months and pleas to the police to at least send out a few mobile patrols fell on deaf ears, he further charged.
Subashini Jayawardena (61) lost her 36-year-old daughter and 12-year-old grandchild in the tragedy. The 12-year-old was the middle child of three children. The two surviving grandchildren, both boys, now have to go through life without the love of their mother and sister.
Clearly, not much has been done towards providing counselling to the survivors who even now suffer from post-traumatic stress disorder. Mrs Jayawardena said her eldest grandson, now aged 16, failed his GCE Ordinary Level Exam. "He said he cannot study as he keeps remembering his mother and sister. We can't force him to study either," she observed. The youngest child, now aged 10 and who was very close to his mother and elder sister, has become difficult at school. "He does the opposite of what his teachers tell him," she said.
Some officials came a few times to speak and interact with the children in the days following the disaster, but there was no professional psychosocial support for them beyond that, said Shantha Jayasinghe (45), Secretary and Acting Convener of the People's Movement Against the Meethotamulla Garbage Dump. In the absence of any coherent programme by the authorities, it was left to the parents and guardians to try and help young victims overcome the mental trauma of their ordeal, said Mr. Jayasinghe, who has two young children himself. "We try our best, but difficulties remain."
Mr. Jayasinghe lost his house as well as a lorry he used for his business. "I can't even point out to where my house once stood," he said.
The main issue now is the continued delay in getting compensation for their lands, he stressed.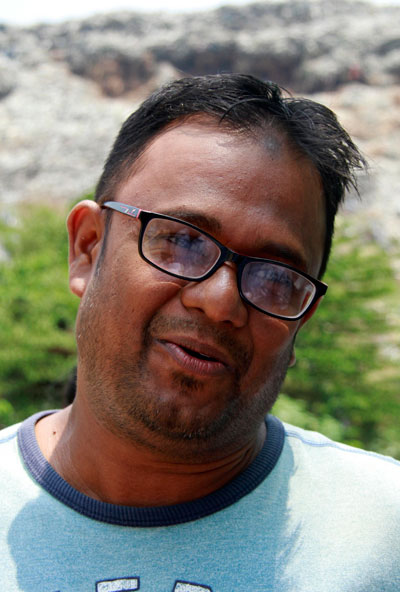 Mr. Jayasinghe said the residents also want authorities to compensate them for the vehicles that were destroyed in the disaster. "We are not prepared to claim insurance for the vehicles. Insurance is our money anyway and since the Government let this disaster happen, they must compensate us," he insisted.
He added that the authorities had stopped paying the Rs.50, 000 rent allowance since August, last year, after they awarded compensation for the houses. This placed families in a severe dilemma as most could not afford to build or buy a house without compensation for their lands, yet they had to keep paying rent to their landlords.
"Many were forced to use funds given as compensation for the houses to pay the monthly rent," he said. In the end, representatives of the movement took up their grievance officially. Subsequently, a Cabinet proposal was approved to pay the allowance to the families for a further six months and to start work on the valuation process of people's lands.
Government officials acknowledge there are delays in the valuation process, but claim this is due to procedural issues. "We have hit a legal snag," said Sunil Kannangara, the Colombo District Secretary. Under the Land Acquisition Act, it would take between 1 1/2 to 2 years for the land to be acquired and compensation awarded after valuation. "There is no legal provision to award compensation whilst this process is ongoing. In order to award compensation before the process is concluded, we would require special Cabinet approval," he revealed. This has been conveyed to the higher authorities, and officials were hopeful of receiving Cabinet approval soon to expedite the process, he added.
In the meantime, during the first two weeks of April, the Government deposited Rs.300, 000 each into the accounts of 60 families who are still living on rent, Mr. Kannangara said. The money conprised the Rs.50, 000 a month for the further six months the Government had approved, he said. "We deposited the allowance money for the period September through to February in bulk. We have accordingly deposited Rs.18 million in total," he said.
At a special meeting held on Thursday, Acting Minister of Disaster Management, Ranjith Siyambalapitiya pledged to expedite the process of awarding compensation to the victims who had lost their lands in the Meethotamulla tragedy. He also revealed that about 40 vehicles were destroyed and that some owners had even lost the legal documents pertaining to their vehicles. This had also severely impacted the livelihoods of many persons, he conceded. Mr Siyambalapitiya ordered the appointment of a committee of officials from the Department of Motor Traffic to obtain the necessary details quickly in order to provide compensation for the destroyed vehicles.
He also instructed that the rent allowance provided to families who did not accept Government housing, be paid until May.
Meanwhile, a minor crack that appeared at the garbage dump site on Wednesday had people worried. But a team of experts who inspected the site said it did not pose any danger.
A roof over their heads, but is it liveable?
Nearly 100 families who lost their homes had accepted the Government's offer to move into flats built by the Urban Development Authority (UDA). The flats, measuring about 400 square feet, are valued at Rs. 4 million. Many of those who accepted the offer had no title deeds to their lands at Meethotamulla and were left with little choice. They too claim their hardships are far from over.

Chamini Jayawardana and her family were moved to the flats at Block B at "Laksanda Sevana" in Salamulla. Each flat has two bedrooms, a small kitchen area and a bathroom with toilet. A mother of two, Mrs Jayawardana pointed out that the limited room inside the flats meant that the children had little room to run about unlike in their old home.

Moving into the flats has also created unexpected social problems. Drugs and other vices are rife in the flats, she claimed. Garbage is strewn all over the building and filthy language is used liberally. "This is not a good environment in which to bring up children, so we don't let them out much. They are basically stuck inside the flat."

Some of their neighbours have already moved out. Mrs Jayawardana said she and her husband were also considering leaving for the sake of their children. "The authorities told us we can't rent the flat or sell it. Even so, we don't want to keep living here. We are currently looking to buy a house using whatever funds we have," she added.