The light of Vesak to fall on Kurunegala
View(s):

Kurunegala will be the cynosure of all eyes, with plans underway to hold the national Vesak festival in this district.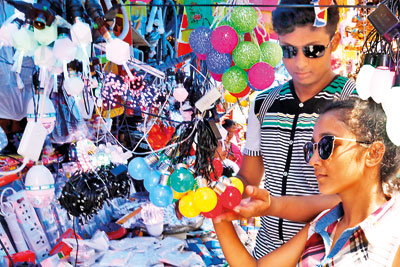 The Government has declared a National Vesak Week from April 26 to May 2 and various programmes will be held throughout the country with the main event being held at the Devagiri Rajamaha Viharaya in Bingiriya, Kurunegala on April 28 under the patronage of President Maithripala Sirisena and Prime Minister Ranil Wickremesinghe. Various Dhamma programmes will be held islandwide on April 29, Vesak Full Moon Poya Day,
A commemorative postal stamp will also be issued on the same day by the Philatelic Bureau of the Postal Department to mark the State Vesak Festival. The 12 Rupee stamp will feature the ancient Bingiriya Rajamaha Viharaya.
The special Vesak zone in Kurunegala will be declared open by the President and Prime Minister on April 28.
With the theme of this year's national Vesak festival being "Chiththang Danthang Sukaavahang" (Disciplined thoughts bring Health), each day will focus on different themes including 'Buddhism for Sustainable Development,' 'Buddhism for a Healthy Life,' 'How Buddhism Nurtured Sinhala Literature,' and 'Buddhism for a Professional Life.'
Buddhist Affairs Commissioner General Nimal Kotawalagedara said spiritual programmes including training sessions for Dhamma School teachers and Samanera monks and meditation classes for children will be held throughout the Kurunegala district.
Drama competitions based on Buddhist themes, Bhakthi Gee Programmes and special Dhamma Deshanas have also been organised. The Buddhist Affairs Ministry said 300 Dhamma schools and 250 temples in the Kurunegala district will also be developed as part of the Vesak Festival.
Festivals will be held in other parts of the country too with Vesak zones being organised by local authorities and private bodies in many cities.
In Colombo, the Colombo Municipal Council (CMC) has organised a number of programmes. The first of these will be a Pindapatha by 100 monks on April 25, while a Seela Viyaparaya will be held on Vesak Poya Day, April 29. On April 30, 'Bhakthi Gee' and 'Noorthi Gee' programmes will be held at the CMC premises. The council will also screen 'Siddhartha Gautama' on a giant screen at the council grounds.
As in previous years Colombo will come alive with the colours of Vesak with Vesak zones coming up at Hunupitiya Gangaramaya, Braybrooke Place and Bauddhaloka Mawatha.