Avurudu spirits cause more than 60 road deaths
By Kasun Warakapitiya
View(s):
Motorcyclists losing control and crashing into other vehicles, lamp posts or veering off the road, and three-wheeler accidents were responsible for most of the accidents over Avurudu week that claimed more than 60 lives and left dozens of others in hospital.
Negligence, reckless driving, speeding and driving or riding under the influence of liquor caused most of the accidents, which occurred mainly in less-populated areas.
On New Year's Day and the day prior to that, when the roads were relatively free of traffic and police numbers were low, motorcyclists and three-wheeler drivers were seen speeding about.
Last Monday, a resident of Hasalaka on a New Year visit to his relatives in Ambalantota was driving his three-wheeler with his wife, eight-year-old son and nine-month-old daughter when – possibly unaware that he was entering a key highway, the main Hambantota-Kataragama road – he drove directly onto it, hitting a Kataragama-bound Colombo bus.
The three-wheeler burst into flames and the fire soon spread to the bus. People managed to pull the family – all severely burned – out of the three-wheeler but the father died and the nine-month-old child was so badly burned that she was rushed to Colombo for treatment.
Accidents were reported from Walasmulla, Girandurukotte, Tirukkovil, Mihintale and Eheliyagoda as well as other places (see graphic).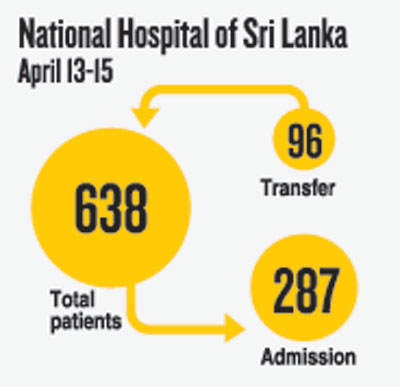 Some accidents occurred due to unfamiliar terrain. In Ella, a father and son were killed when their car veered off the road, which is known to have sharp bends.
Police said more than 450 accidents were reported during the Avurudu season (from April 12-16) with about 150 of them considered serious. During the four-day period, police caught 1,215 people driving under the influence of liquor,
High-spirited behaviour during the Avurudu celebrations also led motorists to flout road rules and cause accidents.
Cycle races were held in various places and organisers sometimes allowed motorcyclists to ride alongside cyclists, splashing them with water to cool them. "What they do not realise is that by throwing water on the riders they can make them lose their balance and cause accidents," police media spokesman Superintendent Ruwan Gunasekara said.
"We have also noticed that motorcyclists are wearing their helmets wrongly, trying to wear them for style rather than as a safety measure, without fastening the straps," he said.
Deputy Director (Accident Service) Samiddhi Samarakoon said a lack of police presence on the roads during the season would have contributed to reckless driving.
"People were enjoying the New Year in a joyous mood but they forget that they need to be careful while enjoying themselves," she said. "Some people lose their lives and some lose limbs."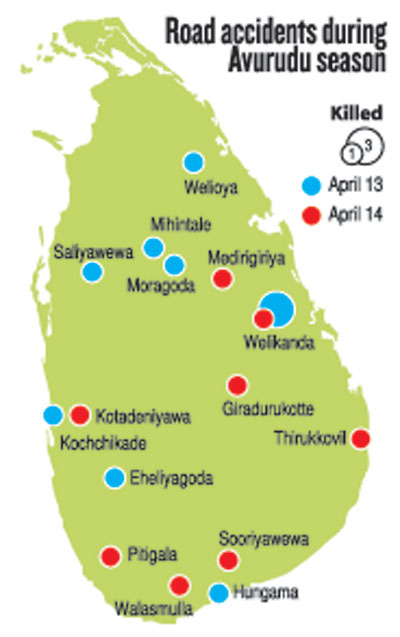 The Accident and Orthopedic Service of the National Hospital states in the recently published Annual Trauma Bulletin (2016) that 53 per cent transport injury victims were motorcycle riders followed by three-wheeler accidents (22 per cent), both accounting for 75 per cent of the accidents.
The figures are based on admissions to the Accident and Orthopedic service of the National Hospital, Colombo.
Non-use of seat belts or helmets was a prominent risk factor in transport injuries (91.9 per cent).
The Automobile Association of Ceylon said it had found during workshops that people drove or rode while they were too tired. "At times, drivers said they had not slept for even two hours before starting a long journey. A driver needs a minimum of six hours deep sleep before taking on a long journey," the organisation's Secretary, Devapriya Hettiarachchi said