Family Entertainment for Holiday Season
By Susitha R. Fernando
'Punchi Andare',
View(s):
As children and adults we have come across many stories revolving around 'Andare', the ever popular Sri Lankan folklore character. While there are many stories about Andare as a grown up, there are also a plenty relating to his childhood. 'Punchi Andare', a movie is made to recreate the interesting stories of Andare's childhood is now being screened in cinema.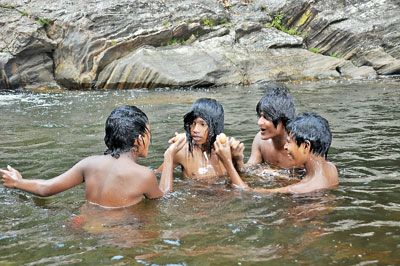 "Punchi Andare' directed by Sumith Rohana Tittawelgala is a cinematic capture of Andare's childhood and many interesting and entertaining stories revolving around his mischevious acts. The film is produced by Dr. Rajitha Swaris and co-produced by Dr. Kasum Nilnuwan and Mandamitha Mudrathepuli.
'Punchi Andare' narrates how playful Andare carries out many tricks to outwit many adults including his teachers. Often he is beaten by his father but he will hardly learn any lessons.
There are many occasions where Andare's parents are confronted by villagers mainly due to tricks played by Andare. But almost all these events entertains the film viewer. 'Punchi Andare' is a gift for the children who are enjoying their April vacation.
The film stars Mahendra Perera, Sathischandra Edirisinghe, Sunitha Wimalaweera, W. Jayasiri, Maureen Charuni, Kumara Siriwardena, Udeni Alwis while lead child roles are played by Praveen Katukithule and Yohani Hansika.
The guest performances are by Rupa Gomez, Manel Chandralatha, Berty Susiripala and Mapalagama Susiripala.
Additional roles are played by Sam Perera, Senevi Situbandarala, Poshani Dissanayake, Wasantha Pali, Milan Madushanka, S. Chathurani, Saman Bandara Ihalagama, Mangala Pradeep Senanayake while additional child cast includes Govin Winwath, Ranisu Kongalage, Ashen Abeysekara, Rashmith Nethyanga, Sunethe Malwaththage, Yonal Vindinu, Sineth Sandeepa, Lahiru Dushan, Theruni Kaavya, Dilon Dineth, Sithumina Dananjaya, Maushi Pinipa, Yenuli Bhagya, Rashmi Sewwandhi and Sanduni Rajapaksa.